We absolutely love caprese salads. They are fresh, deliciousness make a wonderful beginning to your dinner. A caprese salad is especially delicious with a perfect, juicy steak. But sometimes I like to quickly assemble a serving of caprese salad as my light lunch or dinner. It's a versatile little salad with a big taste.
The best part? You can have a beautiful caprese salad ready in minutes.
I love to make this salad with tomatoes and basil fresh from our garden. I believe that is when caprese salad is really the most delicious. But, I have to tell you. I won't turn it down in the dead of the winter with store bought tomatoes and basil either! I think I could eat caprese salad every day and be a very happy girl indeed!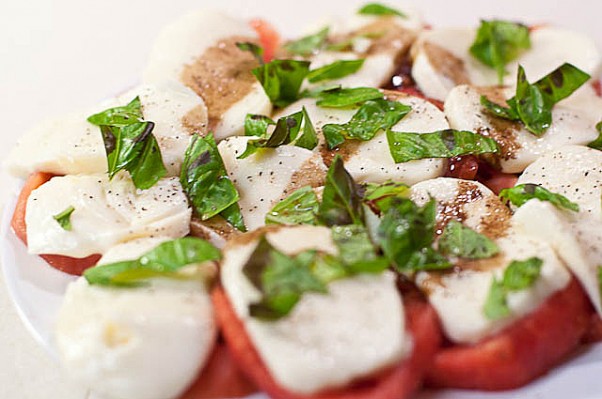 Here's how you make caprese salad. It's a classic that just works with so many meals or just right by itself on a hot summer day!
Caprese Salad
Caprese salad is a delicious layered salad of fresh tomato, mozzarella and basil drizzled with a bit of balsamic vinegar and olive oil.
Author:
Robyn Stone | Add a Pinch
Ingredients
2 large tomatoes, washed and peeled
12 ounces Mozzarella cheese, sliced
½ cup basil leaves, washed
1 tablespoon balsamic vinegar
1 tablespoon olive oil
salt and pepper, to taste
Instructions
Slice tomatoes into ¼ inch slices.
Slice cheese into ¼ inch slices.
Assemble salad on oven proof dish.
Begin with layer of tomatoes topped with a slice of cheese per tomato slice.
Place under broiler of oven for 3-5 minutes until cheese begins to melt.
Remove from oven and top with fresh basil.
Drizzle with olive oil and balsamic vinegar.
Sprinkle sea salt and pepper to taste.
If you love caprese salad as much as I do, you might want to try my caprese salad skewers that are perfect bite-sized appetizers when entertaining or for special occasions. They are just the cutest and easiest little skewers, but believe me, they disappear quickly! Therefore, I recommend that you always make more than you think you need!
Enjoy!
Robyn xo