Caramel Sauce makes a favorite addition to so many dishes. This is the easiest caramel sauce recipe I've ever used! A fast family favorite!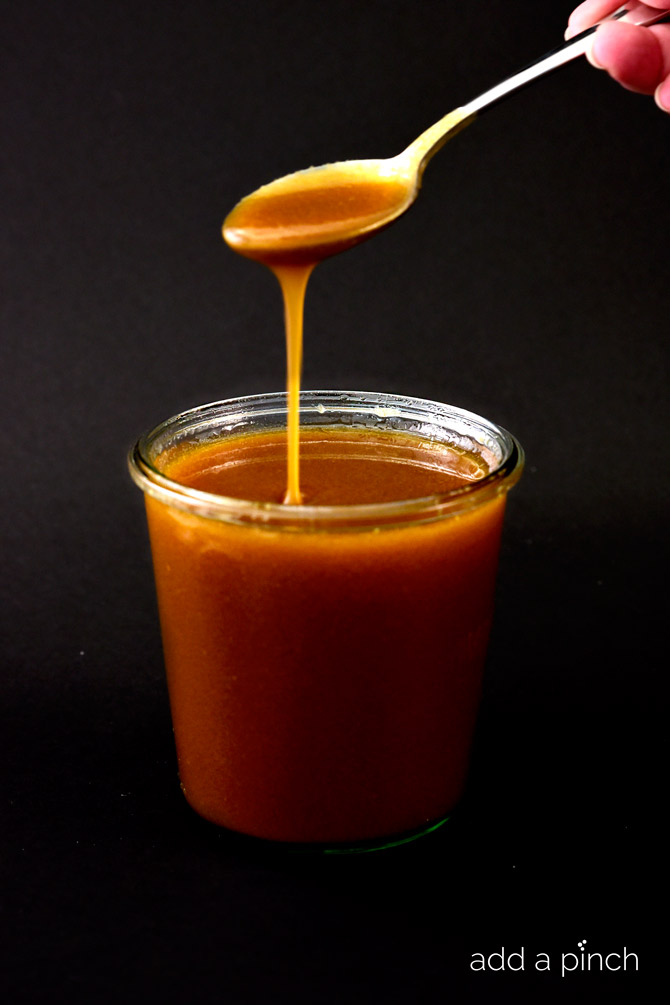 Caramel Sauce is one of those recipes that makes me think of fall, football, and comfort. It also makes me think of blondies, brownies, and ice cream. It is perfect anytime of the year!
Luckily, homemade caramel sauce is simple enough to make any time of the year and to keep on hand. And believe me, once you make it one time, you'll find a million and one things to dip in it, pour it over, and mix it in. It is just a staple item, I think.
Once you make your caramel sauce, just pour it into a large airtight container. It should keep on the counter or pantry for about a week (if it lasts that long), or in the refrigerator for about a month. If kept in the refrigerator, you can easily reheat in the microwave for about 20 second intervals at 80% power until it has a sauce-y consistency (don't you love that description?). You can also submerge it in a bowl of hot water for a few minutes to loosen as well.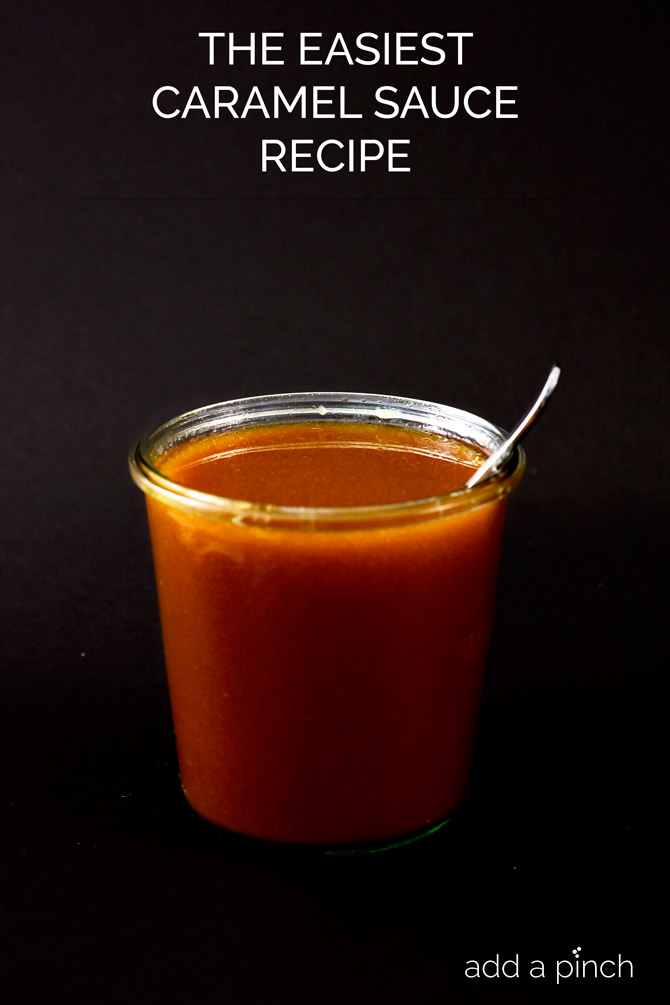 Here's my quick and easy Caramel Sauce recipe. You can add the optional sea salt to the mixture for a Salted Caramel Sauce that is absolutely sublime! I think you'll love it!

The Easiest Caramel Sauce Recipe
Caramel Sauce makes a favorite addition to so many dishes. Get this fast, yet fabulous family-favorite caramel sauce recipe for ice cream, cobblers, and so much more.
Author:
Robyn Stone | Add a Pinch
Ingredients
2 cups packed brown sugar
8 tablespoons (1 sticks) salted butter, cut into pieces
½ cups heavy cream
pinch of salt
1 teaspoon vanilla extract
Instructions
Add brown sugar, heavy cream and salt to a 3-quart saucepan or Dutch oven over medium-low heat. Stir together to combine with a wooden spoon or silicon spatula. Next, add butter. Allow the butter to melt completely and the mixture to reach a rolling boil, then cook until the caramel sauce thickens, about 5 to 7 minutes. Remove from heat and stir in vanilla. Allow to cool about 5 minutes and then pour into an airtight container for storing in the refrigerator.
Notes
To prevent crystallization in your caramel sauce, make sure that your pot and spoon (silicone or wood!) are extremely clean as any debris can cause crystallization. Also, you may add 1 teaspoon of corn syrup to the mixture to prevent any crystallization if you choose.
Enjoy!
Robyn xo