Jump to Recipe • Print Recipe
Chili Stuffed Baked Potatoes make a great additional to your menu. Great for the Super Bowl or anytime!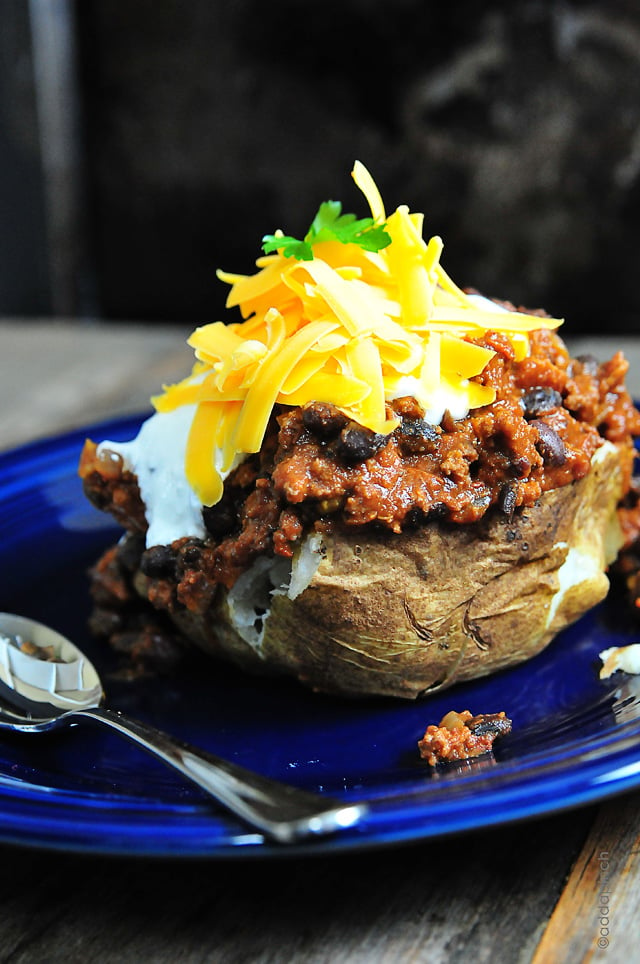 Oh my! These chili stuffed baked potatoes are deee-lish-us! And pretty perfect for the Super Bowl this weekend.
But, I have to let you in on a little secret.
We watch the Super Bowl for the commercials, well and as a great excuse to have a party and dig into all the delicious food.
Do you do that, too?
Pretty please say you do!
While I've not officially finalized our Super Bowl Menu for this year, I do have plenty of ideas.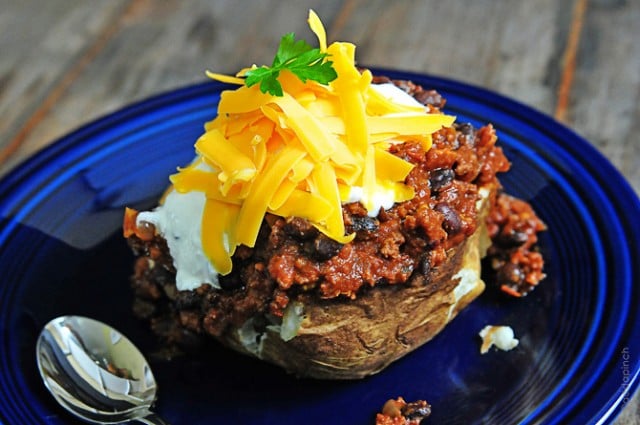 These Chili Baked Potatoes will definitely make an appearance. I don't think we can celebrate the Super Bowl without chili and piling it on a baked potato makes it even better in my opinion.
We'll also have plenty of dips, like hot pimento cheese dip, spinach artichoke dip, and of course the cookie dough dip! I don't think I can have a party without including the cookie dough dip. Folks would wonder what was wrong with me if I did.
I'll also include my deviled eggs with bacon twist, pizza stuffed mushrooms, and a quick broccoli slaw that I'll share with you tomorrow. It goes together so fast you won't be able to not include it!
For dessert, I think devil's food whoppie pies and pecan pie bars are a must!
My stomach is now growling just thinking about all this great food. I think I'll have to just drink water and eat salad between now and then! And definitely after!
But, before I get totally carried away and forget, I do need to share my "recipe" for these chili baked potatoes, don't I?

Chili Baked Potatoes Recipe
Chili Stuffed Baked Potatoes make a great additional to your menu. Great for the Super Bowl or anytime!
Author:
Robyn Stone | Add a Pinch
Ingredients
6 Russet potatoes
olive oil or butter
sea salt
1 recipe black bean chili
½ cup sour cream
1 cup grated cheddar cheese
fresh parsley or cilantro for garnish (optional)
Instructions
Preheat oven to 400º F. Adjust oven rack to the center of the oven. Place second oven rack underneath with a baking sheet lined with aluminum foil to catch any drippings.
Scrub potatoes with a medium bristled brush. Rub with olive oil or butter and sprinkle with sea salt. Pierce the potato with a sharp knife or fork about 3-5 times around the potato to allow steam to escape as cooking. Place directly onto the oven rack placed in the center of the oven.
As potatoes are cooking, prepare black bean chili according to recipe instructions.
Test potatoes for doneness by squeezing the center of the potato while using a pot holder to determine if tender or checking the internal temperature of the potato with an instant read thermometer. The potato should register 210º F.
Remove potatoes from the oven and place on the sheet pan used on the rack underneath or another platter for serving.
To serve, split open potatoes with a knife and gently squeeze the potato from both ends to open the contents. Using a large spoon, ladle black bean chili into the center of the potato. Top with sour cream, cheese and optional garnish.
So, what's on your Super Bowl Menu? I'd love to know.
Enjoy!
Robyn xoxo