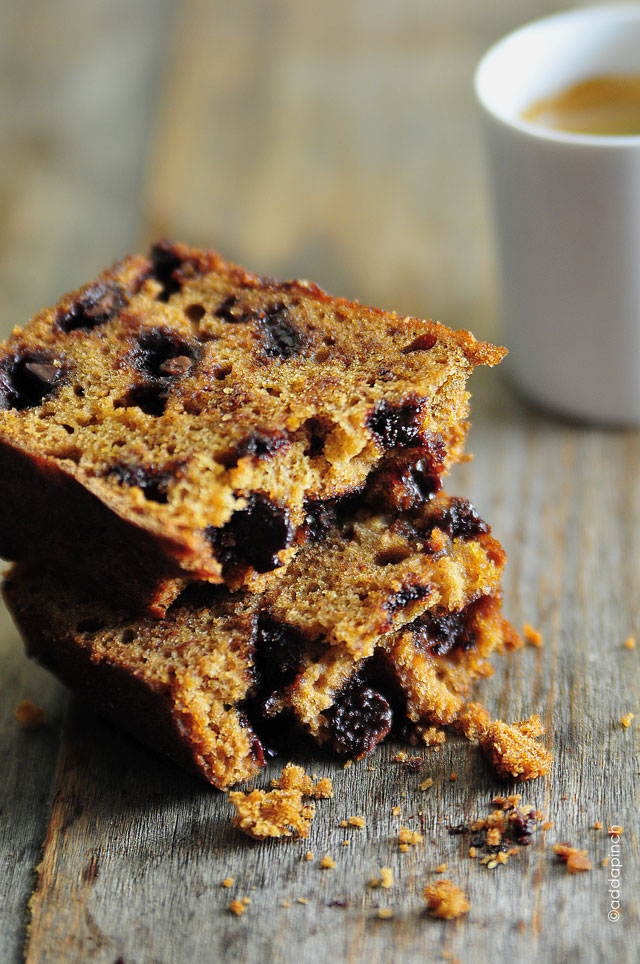 I always look forward to pumpkin bread each fall. The smell of it baking makes my entire house smell amazing and like a fairytale when you walk in the front door. And while I love the traditional, classic pumpkin bread my mother made when I was a young girl, I decided I wanted to shake things up just a little bit and deepen the flavor a touch.
That's when I started thinking about the fancy coffee drinks folks raves over this time of year from famous coffee houses and it hit me.
My pumpkin bread needed – a shot of espresso!
I don't think I'll ever go back to the decaf pumpkin bread again. Chocolate Chip Espresso Pumpkin Bread is just too good to miss.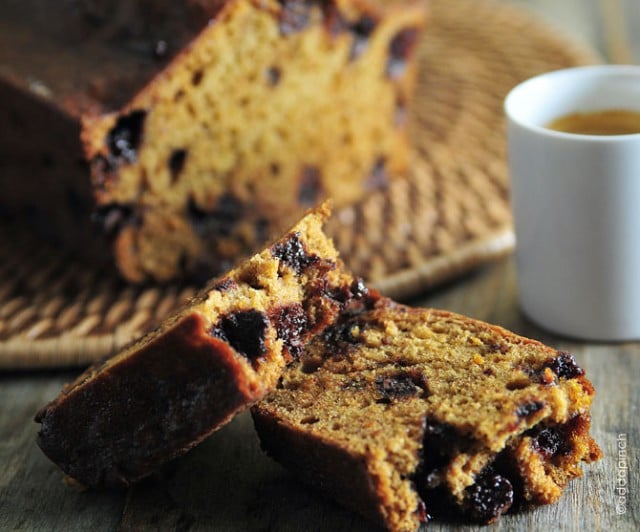 Here's the recipe for my jolted up Chocolate Chip Espresso Pumpkin Bread. I hope you love it as much as I do!

Chocolate Chip Espresso Pumpkin Bread Recipe
Chocolate Chip Espresso Pumpkin Bread will quickly become one of your most looked forward to pumpkin bread recipes.
Author:
Robyn Stone | Add a Pinch
Ingredients
2 cupspumpkin puree
4 eggs, lightly beaten
1 cup vegetable oil
⅔ cup espresso
3 cups granulated sugar
3½ cups all-purpose flour
2 teaspoons baking soda
1½ teaspoons salt
1 teaspoon ground cinnamon
1 teaspoon ground nutmeg
½ teaspoon ground cloves
¼ teaspoon ground ginger
1½ cups chocolate chips
1 cup walnuts (optional)
Instructions
Preheat oven to 350 degrees.
Add all ingredients to a large mixing bowl. Stir together until just combined.
Pour into three loaf pans prepared with baking spray or lightly buttered and floured.
Bake for 50 minutes, until a skewer inserted into the center comes out clean.
Turn out of loaf pan and allow to cool completely.
Notes
This recipe also makes delicious pumpkin bread muffins.
Have a great weekend. And hey, when you make this bread, realize that it makes three 7×3 loaves. That's plenty for eating one, freezing one, and sharing – or whatever combination strikes your fancy.
Thank you again for all of your support for the last couple of years! I really appreciate it and love you guys more than you'll ever know! I hope you've taken a chance to enter the Add a Pinch two year birthday giveaway I've got going on.
Enjoy!
Robyn xoxo