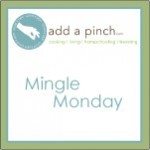 Welcome to Mingle Monday!
I hope you had a great weekend! We spent most of the weekend on the baseball fields watching Little Buddy's play and then have pictures made. I always love sports photo picture days. Those are the days that Little Buddy's baseball pants are snow white and the photographers tell us all about photo packages that include print outs that look like magazine covers and MVP awards. We generally stick with the tried and true package without these add ons, but I do generally make a trading card for each year – just for our own scrapbook.
Are you ready to mingle? This week is all about whatever you want to share! You're welcome to share a favorite thing you've made – craft, sweet treat, meal, photograph, or even decor, or simply link up a social media account you'd like to share – Facebook, Twitter, Stumble Upon, etc.