Jump to Recipe • Print Recipe
Pots de Creme make an easy, elegant dessert, especially when entertaining. This simple recipe is absolutely scrumptious!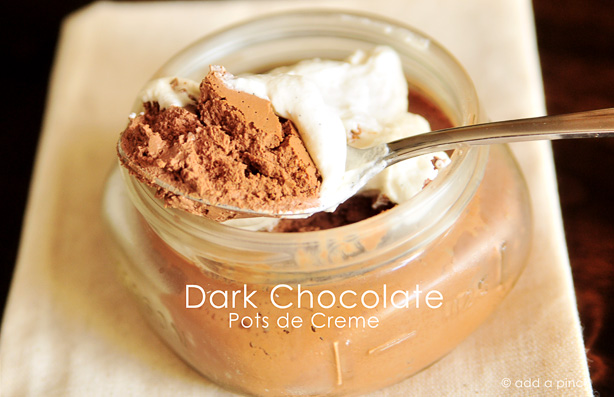 There is just something about Pots de Creme that makes my mouth water every single time I decide I'm going to make them. Rich, creamy, decadent and so simple to make that it seems like I forgot something when I pop them in the refrigerator!
Now, I have to tell you the truth, this is a dessert that I never heard either of my Grandmother's or even my Mama talking about making as I was growing up. Of course we had chocolate custards and puddings that were very, very similar, but definitely not called pots de creme (pronounced poh duh KREHM with a little flair).
I made these a few years ago when we had guests over for supper. I pulled them out of the refrigerator where they'd been hanging out for the afternoon and topped them with whipped cream. Our friend asked me what was for dessert and I said, "I've made dark chocolate pots de creme. I knew you liked dark chocolate."
To which he said, "you made poh duh what?"
Exactly.
I'm sure that's why my Mama always just called it chocolate custard when we were growing up.
Smart lady.
Regardless what you call it, just be sure to make it.
And soon.
Here's how I make my Pots de Creme recipe.
Pots de Creme Recipe
Pots de Creme make an easy, elegant dessert, especially when entertaining. This simple recipe is absolutely scrumptious!
Author:
Robyn Stone | Add a Pinch
Ingredients
1 cup heavy cream
1 cup whole milk
4 large eggs
2 tablespoons sugar
Pinch salt
12-16 ounces dark chocolate (70 % cacao or higher), broken into pieces
1 tablespoon espresso powder
For the whipped topping
1 cup heavy cream
2 tablespoons confectioner's sugar
1 vanilla bean, seed scraped and bean discarded or 1 tablespoon vanilla bean paste or 2 tablespoons vanilla extract
Instructions
In a small pan, heat milk and heavy cream over medium-low heat until it just comes to a boil.
Meanwhile, place eggs, sugar, salt, chocolate, and espresso powder into a blender, pulse it about 8 times or until slightly blended.
Once the milk boils, remove from the heat, remove the lid opening of the blender and slowly drizzle the hot milk through the lid opening.
Blend for about 1 minute or until smooth.
Pour into serving cups - small jam or jelly jars, wine glasses, or ramekins.
Refrigerate 2 hours, or until firm prior to serving.
For the vanilla bean whipped topping:
Whip the cream with the confectioner's sugar. If using the seeds from a vanilla bean, split the vanilla bean and scrape the beans with the side of a knife and add into the cream. If using vanilla bean paste, simply add to the paste and mix well.
Notes
Time does not include chilling times. Refrigerate for 2 hours, or until firm, prior to serving.
Hope you like it, too!
Robyn xo