Roast Chicken Pasta with Sundried Tomatoes makes a comforting, delicious meal. Ready in under 30 minutes!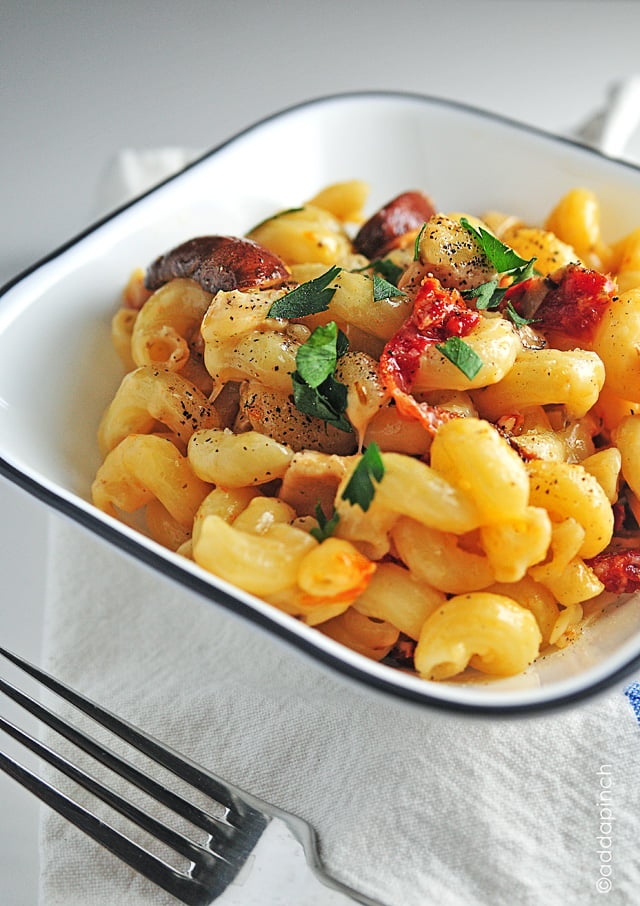 My sister came over for lunch the other day and I couldn't wait for her to taste this Roast Chicken Pasta with Sundried Tomatoes I made.
The morning had been just a wee bit blustery and the temperatures had dipped low enough for us both to have pulled out long sleeves and our Uggs, so I knew something warm and comforting was just what we needed.
After the first bite, I knew it was a keeper of a recipe when I saw the look on her face as her eyes widened just a bit and she started nodding. You see, my sister is just as much of a pasta freak as I am, so I knew if this pasta got her approval then it was definitely a recipe I needed to share with you all, too.
Full of large pieces of roast chicken tossed into the skillet with sauteing garlic and mushrooms and then mixed in with twirly pasta, sundried tomatoes, and lots of cheese, it really would be hard for this recipe to not be a hit though.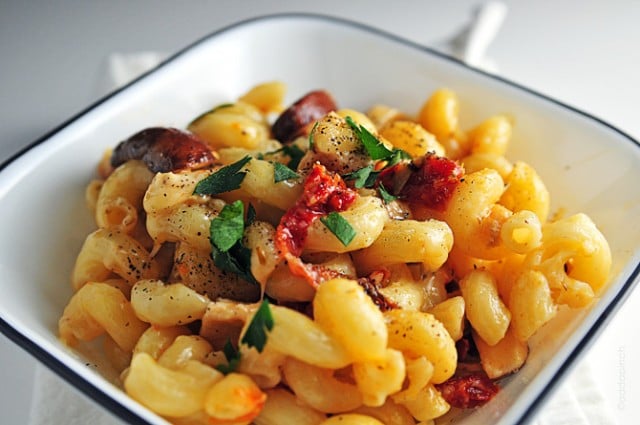 I used leftover roast chicken that I'd made the night before, but you could easily use a rotisserie chicken from the deli, chicken you've made ahead in the slow cooker, or just give yourself a few minutes and cut up your skinless, boneless chicken and cook it in the skillet before you add in your garlic and mushrooms for sauteing.
Here's the recipe for my Roast Chicken Pasta with Sundried Tomatoes.

Roast Chicken Pasta with Sundried Tomatoes Recipe
Roast Chicken Pasta with Sundried Tomatoes makes a comforting, delicious meal. Ready in under 30 minutes!
Author:
Robyn Stone | Add a Pinch
Ingredients
2 cups elbow or twirl noodles
1 cup Monterrey Jack cheese, grated
½ cup Parmesan cheese, grated
2 cups roast chicken
2 tablespoons olive oil
2 cloves garlic, chopped
½ cup portabella mushrooms, quartered
¼ cup sundried tomatoes + 2 tablespoons packed oil
salt
pepper
2 tablespoons fresh parsley to garnish, optional
Instructions
Cook elbow or twirl noodles according to package directions. Drain and pour into a large bowl along with the cheeses. Stir to combine and set aside.
Drizzle olive oil into a large skillet or saute pan over medium heat. Add in garlic and mushrooms. Saute until mushrooms are just tender. Add in roast chicken and sundried tomatoes and heat throughout, about 3 minutes.
Add ingredients from the saute pan to bowl with pasta. Toss to combine.
Serve with salt and pepper to taste, drizzle of packed oil from sundried tomatoes, and a sprinkle of fresh parsley.
Do you crave pasta when the weather turns cooler?
Have a great weekend!