Congratulations to Debbie, comment #320, who said: "I love honey baked ham, scalloped potatoes, green beans and coconut cake!"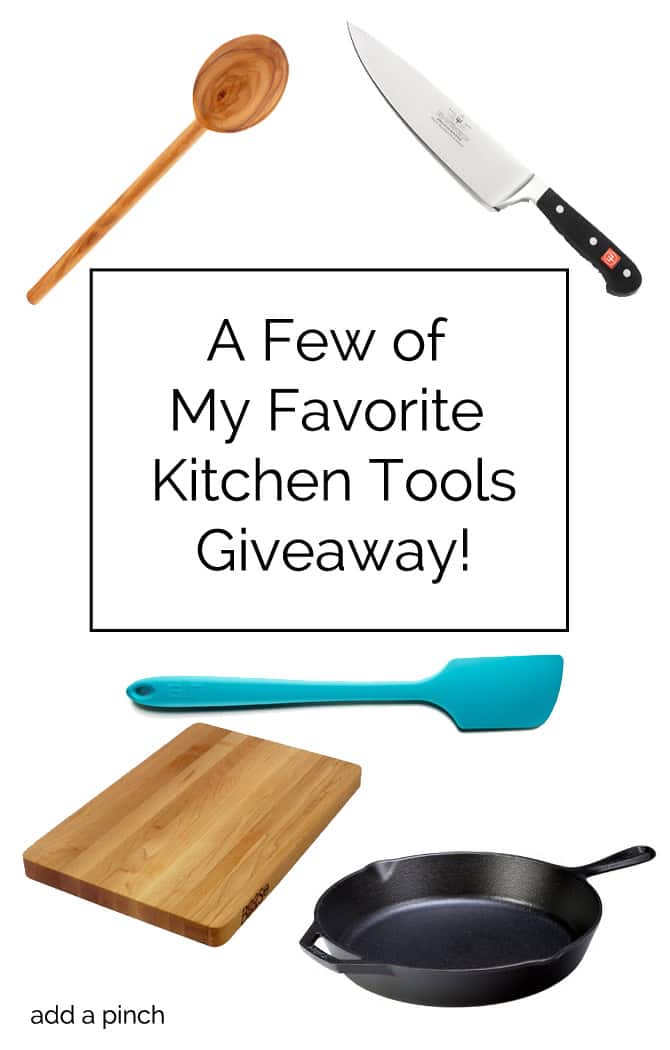 Happy Thursday! Today, I'm flying out to meet a few friends for a fun weekend in California. We've been planning our get together for a little while now, but I have to say that this week, I've been in a tizzy trying to get everything ready to be gone for a few days. You would think I was going to be gone for a month!
But, there's just something about knowing that I won't be home that has me trying to make sure that everything is in the proper place, everyone has all their clothes washed and ironed that they could possibly need, the dogs are groomed, the linens are changed, and the list goes on.
In other words, if you happen to be my seatmate on the flight out from Atlanta tomorrow, please excuse my snoring!
And, on a brighter front, I thought it would be fun to have a giveaway of some of my favorite kitchen tools! You guys in?
Here's the set:
Wooden spoon – couldn't live without 'em. Love, love, love.
Really great knife – this one is a fancy-pants 200th Anniversary 8-inch cook's knife. (I'm hearing Dana Carvey saying, "Welllll, aren't you special." Ha! Remember those skits. I miss those so.)
Silicon spatula – goodness gracious. If you've never tried one of these you are going to love it. Love.
Wooden cutting board – I love Boos boards. They are just so well made and, with great care, they last and last.
12-inch skillet – okay, you knew that was coming didn't you? Come on. You did. An absolute essential for any kitchen.
Giveaway:
I'm giving away a set of some of my favorites to one lucky member of the Add a Pinch family. All you have to do to enter is leave a comment telling me about your favorite Easter meal. That's easy enough, right?
Giveaway ends Friday, March 20th at 11:59 PM eastern.
Good luck! And please, say a prayer that I don't really embarrass myself snoring on the plane. Okay?
Love you guys. You are truly the best!
Robyn xo