Change isn't comfortable for everyone.
There is one side of me that sure does wish I didn't enjoy "new" quiet so much. That I was satisfied with the status quo. That I could just be happy with okay. Well, that's just not me. I like to shake things up a bit in search of something new, something better. And I love it when that something seems to be
a problem solver
.
The Problem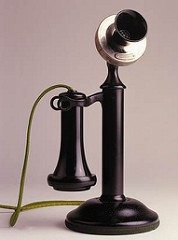 Image by greggoconnell via Flickr
I've been loving connecting with folks that visit my blog. I love it when y'all leave comments and I get a glimpse of you, your life, what you are thinking.
I love it when I'm able to send you an email back thanking you for taking the time to comment, replying to your question, or just saying, "hi there!"
But, not everyone is easy to get in touch with in the bloggy world. More people than you can imagine have their settings such that I just can't reply to you. And I really want to! I really want to say, "hi there!" I love to chat. I promise I won't stalk ya. Much.
The Solution
I've installed the plug-in from DISQUS. I'm hoping it's all it seems to be cracked up to be. Here's what I'm hoping it offers us:
Cleanliness – I love the look of clean comment forms and clean comment sections on a blog. I love to be able to see who has commented and any follow-up responses or questions. This plug-in offers us just that. The comments and corresponding responses will be threaded in such a way that is easy to follow. I need some order in my world!
Community – By now you all know I want to be able to respond to you. This plug-in will allow me to respond to questions, just say "hi" and participate in the discussion. It also will allow you to do the same! Yep, now you'll be able to reply to another reader's question or comment. Isn't that some kind of awesome?
Comprehensive – I really just needed a third "C" word, but this one fits the bill. DISQUS is very comprehensive – for me and for you. You can login with any one of a myriad of social media ids or you can post a comment as a guest. It's entirely up to you. Just remember, I love to see your pretty avatars AND the first time is when you enter the information after that – it's easy street.
So, don't be afraid of the change. Go ahead, throw all care to the wind and leave me a comment. You'll see this change is not quiet as bad as it sounds. You never know, you may be like me and love it so much you decide to install it on your own blog. You can thank me later.
P.S. If you need more official sounding references for DISQUS, here they are:
– Chris Brogan uses it
– A Familiar Path uses it
Ok, I don't know about you, but those two are enough for me!