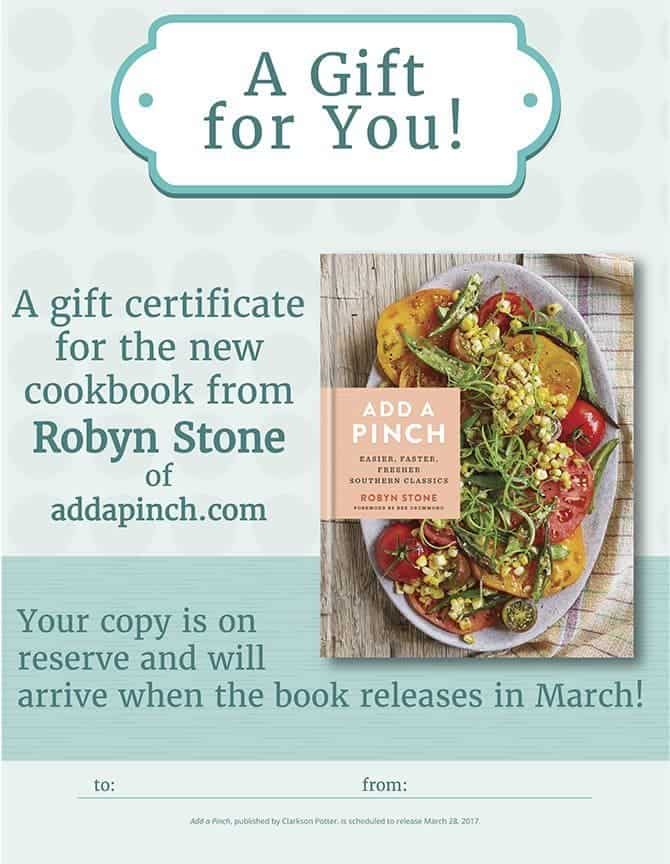 Can you believe that this weekend is Christmas? And Hanukkah? I'm waiting on a few last minute gifts to arrive, one last trip to the grocery store and then I'm all set! And while those last minute errands and wrapping sessions are a whole lot of fun, I love making things as easy on myself as possible. I just learned that our Kroger offers online grocery shopping and pickup and have my order in and reservation for pickup scheduled. That gives me even more time to do all of the other things on my list that are a whole lot more fun – like wrapping gifts and baking cookies.
Many of you have let me know that you have not only preordered the upcoming Add a Pinch cookbook for yourselves, but that you've also preordered a copy for your daughter, son, mom, sister, brother, aunt, or friend! I am beyond humbled by each and every single one of your messages! You have no idea how much you all mean to me!
As I was talking to my friend, Maria, about it, she had the fabulous idea of providing an easy printable that you can download and print to let the recipient know you've ordered a copy for them!
So, here it is!
An easy as can be gift certificate that you can download to your computer, print, fill out and give to show that you've preordered the book for your family and friends!
Simply preorder the cookbook at any of the available retailers, click on the photo above to download the gift certificate, print it, fill it out and give to signify your gift that will arrive in March!
Isn't that simple?
Love ya bunches!
Robyn xo