Here we are on Day #7 of American Made Giveaway Week! I sure hope y'all have enjoyed it as much as I have. Since I grew up in a small community sustained by the textile industry, I realize the importance of American Made products to the local economy. While I'm not professing that I buy everything American made, I am saying that I try as hard as I can to buy as much as I can that is made here in America. It's important. I understand that.
So, moving on to the final day of this wonderful American Made Giveaway Week! I'm featuring one of my favorite small appliances ever  – the KitchenAid Stand Mixer. The tilt-head, artisan stand mixer is hand assembled in Greenville, Ohio, home of KitchenAid since 1919.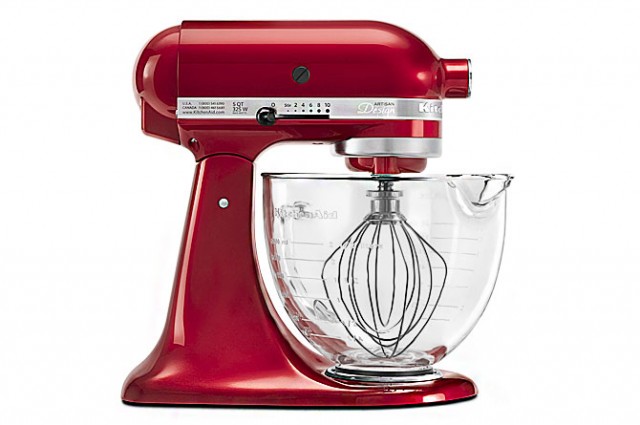 I use my stand mixer for everything from mixing batters and doughs for pizza recipes, cake recipes, cookies recipes, brownies recipes, and even shredding chicken for some of my favorite chicken recipes!
My KitchenAid stand mixer doesn't have time to be put away in the pantry, since I use it practically every single day. I just wish my Grandmother's had had them in their kitchens when they were young mothers (not saying I'm that young or anything, but you know what I mean). They would have loved it.
Here's how you enter:
Leave me a comment telling me how you love to celebrate the 4th. Parades? Rodeos? BBQs? Fireworks? Family? I'd love to know!
You can also get a few extra entries with the following:
Then head back to this post and leave a comment that you did. Only one comment per each of the entries made, please. All others will be removed.
Here's how this giveaway week works. Each day (July 1st – July 7th), I'll announce a new giveaway. You can enter as many of the giveaways as you'd like. Winners will be selected at random and will announced on July 8th for giveaway days July 1st – July 5th. Giveaways from July 6th and July 7th will be announced as indicated on those giveaway posts.
This giveaway will end July 21st and the winner will be announced sometime on July 22nd. The winner will have 48 hours in which to respond to the email before another winner will be selected.
Congratuations to #219 – Holly!
Here are links to all the great giveaways this week:
Day 1 – THREE (3) Lodge 12-inch Cast Iron Skillets
Day 2 – THREE (3) Fiesta Cake Plates and Servers in Scarlet
Day 3 – THREE (3) Tervis Tumber Sets (4 16-ounce tumblers) in Clear
Day 4 – THREE (3) Annin Estate Flag Sets
Day 5 – THREE (3) Nordic Ware Bundt Pans
Day 6 – TWO (2) Crosby & Taylor Pewter Measuring Spoon Sets with Stand
Day 7 – ONE (1) KitchenAid 5-Quart Artisan Stand Mixer
Disclosure: This week of giveaways is hosted and sponsored by Add a Pinch.
Happy 4th of July!!!
Love ya,
Robyn xo