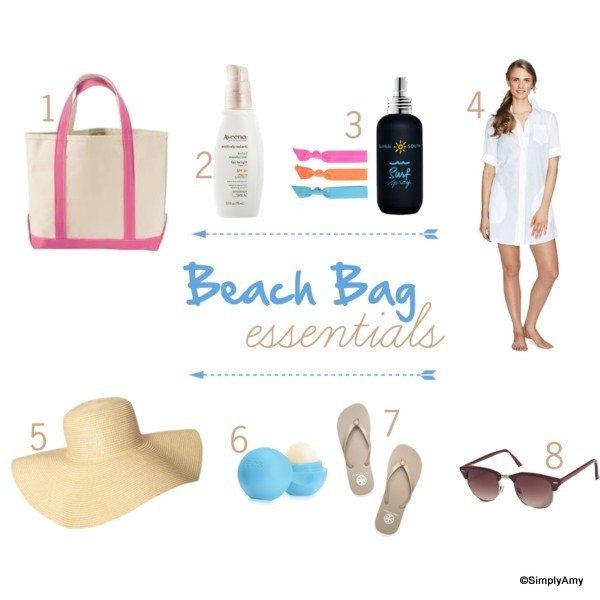 Being out on the water is one of my favorite things to do in the summer. I love being at the beach, lake, or just sitting by a pool; not much can make you happier! My family spends a lot of time during the summer doing just that and before we head out to lake or beach I always make sure to bring my essentials! I thought I would share with you what will be in my bag this summer and hope you will share what you pack as well!
1. The bag. I love finding a great bag and one I can haul everything in. I have found this bag to be a classic and very purposeful bag. They have been around a long time and are very sturdy, wash well, and have many different color and size options. You can monogram it with your name or initials or just simply put "Beach Stuff". I have found that the medium and large size bags can hold the whole days necessary items. If you have kids the large would be more ideal to hold extra towels, sunscreen, and toys.
2. Sunscreen. Sunscreen is not optional for me. I have fair skin and applying sunscreen throughout the day is a must. There are many sunscreen options available and I typically pick one that is a spray so my hands don't get oily. Before I even head out for the day, I like to apply this tinted moisturizer that has SPF built into it. This way I can avoid applying makeup since it gives a naturally tinted coverage to your skin. They have different shades depending on your skin tone and it gives a very natural look.
3. Hair supplies. I am not one that can easily get the no frizz-beach wave look naturally. Instead, I have found using a sea salt spray can help give your hair that "beach girl" look. Just spray this product onto your fingers and work it through your hair to give it some texture. I have found this one to do a great job on even short hair that is normally straight.
Also, if you want to throw your hair up in a ponytail, I love these hair ties that don't leave a dent or pull on your hair. They are made out of fabric and come in a variety of colors. I always have one of these on my wrist or in my bag!
4. The shirtdress. I love a classic white button-up, especially at the beach or lake! This shirtdress is a cover-up and is great to have in your bag. It is presentable to wear if you go grab lunch while out on the beach and the white would look great with any swimsuit underneath. The sleeves can be rolled up and the full buttons make it easy for taking on or off.
5. Oversized hat. I love throwing on a big floppy hat at the beach to keep the sun out of my face. Also, I can never read a book or magazine if the sun is beaming down on me too much. This hat does just the trick of keeping the sun off your face and looks very simple and stylish.
6. Lip Balm. I always pack a lip balm in my bag that I can use throughout the day and is easy to apply. I love these little smooth lip balms and the way they feel on your lips. They have UVA/UVB protection and shea butter built in to help keep your lips smooth. They are also a great size and price.
7. Flip Flops. We all probably own way too many pairs of flip flops (guilty)! They are a summer essential and I love being able to slip on a pair or throw them in my bag. While I love to find colorful pairs I also like to pack a simple nude color when I go on trips so they will go with everything. This pair is a great basic and you will be wearing them all summer!
8. Shades. You can't forget your sunglasses! I love finding a pair that is light and simple to wear to the beach. I also don't like wearing expensive shades on the beach as I have been known to lose them in the water. This pair is perfect for the beach and I love the light brown color.
What are the must-haves in your bag?