I love talking about beauty finds that I am loving nearly as much as I love talking about cooking and recipes. For a while now, I've been sharing some of my favorite things like hair products, nail polish, and others.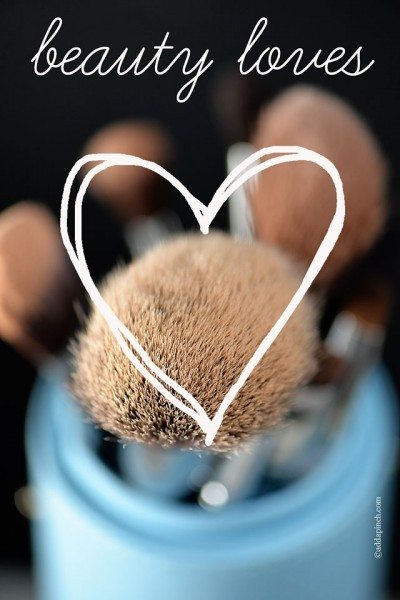 Since I'm constantly finding new favorites to add to my ever-growing list, I thought I would be a lot of fun to have posts dedicated to just the new finds I'm loving as well as updates on those that I just don't think I could do without, like my Sigma makeup brushes.  Love them!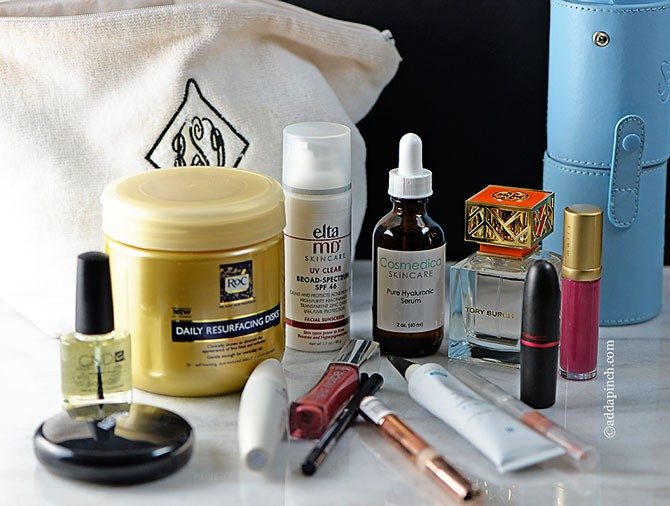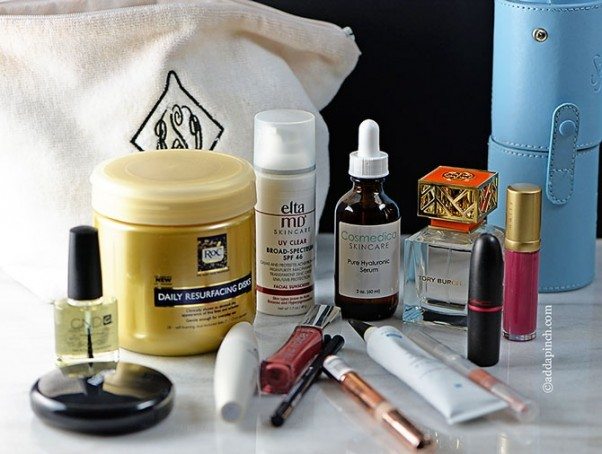 My favorites are always varied from drugstore beauty finds to special purchases. And since I'm now over 40, you'll most likely hear a lot about what I've learned along the way. (Like wear my sunscreen!)
Okay, so let's dig into this baby.
First let's talk about some of my favorite beauty finds for my skin.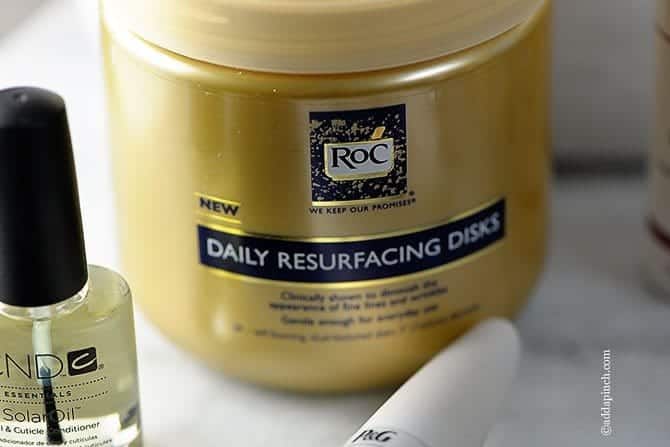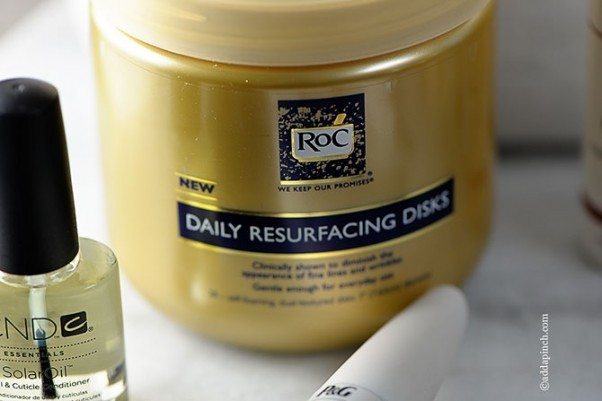 1. ROC Daily Resurfacing Discs. I am slightly obsessed with these babies. They smell so lovely and make your skin absolutely glow. While they say use daily, I've been known to use them in the am and pm when I feel like my skin really needs it. Otherwise, these are my morning ritual after I've washed my face in the morning. LOVE. They are a great drugstore find.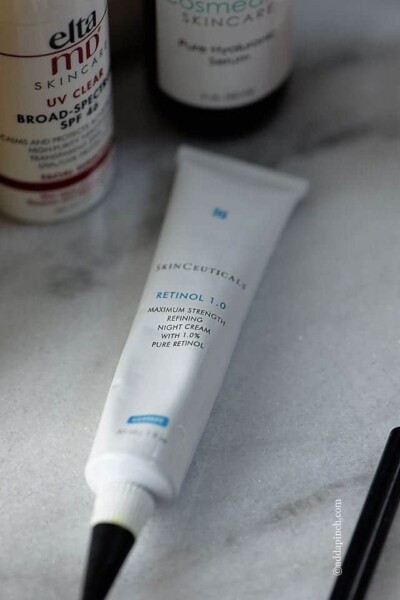 2. SkinCeuticals Retinol 1.0. This stuff is a miracle. Seriously. For years, well, since I turned 30 actually, my dermatologist has recommend various degrees of retinol in my weekly skincare routine. Of course these were prescription level creams that I would never remember to have refilled. But, this year on my visit, she mentioned to me that she'd seen success with this over the counter retinol cream. Even though I'd been using prescription retinols for years (off and on, but not as religiously as my skin wishes I had), I still saw immediate results. I will say that this is the MAXIMUM strength version, which mean, I saw results quickly, even with minimal use. From what I understand, retinols work from the inside out for cell turnover. So, I saw breakouts as my skin purged all the yucky stuff for about a week. And, I peeled a bit in the beginning. She recommended that I change up my routine of putting it on before my moisturizer at night to putting it on after. So far, so good. The results are so worth it.
If you are new to using retinols, I'd recommend starting with the Retinol 0.5.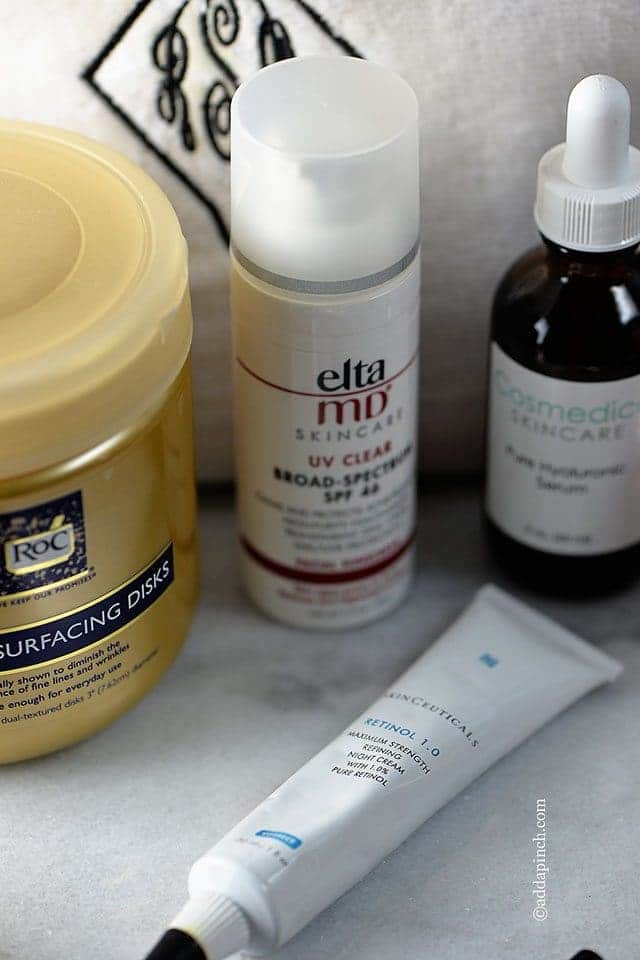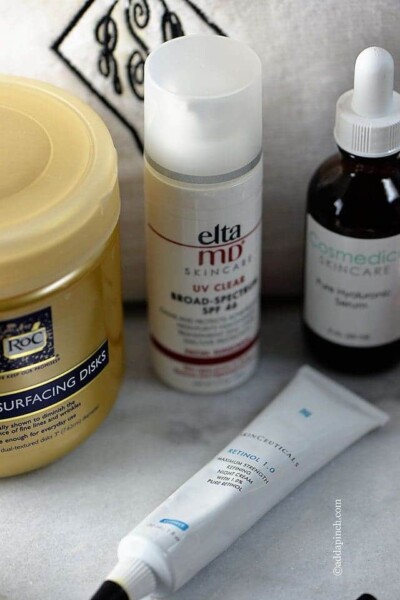 3. Elta-MD Clear Sunscreen SPF 46. Gosh, I wish I'd listened to my Mama and started wearing sunscreen every. single. day. of. my. life so many years ago. I am now seeing the sun damage from my teens and twenties, and yes, even my thirties. So, you better believe each and every day I'm making sure to use my sunscreen. This sunscreen goes on a bit creamy so you can tell where you've applied it and then quickly dries clear. It is a constant in my makeup bag as I use it on my face, neck, arms, backs of my hands, … (you get the picture.) Sunscreen. Love it!
4. Cosmedica Pure Hyaluronic Acid Serum 100%. Okay, this stuff, heaven! Basically in a nut shell what this does is provide super-duper hydration for your skin without being greasy or oily. I use it night and day and love, love, love it. And at less than $20 a bottle it is perfect for me!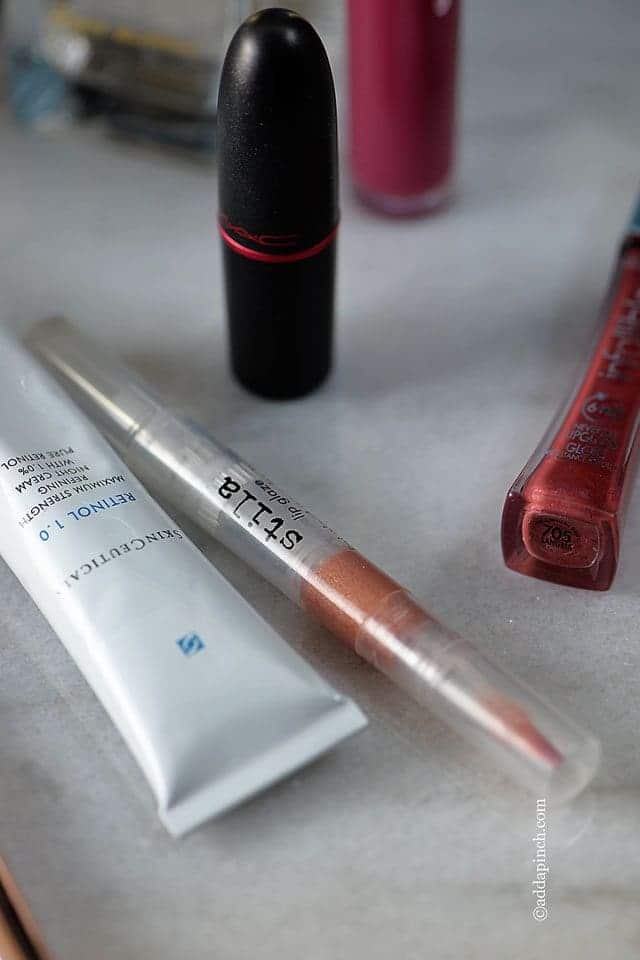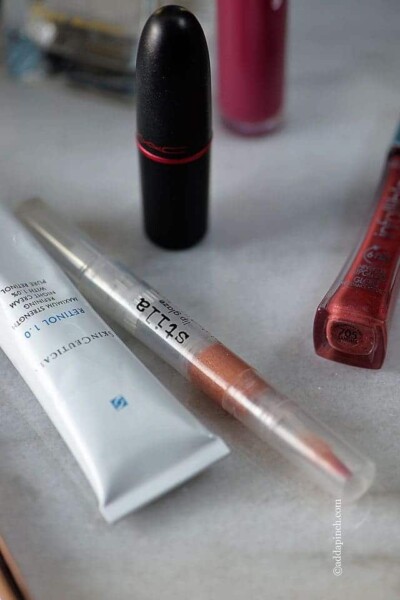 So, let's move right on to another slight obsession – lip gloss and lipstick!
5. Stila Lip Glaze in Kitten. Can you tell by the tube how much I love this color? I think this may be the third or fourth one I've gone through. It's just perfect right by itself for a little color or on top of other lipstick to give it a touch of shimmer.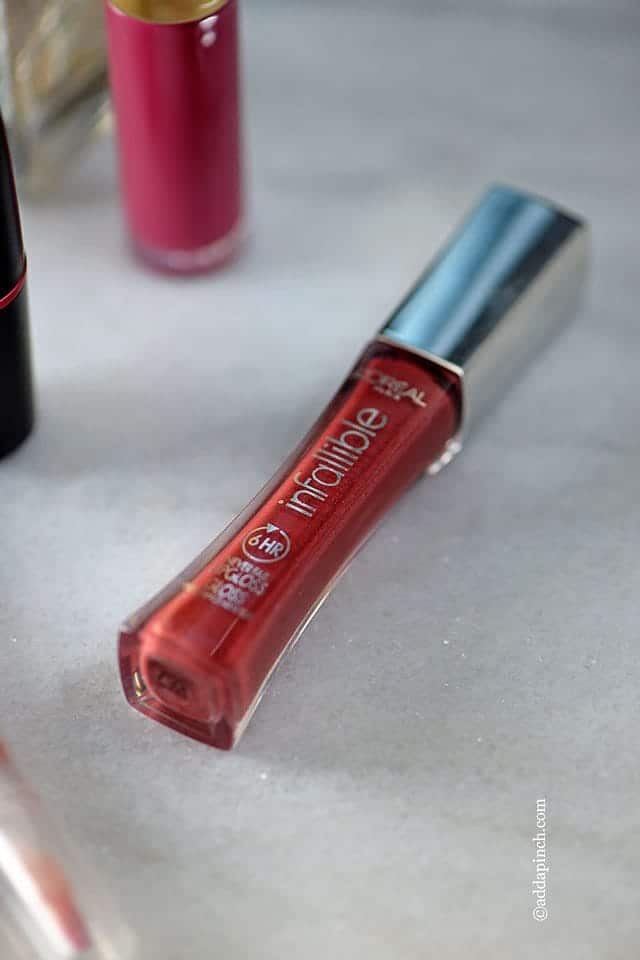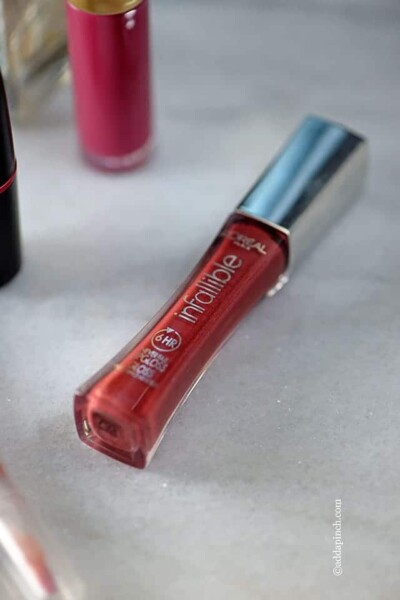 6. L'Oreal Infalliable Lip Gloss in Sangria. But seriously, this is my go-to every single day of my life kind of lipgloss. My favorite shade of this is in Sangria, just because it looks like it is just a shade or two darker than my normal lip color. But, I'm very fair so others may have another favorite color. Whichever, I highly recommend it. I'm always in such fear that my favorites like this will be discontinued. In preparation, I've created a little stockpile that should get me through a year or two. Heh!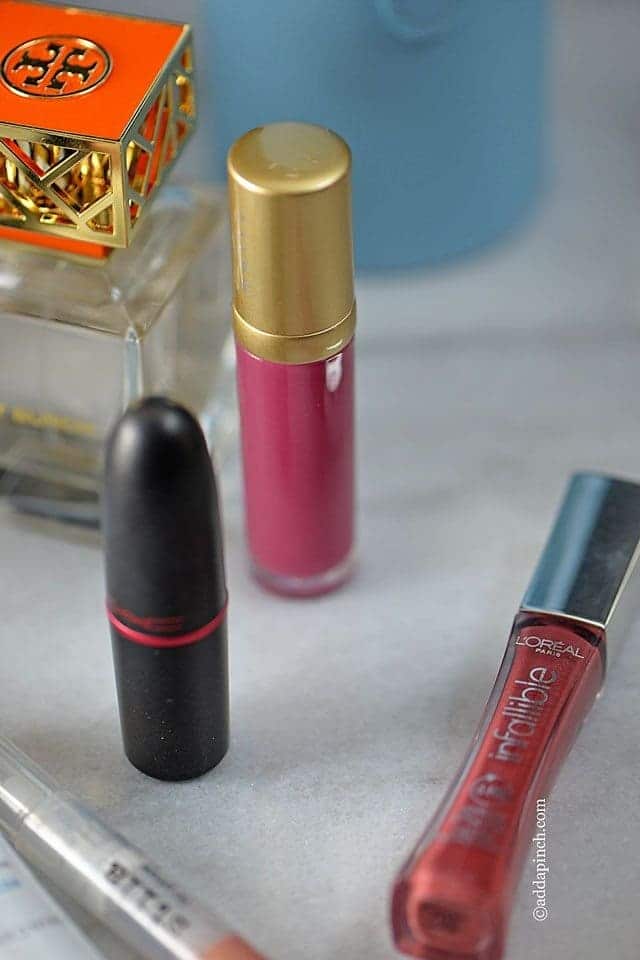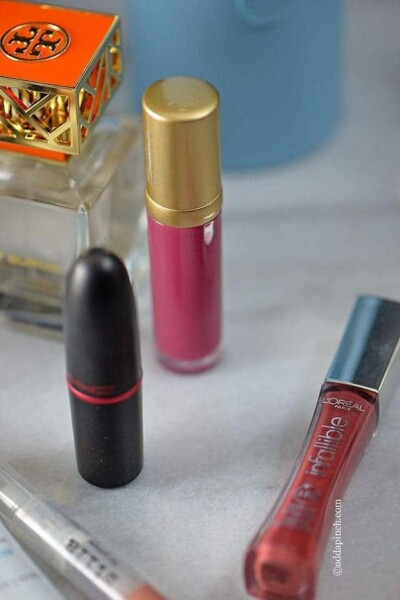 7. MAC Viva Glam VI. I love that proceeds from this lipstick line goes to charity, but I also love how smooth these lipsticks glide on and leave my lips feeling. Of all the shades, Viva Glam VI is my favorite with its slight shine for special occasions.
8. Mally Lip Lacquer Trio. Okay, this trio has the perfect colors. I love ALL of them, especially the two lighter shades. The medium one, Mauve, is so fresh and bright and the lightest, Deep Pink Nude, really is the perfect light pink without looking like bubblegum on your lips.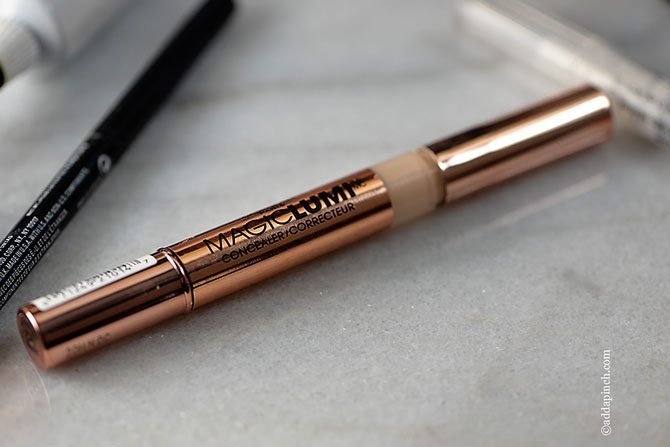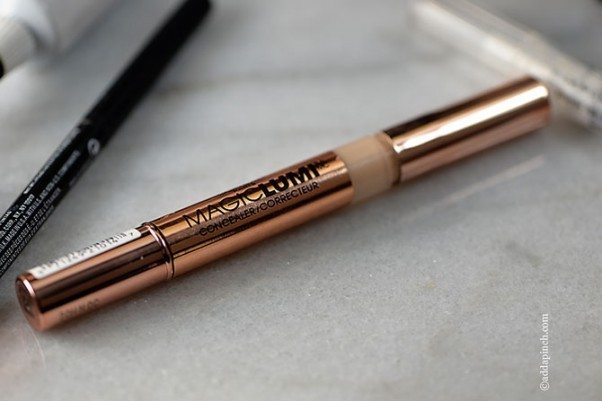 9. MagicLumi Concealer/ Corrector. This stuff is magic. Like really! I use it as my cream highlighter and it works like a little charm.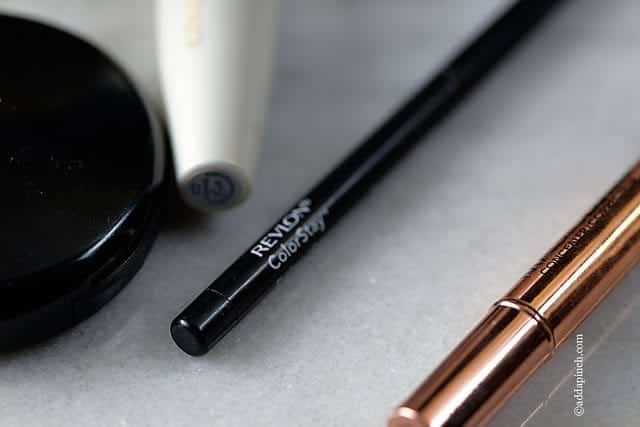 10. Revlon ColorStay Eyeliner. Remember how I said I hoard certain products? Well, this is one of those that I definitely never want to be without. Sure, there are plenty of eyeliners that go on smooth and stay put all day long, but seriously, at this price point, you can't beat it. Love it!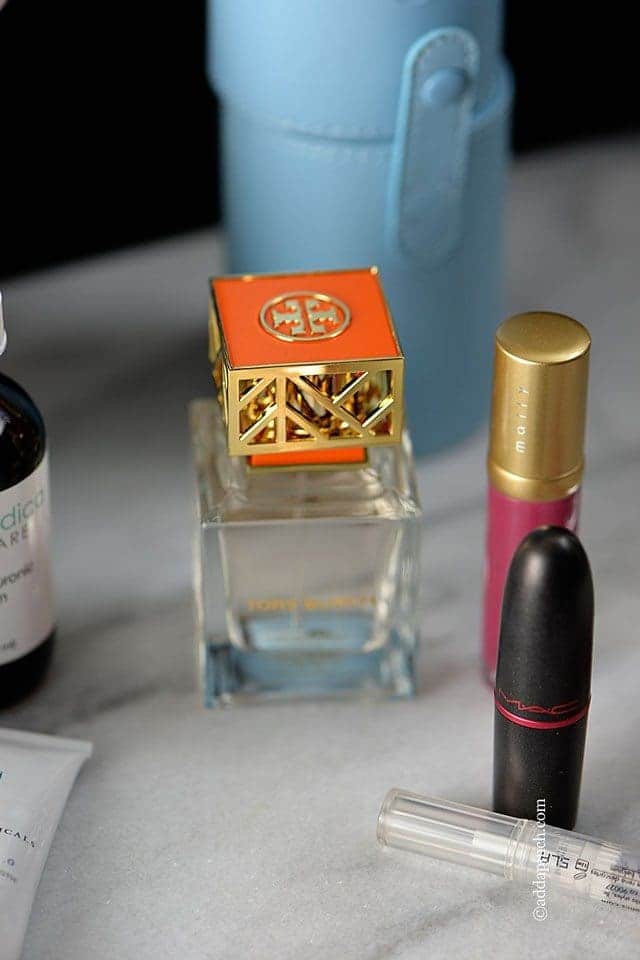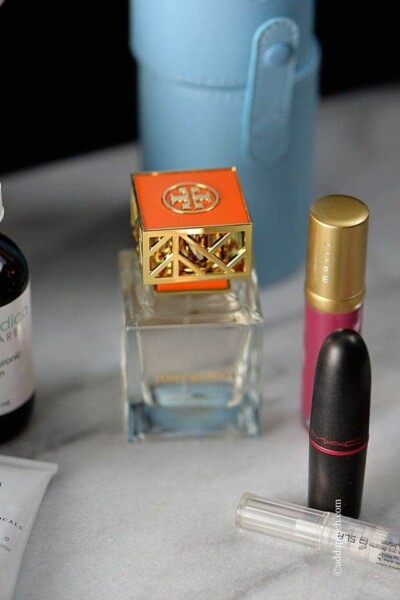 11. Tory Burch Perfume. My in-laws gave me this perfume this past Christmas. What can I say? They know me well! My aunt Ruby told me when I was younger that a woman didn't really have to have a signature scent, she could collect perfumes and use different scents based on how she was feeling that day. I love that advice and have taken it to heart. But… if I did have to have a signature scent, this would move right on up the list of favorites to choose from.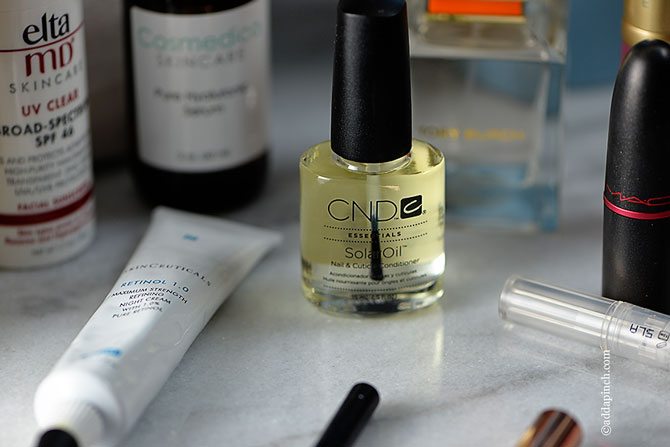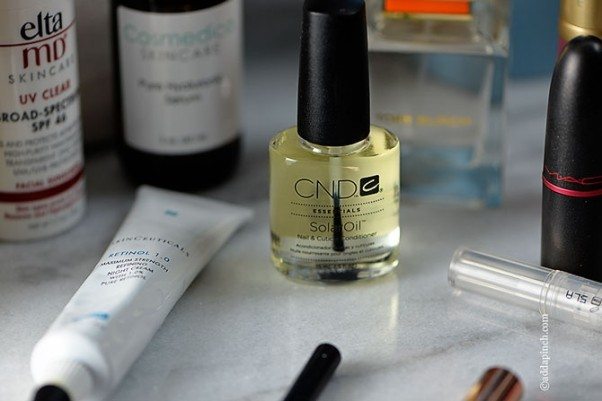 12. CND Solar Oil. My cuticles and nails have never looked better. After months of gel manicures and treating my hands like they were disposable, I've been paying more attention to them lately and this has definitely made a huge difference. I keep it on my nightstand and apply it every evening as I'm going to bed. Immediately, my hands look so polished! I also swipe a bit on if we're headed out. Miracle.
So, what are some of your beauty loves? I'd love to know!
Love ya,
Robyn xo
Disclosure: All products were purchased by me, because I love, love, love beauty products almost as much as I love chocolate! Almost. This post does contain some affiliate links.