I have a ton of great stuff to show you guys for this second edition of my beauty loves series. I loved all of the comments and emails from you all in last month's edition.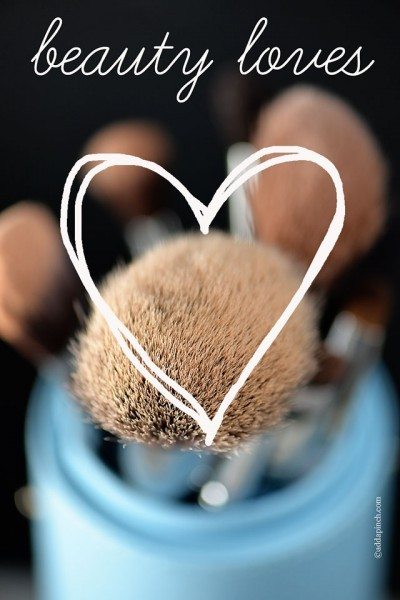 I think you all love beauty products as much, if not more, than I do! And by the way, I didn't think that was even remotely possible! But… since you are, I'm even more excited about this series. It's like my beauty product obsession is finally out of the closet – or makeup bag, if you will! Ha!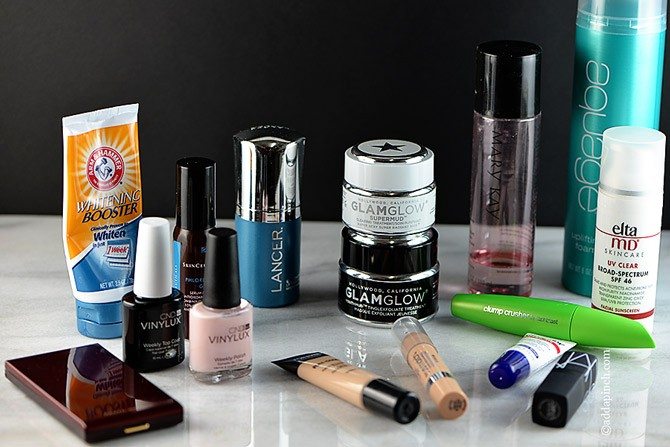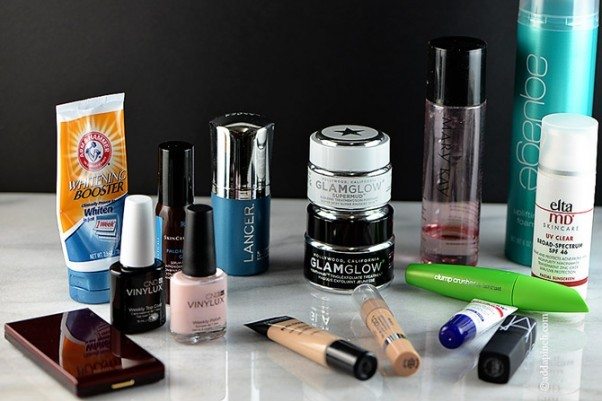 I have some really great things to share with you this month, too! Most are items you can find at your local drug store, Target and a few others are from the beauty department or online.
I've included links to each item in the color (if applicable) or exact item that I use in case you want to check it out, too.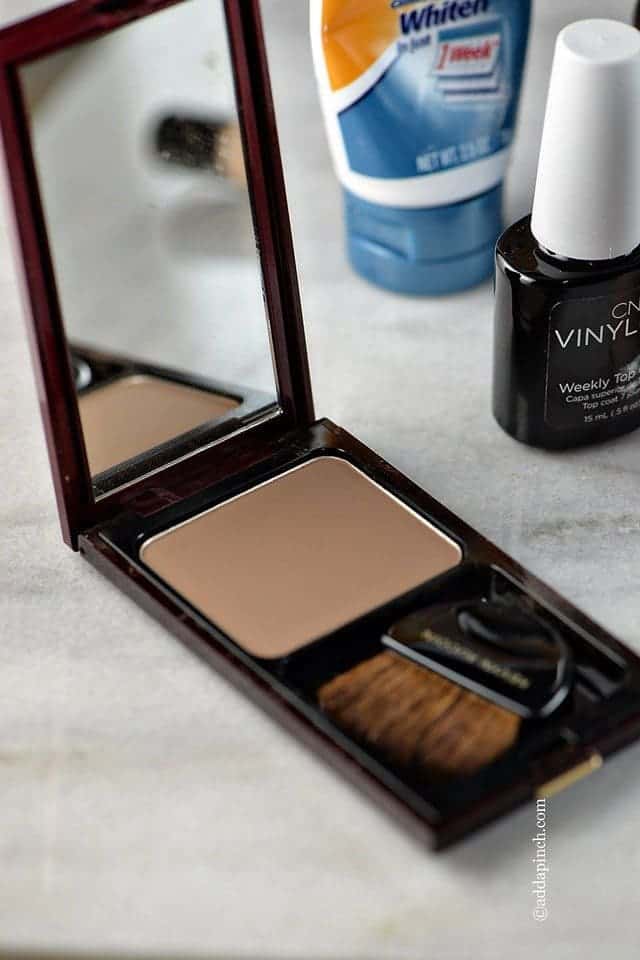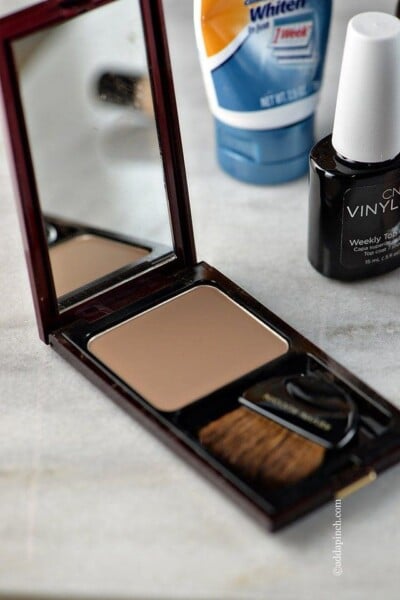 1. Kevin Aucoin Sculpting Powder. Okay, we've all heard the current trend of contouring and highlighting for our makeup for a while now. I've tried a few different brands, but have to say that this is by far my favorite. It is a rich pigment, so a little goes a long way. It just takes a liiiiitttttle bit. I believe there is updated packaging for this product, so don't let that confuse you. I do not use the little brush included with this, I use my Sigma brush instead. While this brand's shade is reported to work well with a wide-range of complexions, I can tell you it is by far the best for this super pale gal!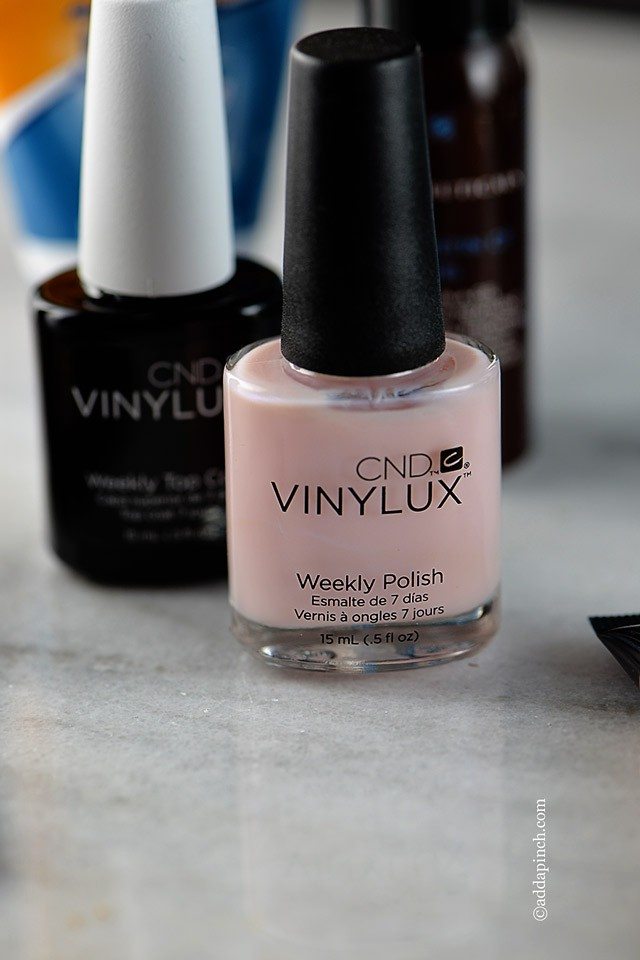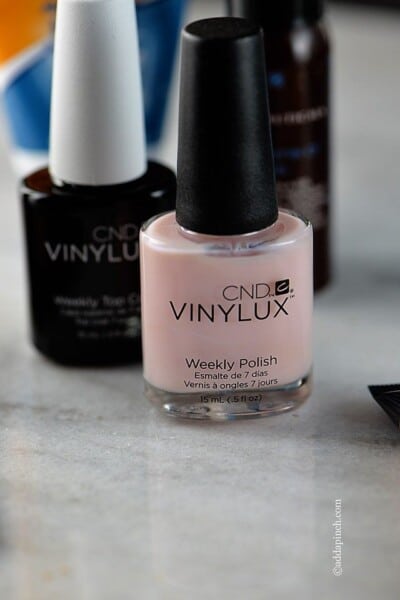 2. CND Vinylux Polish and Top Coat. When I paint my nails, I can't stand it when it chips, flakes, peels, or anything else within a few days. It feels like a total waste of my time when it does, especially if it is after my once a year trip to pay someone for a manicure. Ha! So, I have to tell you that this polish and top coat are PERFECT for me. The polish goes on smooth without ANY streaking. I apply two coats of the polish, this color is Negligee, and then one coat of the top coat. It actually lasts a bit over the seven days promised for me, which in itself is a miracle with all the dish washing I do!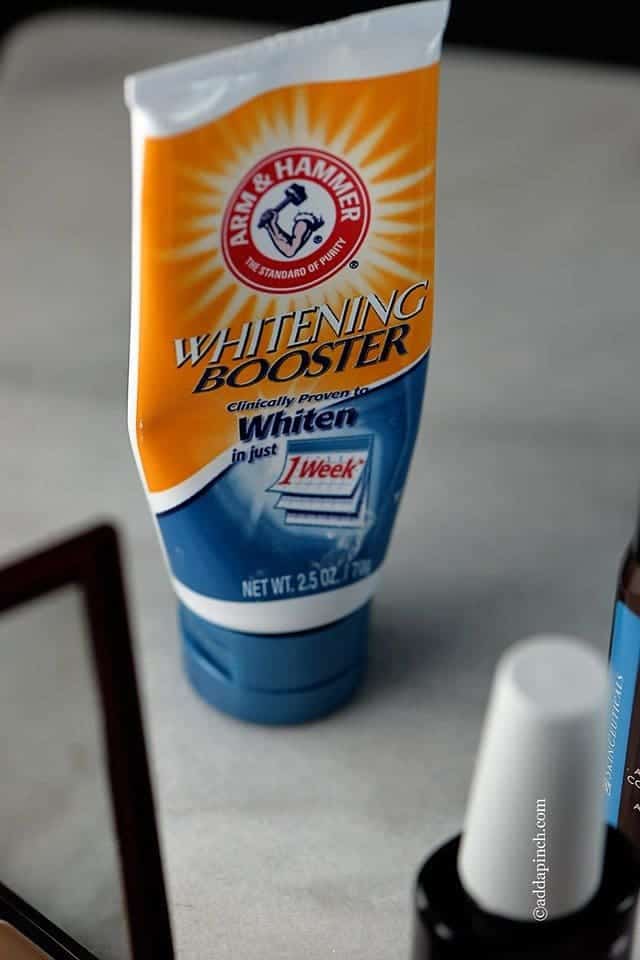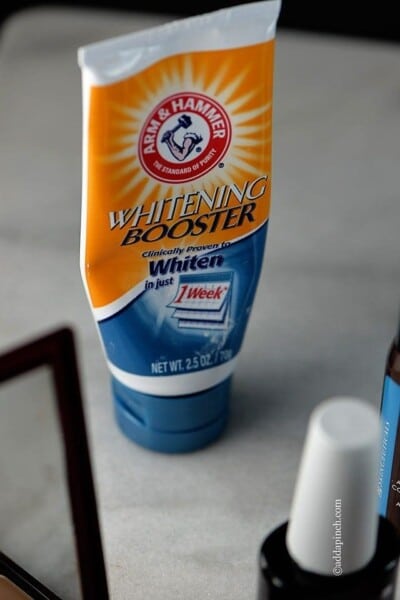 3. Arm & Hammer Whitening Booster. This stuff works and I never want to be without it! Can you tell by the tube how much I love it? I know it might seem odd to include something from the toothpaste aisle of the grocery store in with beauty products but seriously, I think of it as a tooth whitener and put it up there with so many of the others sold in beauty departments. But, the best part is you can find it in the grocery store or drug store! LOL!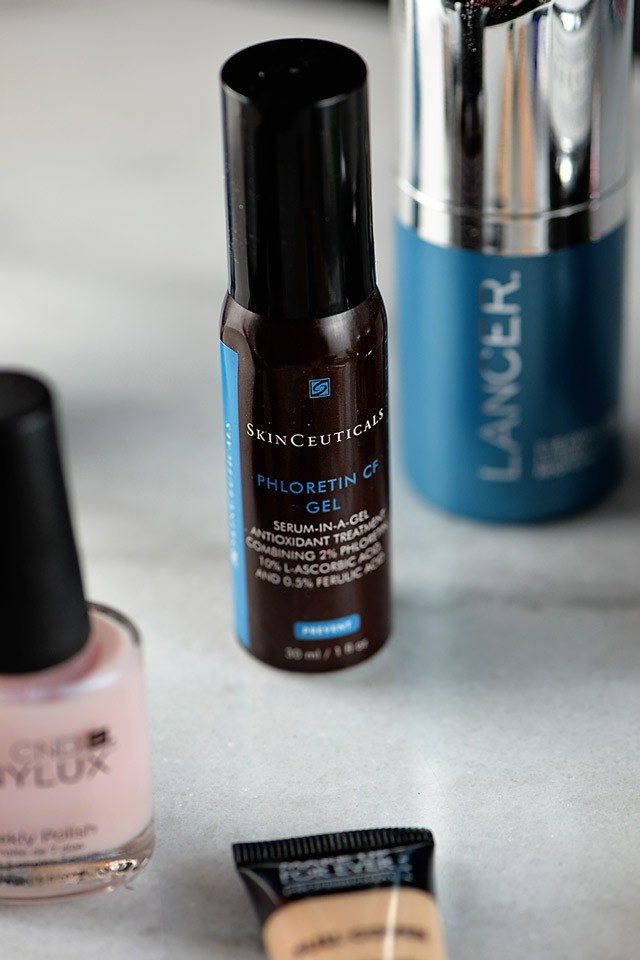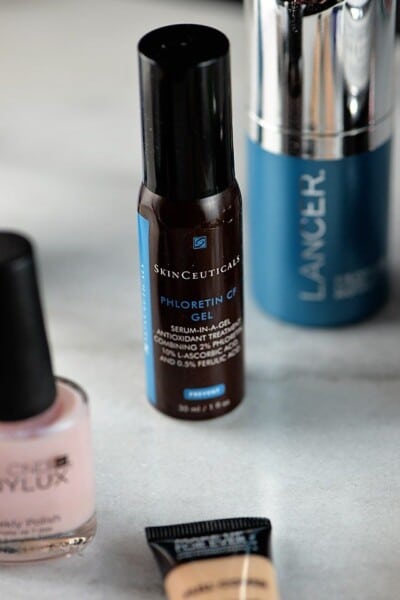 4. SkinCeuticals Phloretin CF Gel. After all of the success I've had with the SkinCeuticals Retinol that was recommended by my dermatologist, I decided to try this product he also mentioned to me. While I wouldn't say that I've seen dramatic results from it, I'm giving it the old college try since he said it was more of a preventative measure. I apply one tiny pump of it each morning before my moisturizer.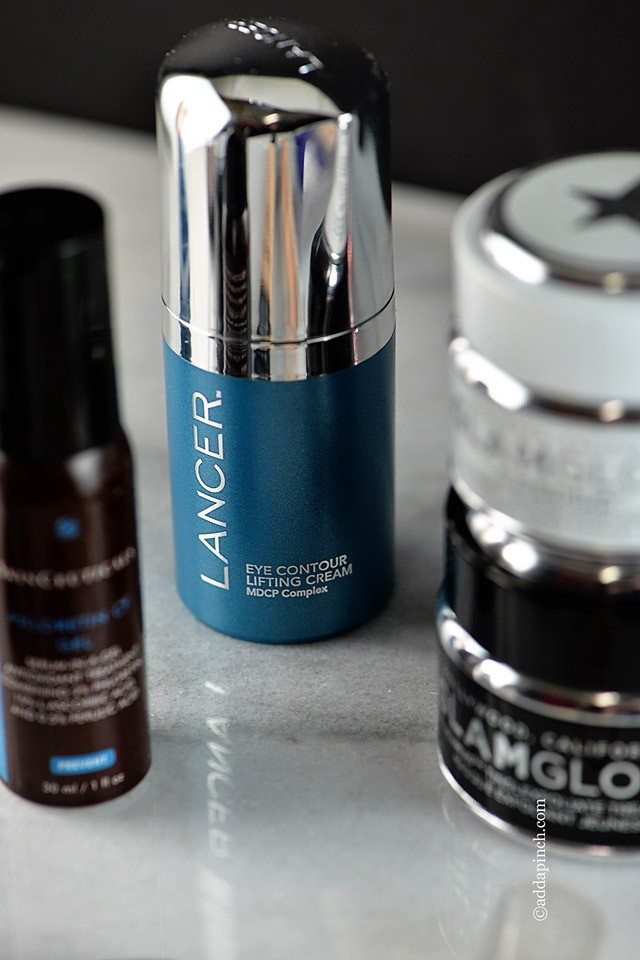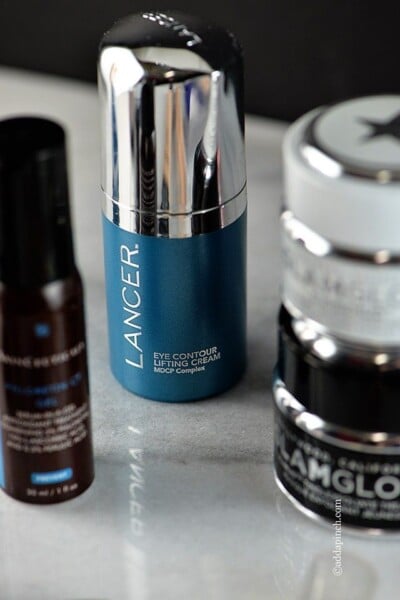 5. Lancer Eye Cream. I received a lot of emails after last month's beauty loves post asking what I used as an eye cream. I absolutely love this lifting eye cream from the line by Dr. Lancer. Again, a little goes a long way. I am always trying my best to keep my eye area as moist and supple as possible, because let's face it, I'm definitely not getting any younger! The laugh lines that I have are true treasures, but I want to keep them looking like laugh lines and not battle scars so I'm prone to try more things in ways of eye creams from time to time than anything else!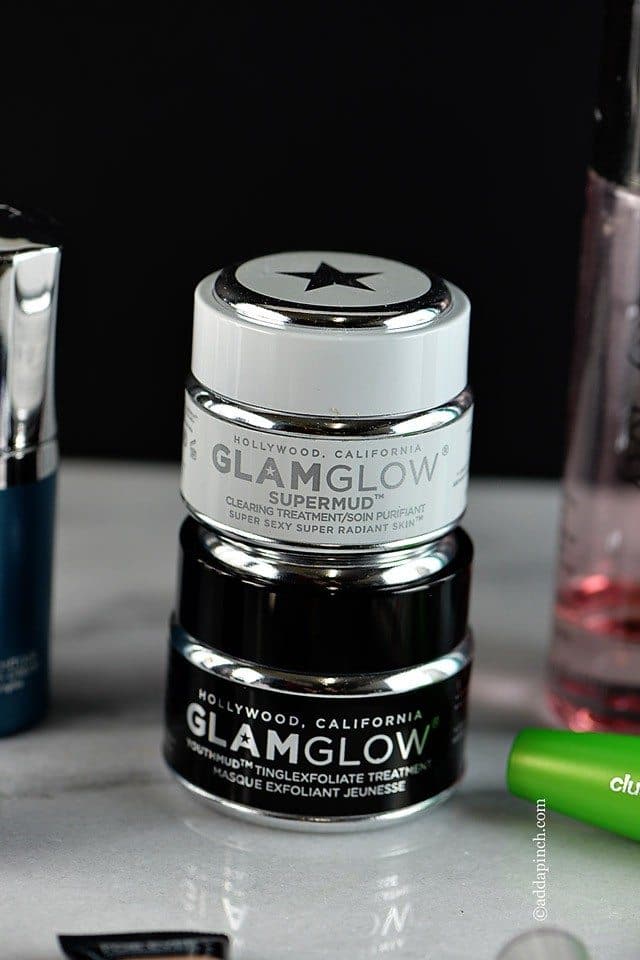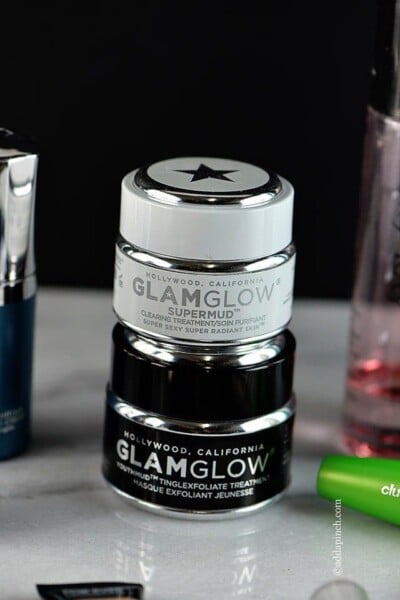 6. GlamGlow SuperMud and GlamGlow YouthMud. Let's start with the SuperMud (white jar). Oh my GOSH how I love this stuff. I've always been a big believer in masks and love to alternate them throughout the week. Yes, just typing that makes me realize I sound a bit weird. I use this mask every other day. After I cleanse my skin, I hold a really warm wash cloth to open up my pores. Then, I apply this and leave it on for about 20 minutes. For most of the 20 minutes, I go about my business, but you'll catch me every few minutes during that time going in to just watch it work! I can actually see lighter spots where the mask is pulling oils from the pores. Okay, that sounds really gross, but believe me, this stuff is one of my favorite things ever.
7. Now, for the YouthMud (black jar). Again, I love masks and since I loved the SuperMud so much, decided to try this as well. It works differently in that it also exfoliates. After I leave it on for about 15-20 minutes, it is very hard. Then, when you take it off, you rub it which is the exfoliating factor of the product. I use this about once a week.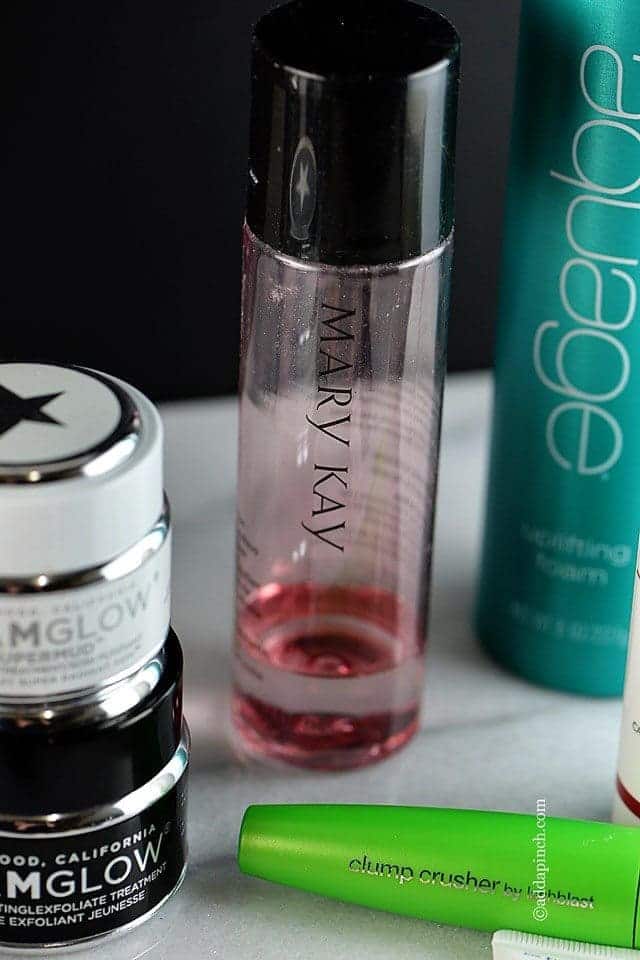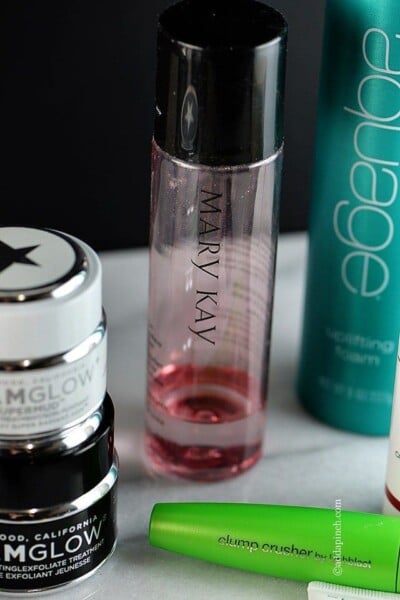 8. Mary Kay Makeup Remover. This is an old family favorite that I have loved for years. A little bit on a cotton pad and a gentle swipe for waterproof mascara and it is off like magic. Love it. Now, Mary Kay products must be purchased from a beauty consultant, but you can generally find one in your area or search on their website for one.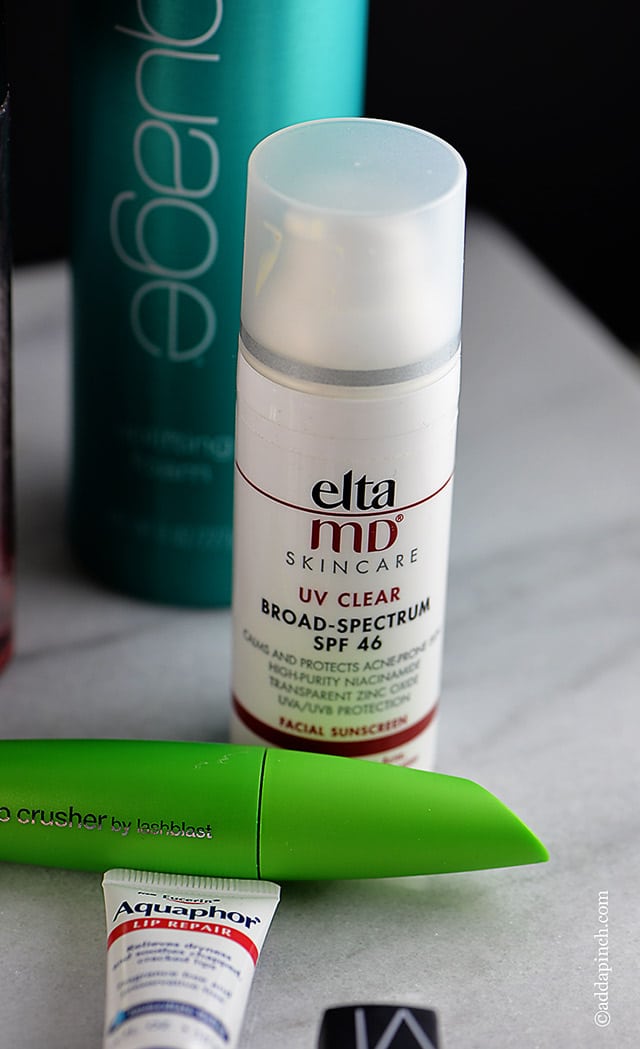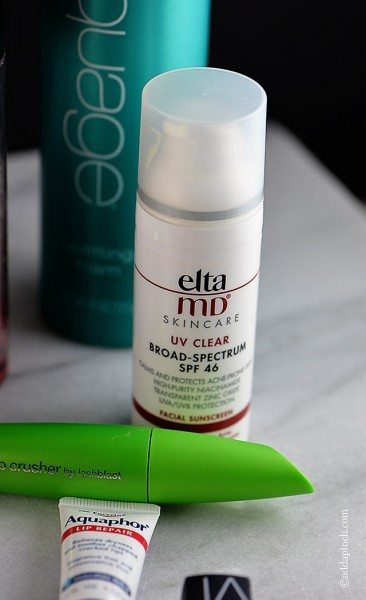 9. Elta MD Sunscreen. I know I raved about this in last month's post, but seriously, I knew it was worth repeating! I use it every single day of my life! I just wish I'd started using it years earlier than I did!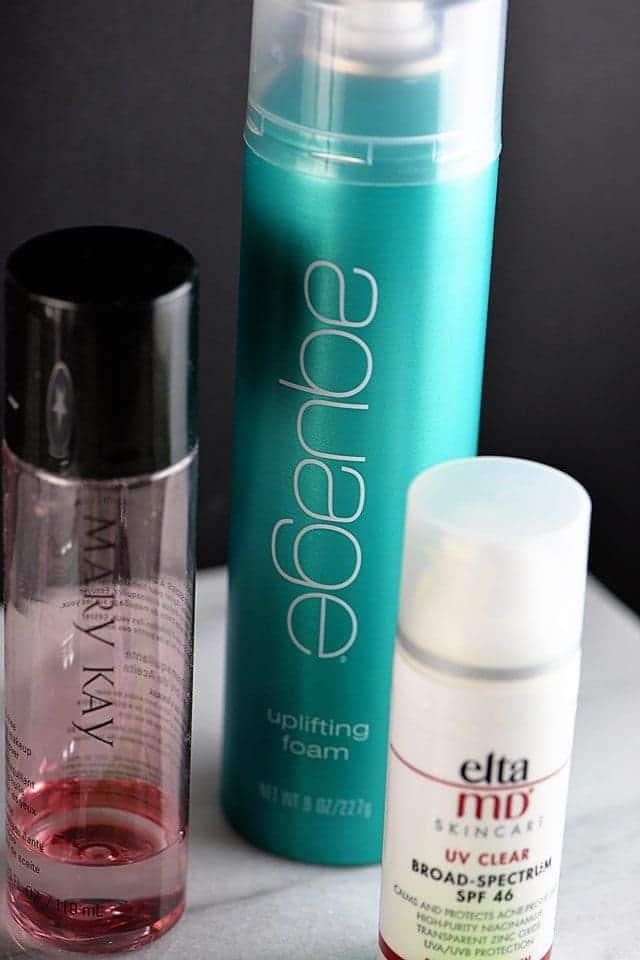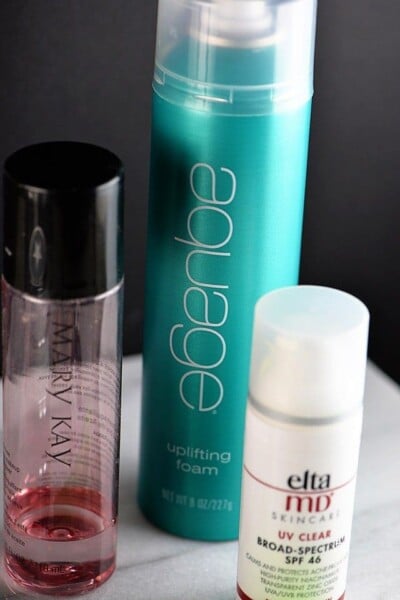 10. Aquage Uplifting Foam. This stuff works great for giving my hair a little lift! After I wash my hair and lightly towel it dry, I spray a touch of this in about four sections of my hair around the crown of my head. Then, I rub it in before I blow dry my hair. I've had this one can for months and use it all the time, so it really does last a while!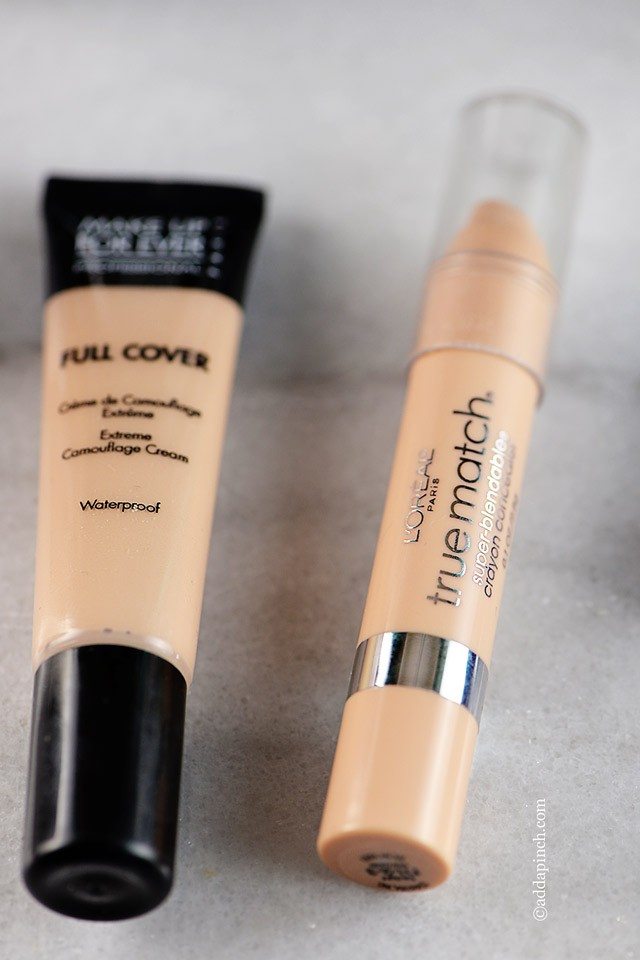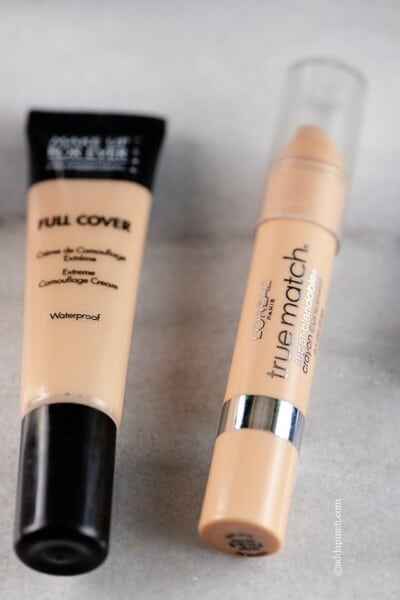 11. Make Up For Ever Concealer. I inherited dark circles from my Mama and Grandmother. If I didn't love those two ladies so much, I'd be a bit put off by their gift, but… Last year, my niece Amy was married and I just knew I would cry all of my makeup off of my face before she said, "I do!" So, I asked the ladies at the makeup counter what they recommended. This was it. Now, whenever I need a concealer that goes on smooth, definitely isn't dry and cakey, stays put even when I cry watching movies or if we're going to a weddings, or other special event, this is what I use. Gosh, just typing that it does sound like the perfect concealer, doesn't it? I do believe that it is! Love it!
12. L'Oreal True Match Crayon Concealer. For everyday, this is the concealer that I'm loving. I use the fairest of the shades in Fair/ Light Neutral. This little crayon is perfect for traveling, tossing in your purse, and everything else you can imagine. The concealer is truly very creamy and not at all what you'd think of from a "stick" type concealer. I love that even during the day, I can apply a bit of this concealer if I just need a quick touch up before going out and it blends in perfectly. These little crayon style products are favorites of mine now that you can easily roll them up rather than having to have a huge pencil sharpener that I would always lose. Mercy, I hope they never discontinue this stuff!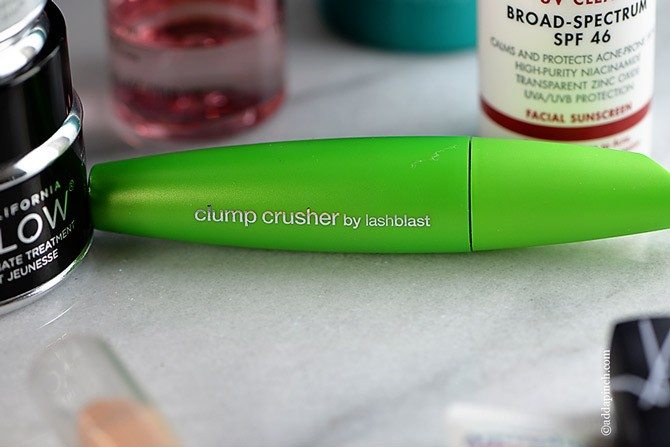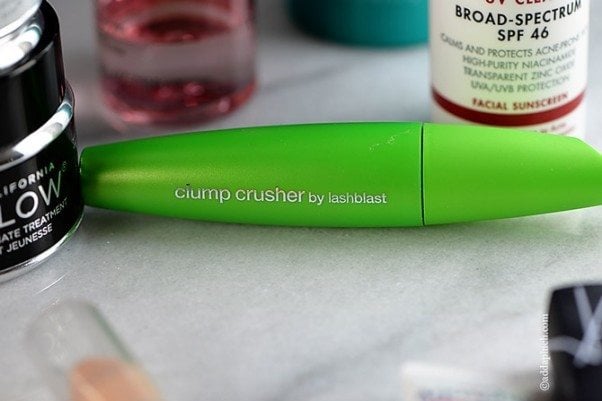 12. Clump Crusher Mascara. I've loved the Lashblast line of mascara for a while now and picked up a tube of this new clump crusher type before we went on a trip recently. It has a curved wand with tons of little bristles and has now become my new favorite mascara. Even though I've tried so many of the more expensive brands of mascara, I'm a tried and true drug store mascara kinda girl. I've since seen that they have one that extends your lashes, called Clump Crusher Extensions. I think I'll be giving it a try next! LOL!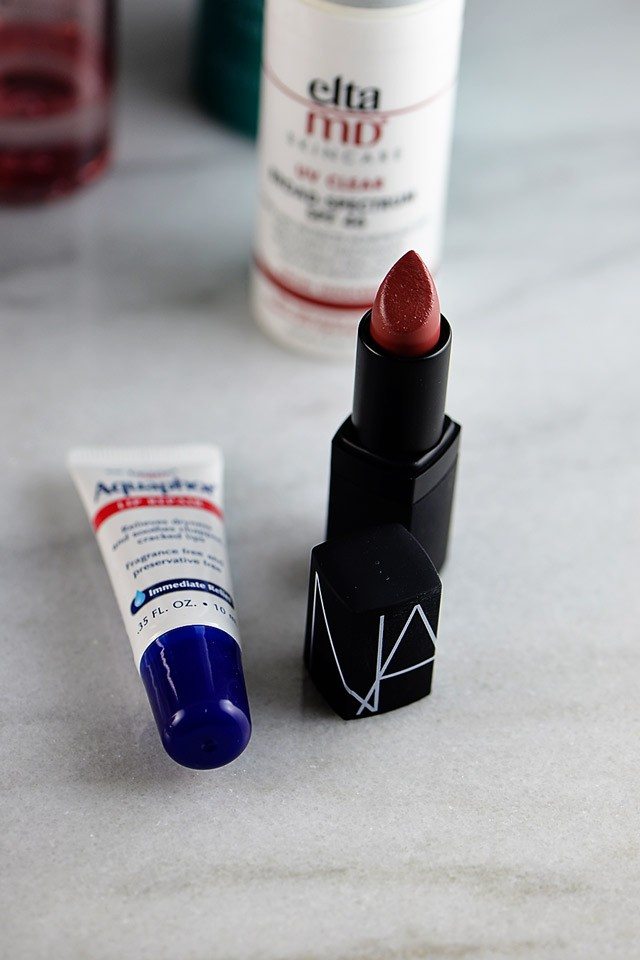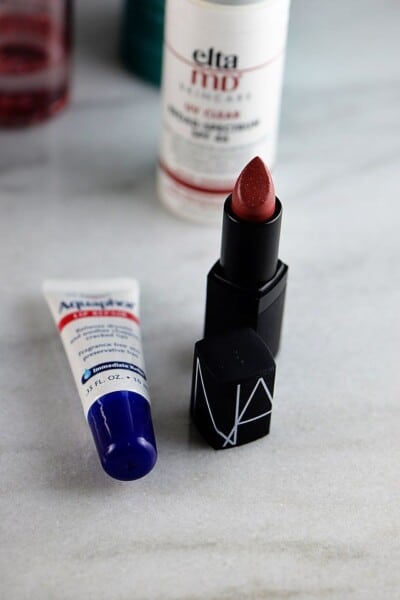 13. Aquaphor Lip Repair. I think I'm kind of addicted to this lip stuff. I have a tube in my purse, in my makeup bag, and beside my bed! Not that I have to reapply it that often, its just that I don't want to be without it! It truly makes your lips feel so smooth and soft!
14. Nars Lipstick in Dolce Vita. I think I may have mentioned how much I love lipstick and lipgloss in last month's Beauty Loves post! This lipstick definitely doesn't replace all the others that I shared, but I couldn't believe that I left it out! It is by far one of my favorite lipsticks. I love the way the lipstick goes on and feels, but the shade is absolute perfection. At least for me. Since I'm very fair with dark hair, I need a little color on my lips or I feel like I look completely washed out. But… anything really bright just looks a bit frightening, at least for everyday. So, this Dolce Vita shade is the perfect shade of natural pinky brown, but not too brown and not too pink. Make sense? Anyway, I love it!
So, that's it! 14 of my current favorite things in the way of beauty products, well… and toothpaste!
What have you discovered lately that you'd call a favorite beauty find?
{This is not a sponsored post. I'm not affiliated with any of the companies included, yet if they happen to see this I wouldn't mind them noting that I sure hope they never discontinue my favorites! Affiliate links are included}