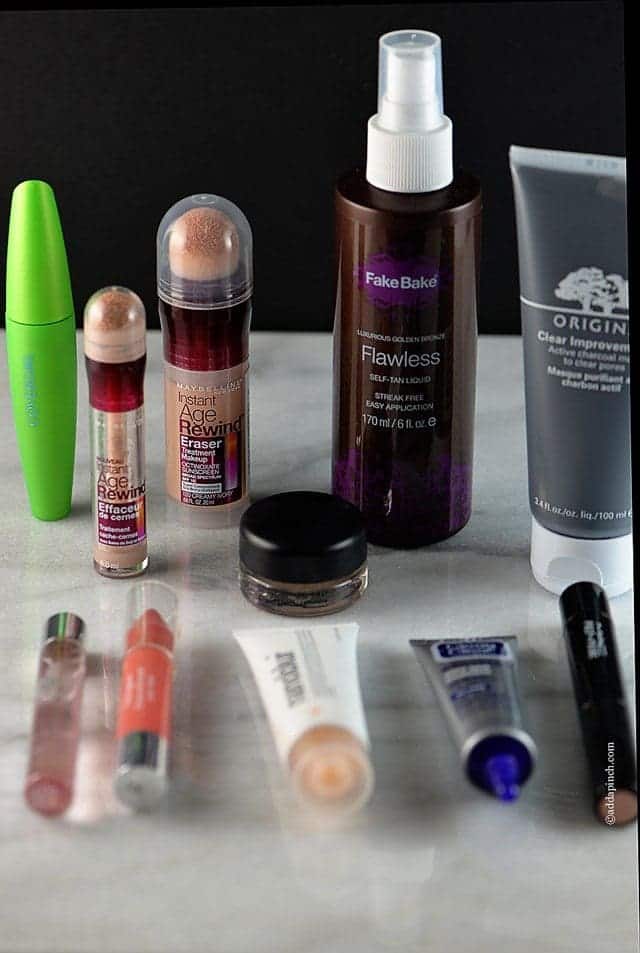 I have a fun lineup of the beauty products I'm loving right now. It is a great mix of beauty department and items you can find at the drug store!
1. Mascara is one of my must-have beauty items at all times. I'm loving this waterproof version of a favorite I've shared previously!
2. This concealer is great for covering all sorts of imperfections, like a dark spot that still hasn't faded!
3. As the weather gets a bit warmer, I like to lighten up my makeup as well. I love this makeup that comes with it's very own sponge! A couple of swipes and I'm done.
4. Cream eyeshadow has been my favorite for a while now and this quite natural is perfect anytime!
5. This sunless tan spray comes with a mitt for even, beautiful coverage. It is a definite go-to throughout the spring and summer and doesn't leave me looking orange!
6. This charcoal mask is great for deep cleaning your pores and leaving your skin looking great.
7. I'm sort of a perfume junkie and love roller ball perfume bottles for travel and to keep in my bag as well. This gift set is one of my favorites.
8. Crayon lip stains are all the rage and I love them. This color is just right for everyday!
9. Speaking of all the rage items, I'm still in the dating stage with this blur cream. So far, it looks promising.
10. Sometimes, we all need something to help with those breakouts. This cream works for me quickly.
11. I still love a little brightener for that dewy skin look and add just a touch of this at my cheekbones and above my brows.
So, what are you loving lately? Anything you've discovered you think we all should know about?
Robyn xo
Disclosure: Beauty Loves are never sponsored posts and always include items that I am personally loving and purchased. Affiliate links may be included in these posts and if you happen to purchase an item through one of these links, I may make a few pennies which then supports this site. But really, the links are included to help you see more information on each of these items listed. Enjoy!