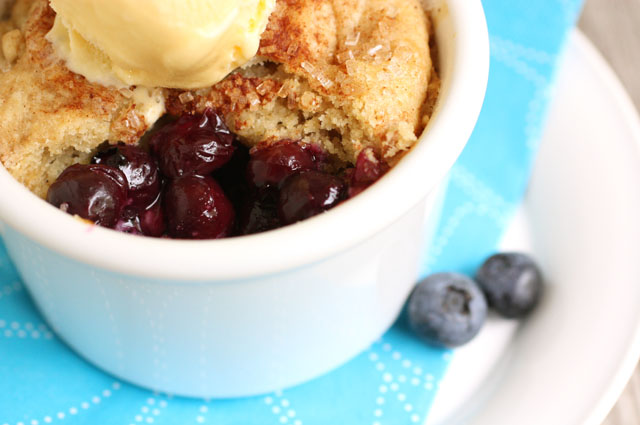 Hello! I'm Brenda from a farmgirl's dabbles, and I'm so very happy to be here today…because I'm so very happy to know Robyn!
Robyn is just one of those very special kinds of friends who always makes you feel like you've just beenhugged. She's friendly, supportive, and has a fantastically positive outlook. And she knows her way around the kitchen. My kinda gal!
I tore this recipe out of a magazine over six years ago, and from the looks of that stained and crinkled piece of paper, you'd be right to guess that I make these Blueberry Pot Pies quite often. And I'll give you a few very good reasons why!
They're super easy to put together, requiring less work than a traditional pie. Yet they still give you that fork-in-the-pie feeling.They taste fabulous! Would I seriously make these over and over again if they didn't?! These pot pies are versatile. You don't have to stick to blueberry.
A couple of my other favorites are combos consisting of blueberry/raspberry and peach/raspberry.
They're so stinkin' cute! These individual pies are just so much fun.
Licking your very own ramekin clean is sure to fill your belly with joy.
I hope you like them, too!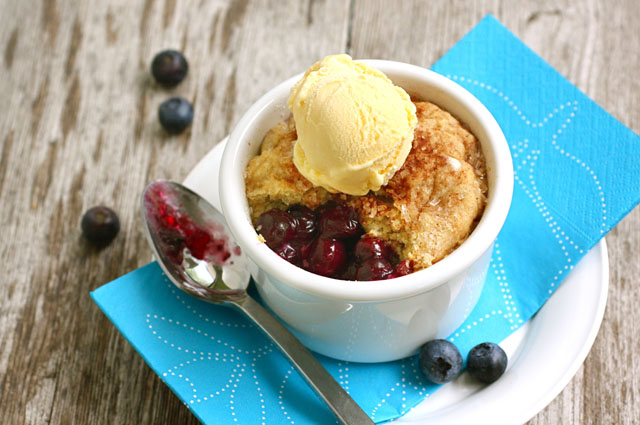 Blueberry Pot Pies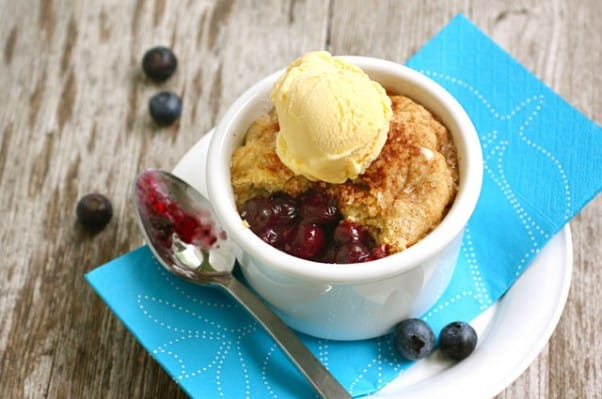 Blueberry Pot Pies make a delicious dessert. Made with fresh blueberries and a crispy crust, this blueberry pot pie is sure to be a favorite.
Ingredients
1-1/2

cups

all-purpose flour

1/4

cup

brown sugar

1-1/2

tsp.

baking powder

1/4

tsp.

cinnamon

1/8

tsp.

nutmeg

1/8

tsp.

salt

1/2

cup

chilled butter

cut into pieces

3

T.

heavy whipping cream

5

cups

fresh blueberries

1/3

cups

sugar

or to taste, depending on the sweetness of your berries

1-1/2

T.

cornstarch

2

T.

fresh lemon juice

1/8

tsp.

salt

1

T.

heavy whipping cream

1/2

tsp.

cinnamon

2

T.

sugar (or course sugar

for a little bit of crunch and pretty sparkle
Instructions
Combine first 6 crust ingredients (flour through salt) in a food processor and pulse to combine. Add the butter and pulse 6 times, or until mixture resembles coarse meal.

With processor on, add 3 tablespoons of cream through the food chute and process just until combined.

Do not form a ball of dough.

Press the mixture gently into a 4″ circle on plastic wrap and cover.

Don't worry if it seems a bit dry. It's very forgiving and will work out! Chill at least 1 hour.

Preheat oven to 400°.

Combine the berries and next 4 ingredients in a small bowl and toss gently. Divide evenly among 6 (8-oz.or 1 cup) ramekins.

Unwrap the chilled crust dough and divide into 6 equal portions (I cut the circle with a knife, like a pie).

Form each piece into a ball.

Pat each ball on a lightly floured surface into a rough disk that will fit on top of ramekins. This will be about 3″ to 4″ in diameter.

Again, if it seems a bit dry, don't be concerned. Just press together as best you can.

If needed, use a spatula to remove the dough round from your working surface.

Top the berry mixture with a dough round, inside the top of the rim.

Do not let the dough hang over the rim.

And don't worry about perfection here. Just lightly place the dough circle inside the rim – it will turn out lovely!

Brush the top of each crust with the tablespoon of cream.

Combine the cinnamon and sugar in a small bowl and sprinkle mixture evenly over crusts.

Place ramekins on a baking sheet and place in oven.

Bake for 20 minutes or until crust is golden brown and fruit is bubbling.

Serve warm or at room temperature with a scoop of vanilla ice cream.

To warm them up from room temperature, just pop them into a 300° oven for about 5 minutes or so.
Notes
Source: adapted from Cottage Living magazine, April 2005
Nutritional Information
Calories:
361
kcal
|
Carbohydrates:
48
g
|
Protein:
2
g
|
Fat:
19
g
|
Saturated Fat:
6
g
|
Polyunsaturated Fat:
4
g
|
Monounsaturated Fat:
9
g
|
Cholesterol:
14
mg
|
Sodium:
284
mg
|
Potassium:
174
mg
|
Fiber:
3
g
|
Sugar:
32
g
|
Vitamin A:
891
IU
|
Vitamin C:
14
mg
|
Calcium:
46
mg
|
Iron:
1
mg
Enjoy!
____________________________________________________________________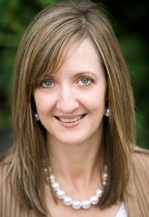 Brenda of A Farm Girl's Dabbles shares tasty recipes along with heartwarming stories about her family life.