Making our way home on our RV trip, we made an overnight stop in Amarillo, Texas.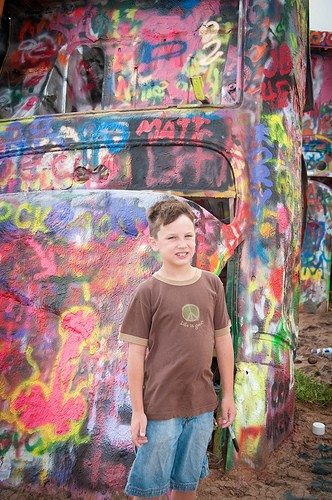 Home of Cadillac Ranch.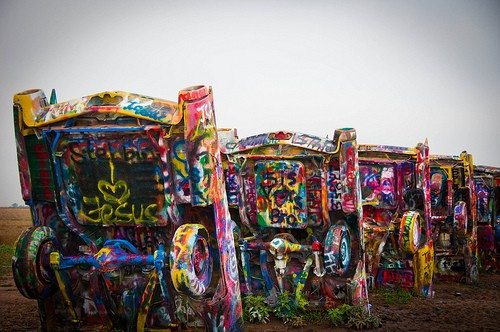 Cadillac Ranch is located in a open field off of Interstate 40 off of Frontage Road. Created by helium millionaire, Stanley Marsh 3 (he thinks III sounded too pompous), in 1974, the ranch is a tribute to the great American automobile and the historic Route 66 which passes through this area.
The display includes 10 Cadillacs positioned at the same angle as the The Great Pyramid of Giza, one of the remaining Seven Wonders of the World.
Open seven days a week, this graffiti laden art display is open to the public free of charge. Visitors are welcomed to enter the gate alongside the road and leave a bit of their "signature" on the display.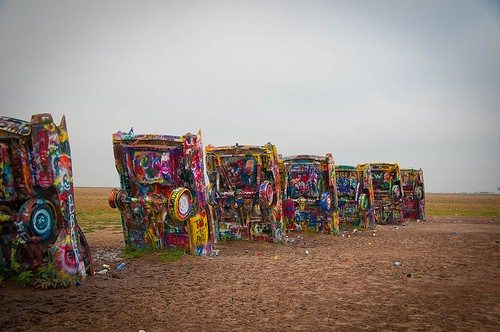 Sadly, visitors also leave a little bit more than just their signatures. We were disappointed at the number of paint cans and other trash left on the ground.
However, it seems to fit the display perfectly. So much so that in 1997 when the display was moved two miles to its current location due to urban sprawl, not only were the vehicles relocated, reportedly so were the paint cans and other trash.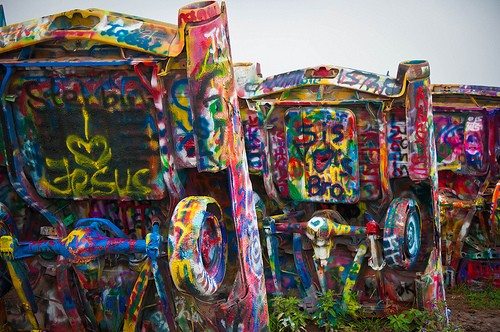 We weren't quiet sure what to think about the debris and Little Buddy kept asking why anyone would want to litter like they'd done here.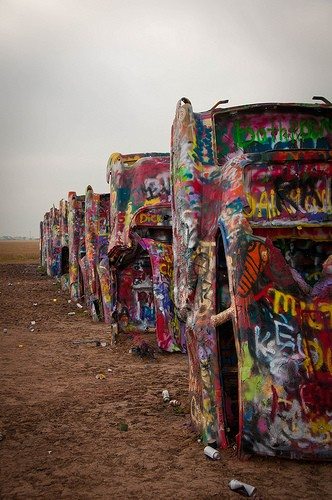 And as we drove away, I was a bit in awe of Mr. Marsh 3. He certainly went out on a limb 25 years ago to create this work of art. And I felt a little bit more sentimental over antique Cadillacs and inspired by the man who had them placed with their noses in the ground.
If you ever find yourself along I-40 west of Amarillo, it's worth the 15 minutes to stop and see.