My family loves to camp! From my husband and son going backpacking and regular Scout camping trips to our taking our RV, we are truly a camping family. Generally, we are doing some sort of camping activity at least once a month, if not more! So, I thought I'd share some of our camping essentials that you might enjoy as well.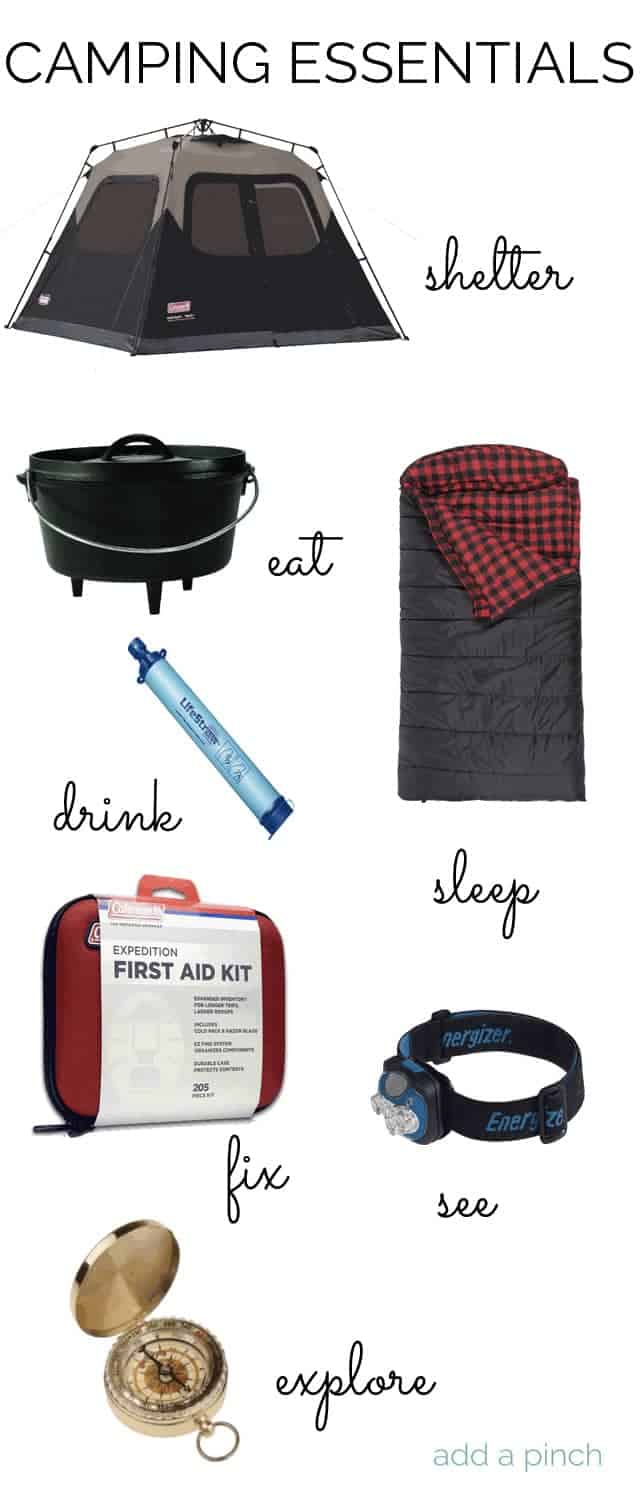 While camping can become as elaborate as you care or have need to make it, it can also be rather simple. These are the essentials that we use for weekend camping trips. An extended journey in our RV has a list of it's own, yet many of these basics still apply!
Shelter
You will find that you'll need different types of tents (shelter) depending on the type of camping you enjoy. For instance, when my husband and son are on backpacking trips, their tents are smaller, lighter weight, and easy enough for them to carry in their backpacks for their trip. Yet, when camping for an extended period, a larger tent makes a big difference since it provides additional personal space for everyone.
Sleep
My husband always says that you need to get off the ground when you are sleeping. It keeps you warmer and more comfortable. Of course, my son could care less at his young age, but our bodies thank us when we use a cot, air pad, or air mattress. When backpacking, the boys use a lightweight air pad that they can quickly unroll and inflate when ready to set up camp for the night. I personally prefer using a cot! Ha.
You'll also want to be sure to use the best sleeping bag for your budget suited to the environment where you'll be camping. You certainly don't want to take your child's Star Wars or Cinderella sleeping bag on a trip when it is expected to dip below freezing temperatures. Likewise, you don't want to spend money on a sleeping bag rated for 20 below temperatures when you'll only be using it in Florida during the summer!
Eat
I could spend days talking about how to prepare meals while camping. There are a few basics that we just can't do without! We love heavy duty aluminum foil, a cast iron skillet, and a cast iron Dutch oven. With those three, you can make a meal you wouldn't believe!
Drink
You can go without a lot of things, water just isn't one of them! My husband and son keep their individual LifeStraws in their backpacks and then a larger water filtration system for longer camping trips. They make all the difference.
Fix
A good first-aid kit is an absolute must-have for any camping trip. From bug bites, scrapes, and scratches to more intense injuries, you need to be prepared for anything when on a camping trip!
See
It gets daaaarrrrk when camping. I mean really dark. Flashlights, lanterns, and campfires are favorites of ours when camping, but one thing that immediately goes into the backpack or camping bag when preparing for a trip is a headlamp. They keep your hands free while you do all sorts of things! I think they are indispensable!
Explore
You never know if your cell phone will have service or not when you are on some camping trips, so we like to keep a traditional compass handy as well. Of course, a modern GPS or the GPS on your phone works great, too!
Those are a few of our essentials. What are some of yours?
Happy Camping!
Robyn xo