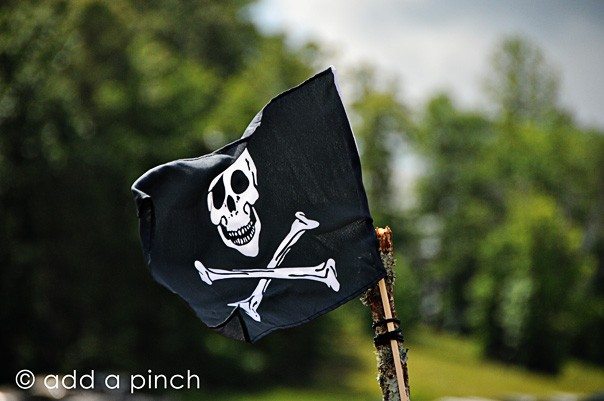 Every year for the past few years, my family has participated in the cardboard boat regatta in support of the animal shelter at the lake where we all love to visit and play. Not only is the cardboard boat regatta a day filled with fun, it is for a wonderful cause. This year's event included numerous adoptions of shelter animals and raised over $20,000 for the shelter. That's definitely a successful day if you ask me.
The race has also become one of the most-looked-forward to events in my family as discussions of rules and regulations and paddling strategies take place for weeks leading up to the big day. Practices have even been held at my father-in-law's pool to get the boys ready in years past, helping the boys to find the right weight and balance on their boat, The Huck Finn. Practices also helped them to find just the perfect cadence as they row and took away a bit of the jitters before the race.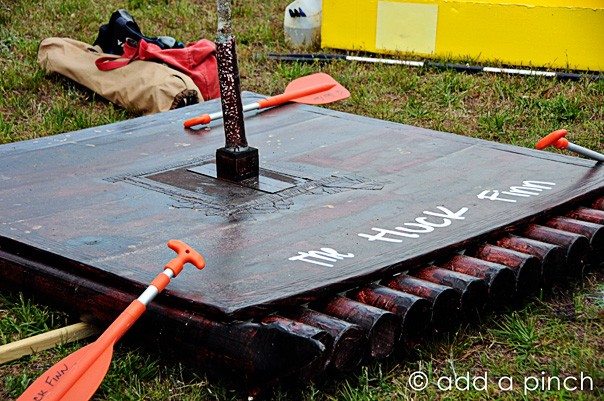 It truly become a family affair when building the boats, too. From design and building, painting and decorating, rowing and cheering, everyone has his or her own special role.
The rules for our cardboard boat regatta are that the boat must be made of corrugated cardboard, tape, water-based wood glue, water-soluable outdoor latex-based primer and/ or paint, and water-soluable caulk or silicon sealant. Boats must not contain foam, plastic or wood with the exception of the oars used to row the boat or if paddles are attached to the boat. However, there is not a restriction on any decorative materials as long as they are not used for aid in the flotation of the boat and are not a hazard. Each boat must contain two people and the boat must undergo a technical inspection prior to being allowed entry into the race.
And let me tell you, the physics lessons we've enjoyed over these boats have been endless!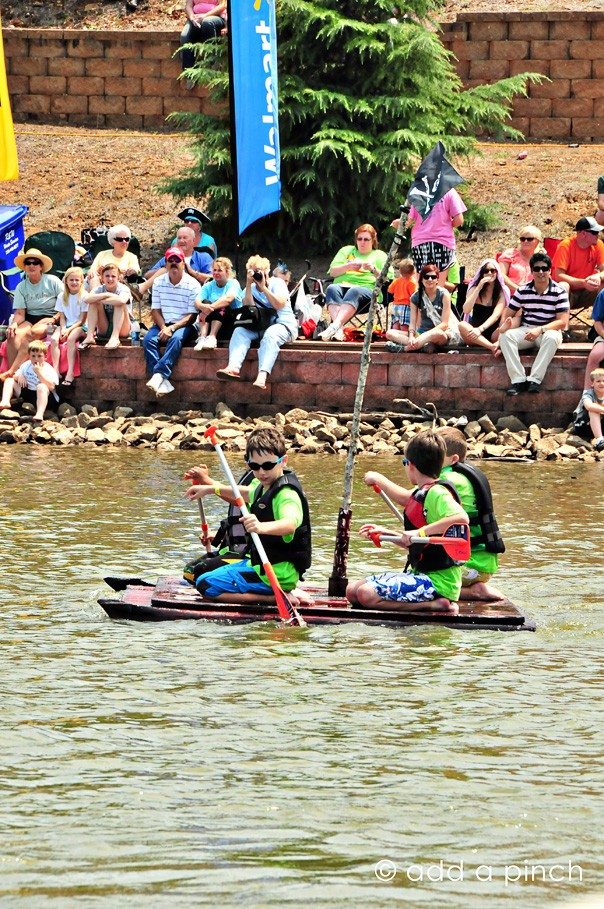 You'll see boats of all shapes and sizes, designs and decorations in the regatta. Our boys like their old trusty Huck Finn that they've been racing for the last few years. Truthfully, it's heavy and bulky and not at all aerodynamic for racing, but just like Huckleberry Finn's raft, it gets them where they are going.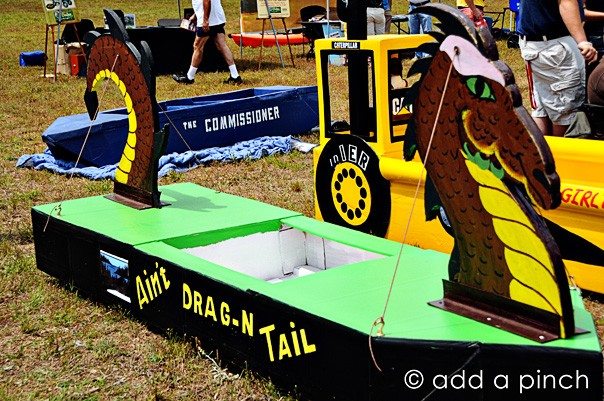 The Ain't Drag-N Tail has always been a favorite of mine. Just look at the creativity!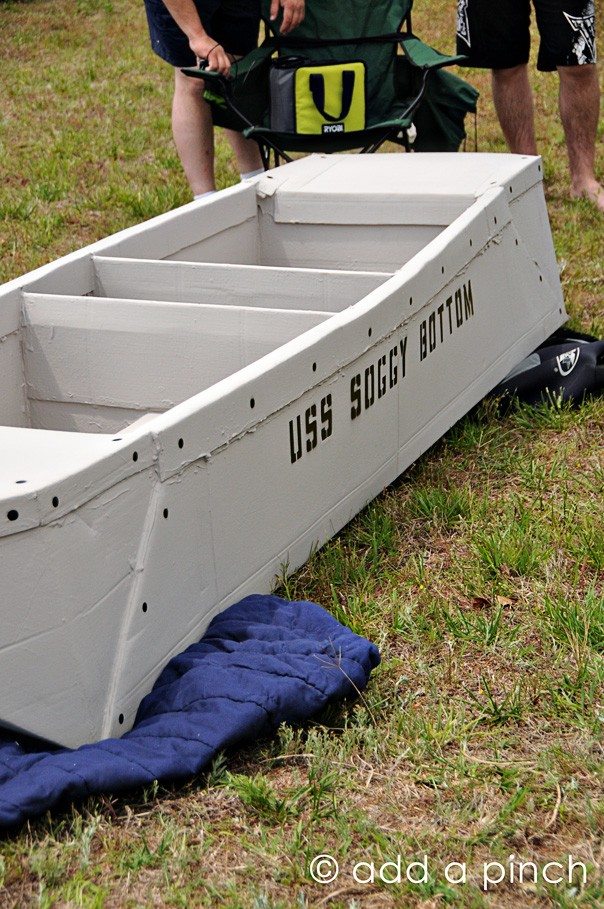 And then there is the USS Soggy Bottom that is as simple as you get, but in a cool sort of way.
This boat always wins, too.
I'm not sure if it's the boat design or the two burly guys that row it every year or the combination of the two.
Regardless, their formula works.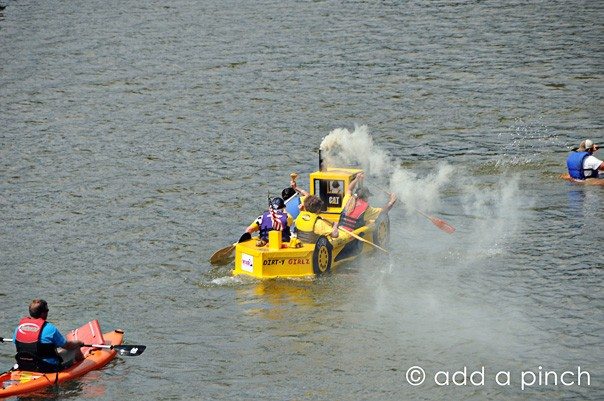 One of the main attractions has always been this boat built to resemble a Caterpillar tractor, complete with smoke coming from her smokestack. But let me tell you, don't get downwind from this baby, it'll take your breath away!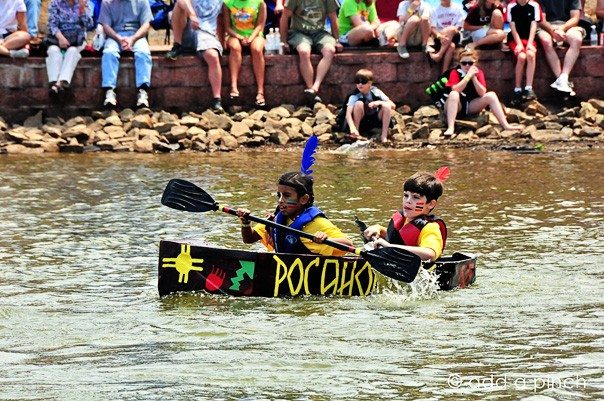 My family entered a new boat this year though. This one was at the request of my niece. With her beautiful Hawaiian coloring, she makes the perfect Indian princess. Of course, she talked my nephew into joining her on the Pocahontas this year.
The boys gave him a bit of a hard time for "jumping ship" over to the new boat with a girl, but these two (my niece and nephew) showed them a thing or two about how to win.
They beat them hands down.
You can see the determination in their faces, can't you?
They were on a mission!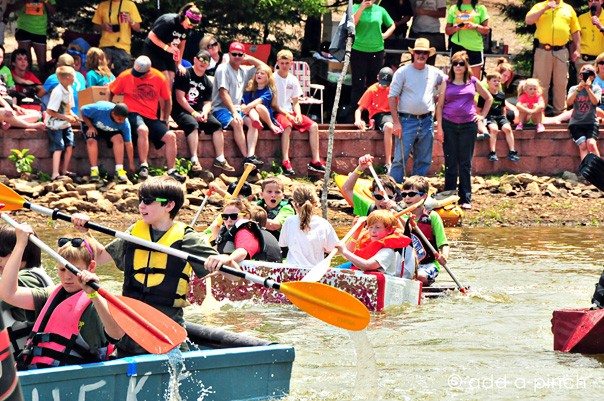 It couldn't have helped that The Huck Finn was caught in a blockade of boats that paddled a bit to heavily to one side, right in their path and didn't know how to get any other way.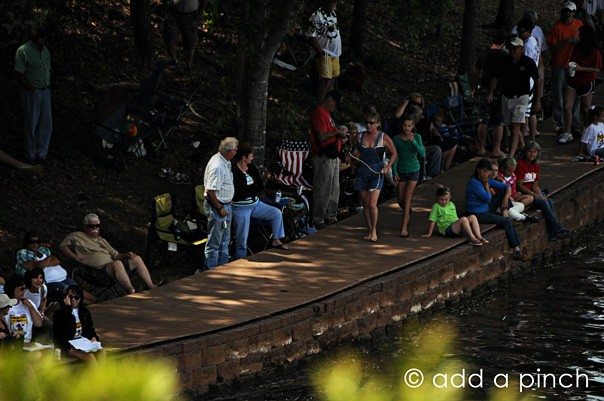 The event always a pretty relaxed, easy-going crowd. Bluegrass bands, concessions, a silent auction, and lively announcers keep the entertainment value up all day long as different heats (races) take place by the dock. Folks usually arrive early to grab a shady spot for their chairs after they've walked around to see all of the boats.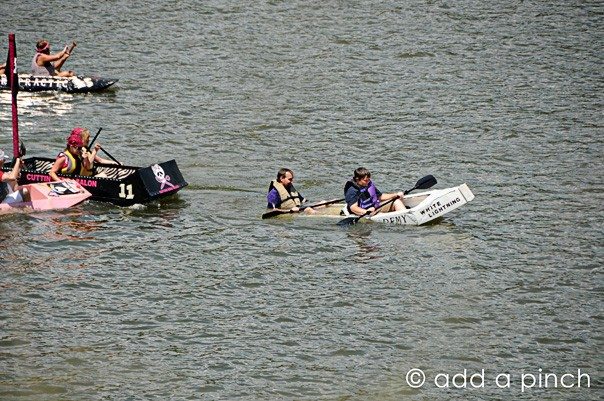 They also want to see the boats as they sink.
Because it is pretty inevitable that at least ONE boat is going to sink during the day.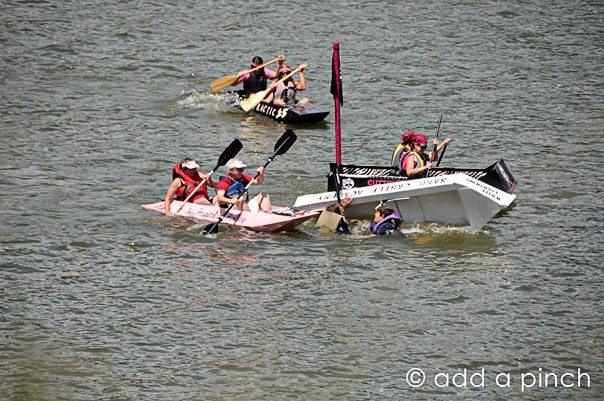 And then everyone starts cheering for the first ones into the water.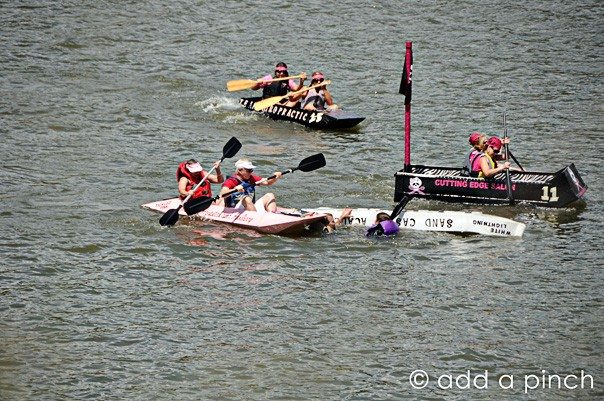 Some boats sink faster than others.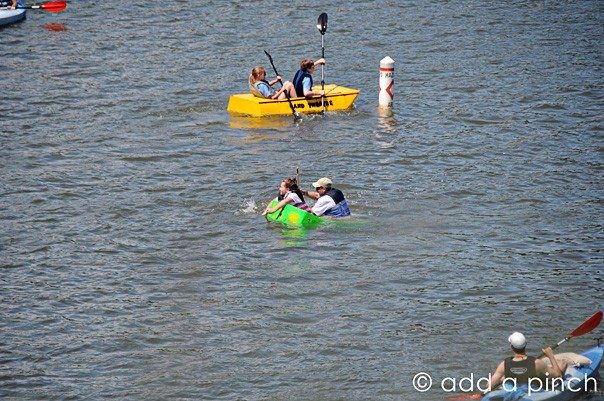 Like this one. It didn't sink until they were headed back to shore.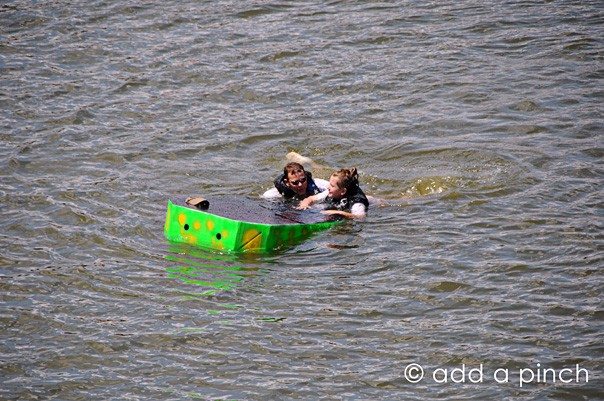 So this Daddy and daughter duo just swam it on in.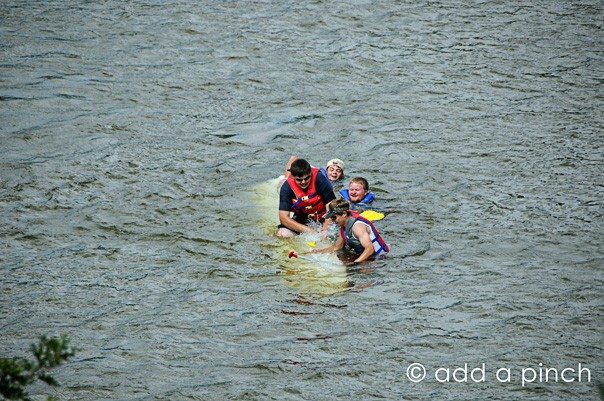 And these boys were like a scene you might see on Gilligan's Island when another crew of folks wash ashore, spend a few days, then leave without taking the Skipper, Gilligan, Ginger, the Hortons, and others with them.
Did they have bad luck or what?
All those years people came and went, but never thought to send help for them.
All I know is, The Huck Finn survived another year. I wonder how we'll do next spring.
Note: I thought many of you might be more interested in the history of cardboard boat regattas and how to begin one in your own neighborhood. While I'm not sure if this is the organization our local cardboard boat regatta uses for guidance or not, I thought it might be of use for you.