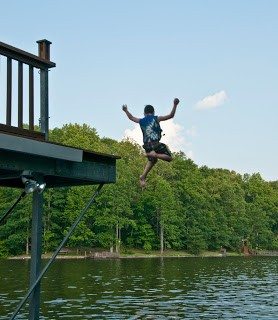 One of my son's favorite things to do at the lake is to visit his Grandparent's lake house and jump off of the top platform of their dock. He looks forward all winter for the weather to get warmer and the lake level to rise enough "to jump".
As many times as he can climb the stairs and definitely more times than I can count, there he is yelling out, "Watch me!"
I watched him this past weekend leaving the wet footprints on the dock as he ran to get in another jump. The pure joy of the moment and excitement for the beginning of another summer season were evident in his huge smile and quickness in his step.


I wonder, was I ever so carefree? When did I become so cautious?