A cherry blossom branch arrangement makes an easy and elegant arrangement to welcome spring into your home!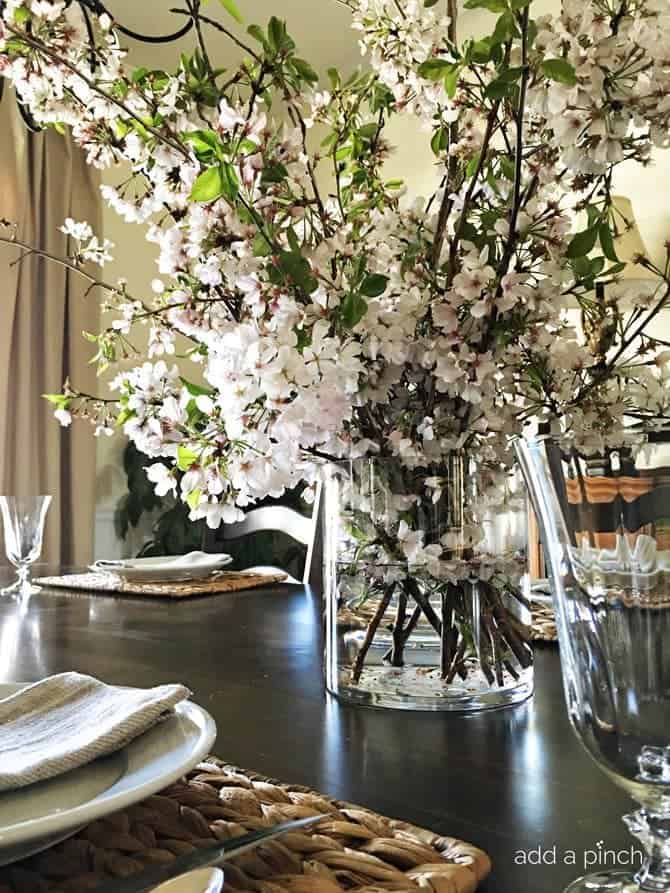 One of my favorite arrangements to make in the spring is this cherry blossom branch arrangement. You can scale the arrangement to the space you plan to use the arrangement, but I absolutely love the impact just a few branches makes on the table!
We have large cherry trees on our property and since they are at their peak, I decided to carefully clip a few blossom branches from each of the trees to make this arrangement. You'll want to make sure that you use very sharp pruners when you clip the branches to make a sharp, clean cut.
If you do not have access to your own personal cherry trees, you can contact your local florist or extension office for information about where to find them in your area.
Next, gather your branches together and arrange them in your container. I love to use clear, heavy glass cylinders for arrangements. I think they are just classic and work with any tablescape or decor.
To arrange the branches, just begin on the edge of the cylinder and stick one branch at an angle from the rim toward the opposite bottom edge of the cylinder. Then, stick another branch in the opposite direction, being sure to criss cross branches as much as possible to form a structure to hold future branches upright. Finally, stick branches that will stand tallest through the center portion of the branches.
Your fresh cherry blossom branches will lose some blooms as you make your arrangement. They easily brush up, but take care on the surface you choose to  make your arrangement.
Once you have your branches arranged, pour clean water into the vase or cylinder to make sure that all of the cuts on the branches are covered with the water. You'll need to add fresh water every few days as the branches absorb the water to keep them hydrated.
That's it! You now have a gorgeous cherry blossom branch arrangement that I think you will absolutely love!
Happy Spring!
Robyn xo