I knew they'd make fast friends. My favorite chocolate covered pretzels and my husband's favorite peanut butter pie. Too bad they aren't making friends with my hips.
Chocolate Covered Pretzels Peanut Butter Pie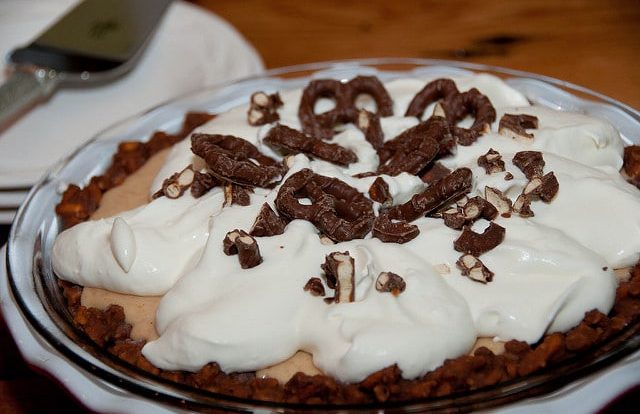 Ingredients
2

cups

chocolate covered pretzels

roughly chopped (reserve ½ cup)

4

tablespoons

butter

1/4

cup

sugar

pinch

of salt

8

ounces

cream cheese

2

cups

confectioner's sugar

1

cup

peanut butter

1

cup

milk

2

cups

whipped cream

reserve 1 cupm and pretzel pieces prior to serving.
Instructions
Make pie crusts.

Mix chopped pretzels, sugar, and melted butter together in medium bowl.

Chocolate will begin to melt slightly. Mix until well combined.

Press into two buttered 9-inch pie plates. Set aside.

Beat creamed cheese until fluffy.

Add confectioner's sugar, milk, and peanut butter and continue mixing until creamy.

Fold in whipped cream and pour into prepared pie crusts.

Freeze until about 15 minutes before ready to serve.

Allow to thaw and top with reserved whipped cream and pretzel pieces prior to serving.
Now, please excuse me while I go walk on my treadmill for a gazillion hours.
This post is linked to Works for Me Wednesday at We Are THAT Family.