Christmas Hand Wreath Craft
When Little Buddy was in pre-kindergarten, I, along with another mom, was his room mother. We planned all of the parties, gifts for teachers, and helped with field trips, and other activities. But without a doubt, my favorite thing to do was to visit the classroom and make crafts with them. This Christmas hand wreath he made when he was four is one of my most treasured pieces of art that hangs in my home.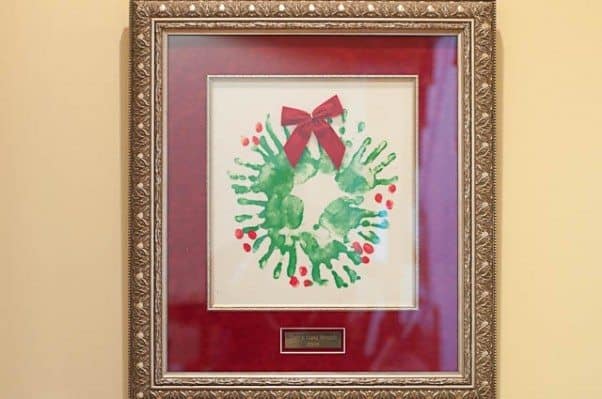 Here's how we made it.
Christmas Hand Wreath Craft
Time: 30 minutes | Cost: approximately $10 + cost of frame
Materials:
art canvas – recommend 12″ x 16″
pencil
small plate
green washable paint
red washable paint
two sponge paint brushes
premade velvet bow
frame, hangars, and felt dots
glass – optional
1. Place a small plate in the center of the canvas. Trace lightly along the edge of the plate with your pencil to draw a circle. Remove plate.
2. Wash and dry your child's hand.
3. Paint green paint on clean hand, making sure to cover all flat surface of hand. Press your child's hand onto canvas with base of palm slightly over the drawn line of the circle. Repeat this step until the circle has been completed.
4. Wash and dry your child's hand. Paint red paint on child's index finger. Press painted finger onto the canvas to create "berries" on the wreath.
5. Allow to dry overnight.
6. Hot glue premade velvet bow onto the top of the wreath. Allow to dry.
7. Frame canvas. Apply hangar to top, back edging of the frame. Apply felt dots to the four corners of the frame to prevent scaring walls as hanging.
The hand wreath pictured also includes a plaque I had engraved at my local engravers. I also had the frame specially cut larger than the canvas so that I could mat the wreath with red velvet matting. For this level of framing, I recommend using your local frame shop or hobby store.
This Christmas hand wreath makes a wonderful Christmas gift for grandparents and a precious heirloom for your own family.