Gold accented glasses are perfect for gifting or for entertaining! Learn how to make your own using this easy DIY tutorial!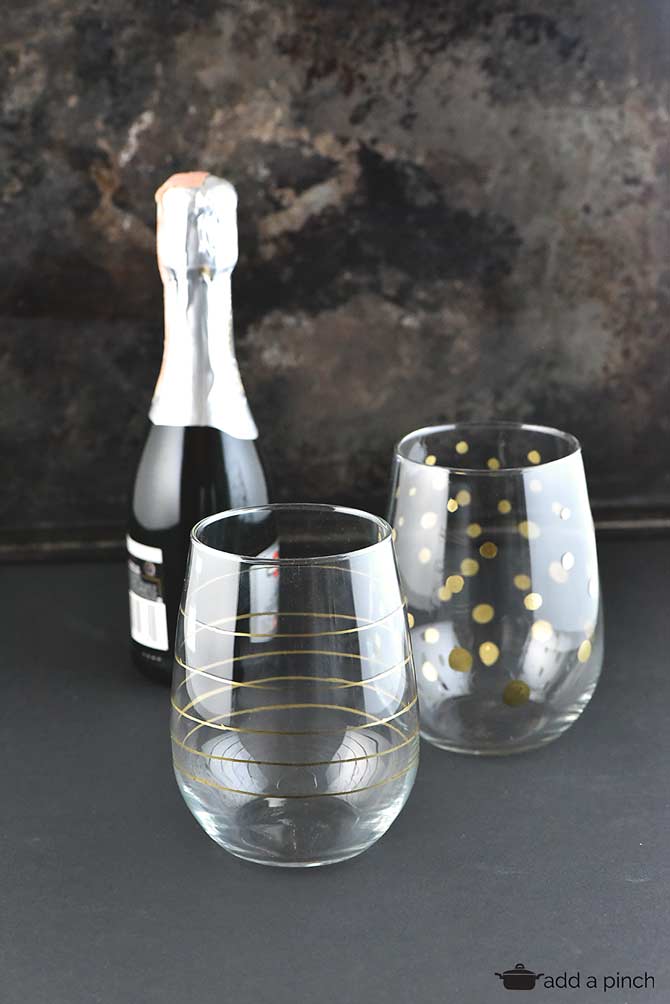 Lately, I've seen so many beautiful glasses when shopping online with gold accents that really make them perfect for the holidays and to brighten any occasion, really. While I loved the glasses and knew of several people on my gift list for which they'd be perfect, the price gave me pause.
That's when my crafty-side came out.
Now, before you think that I'm super crafty, let me dispel that thought right up front. I'm not.
I've always wanted to one of those people that could whip up a beautiful arts and crafts project at the drop of a hat. I admit to being one of those people that I'm going to be the best scrapbooker, knitter, crocheter, quilter, seamstress, woodburner, embroiderer, painter, modge podger, or whatever else-er that you can think of when you think of arts and crafts. I'll go all in too, buying the items needed to be the best -er that I possibly can be.
I don't have that gene. It skipped right on over me, yet I did get the desire. I've also learned in my nearly 43 years where my talents lie and where they do not. So when I say that even I can make these gold accented glasses in just a few minutes for just a few dollars each, you better believe that a child could do it!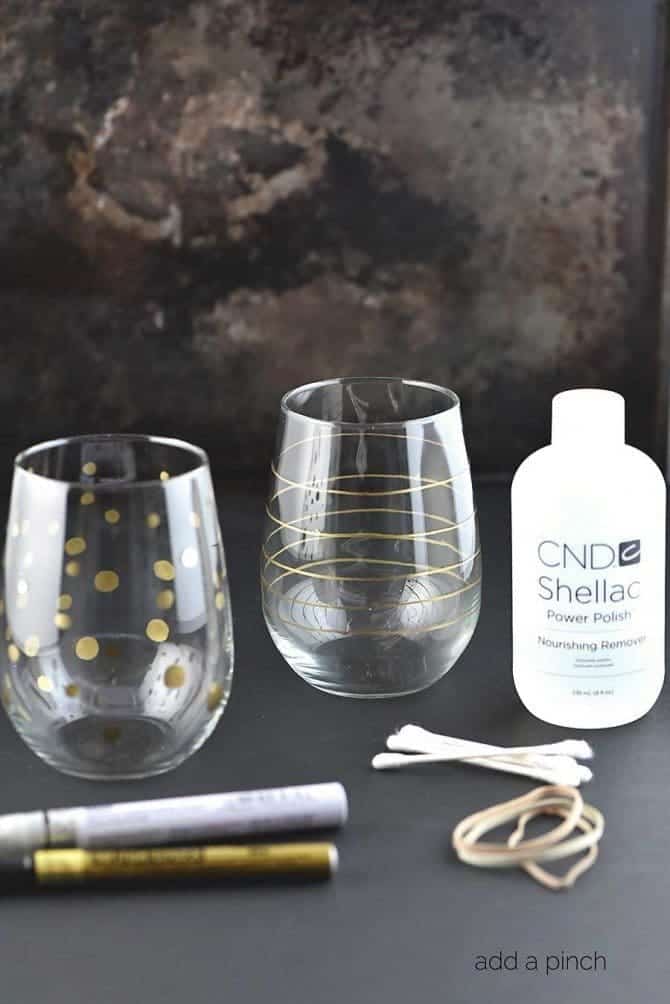 With very few items, you can have these handmade gifts made in no time flat! Here are the items that I used, along with a few tips I learned along the way!
DIY Gold Accented Glasses
I used the following items:
Glasses of your choice. I used these stemless glasses that were sold four to a case. You can find them here or here.
Gold paint pen. I used a paint pen I had in gold, similar to this one. Of course you could use silver or another color if you prefer
Rubber bands help you to keep straight lines for making stripes on the glasses by providing an easy to follow guide
Nail polish remover for cleaning up your lines
Q-tips for using with the nail polish remover.
Tips I learned:
Clean your glasses well and dry them with a lint free cloth before you begin working. This prevents dust particles from being caught in your paint and making it look messy.
Keep the painted accents below the area where a person's mouth would be when they are drinking.
Allow your glasses to dry completely and then hand wash and dry with a lint free cloth before gift wrapping.
Add a note to your gift that the glasses are hand wash only and not dishwasher safe.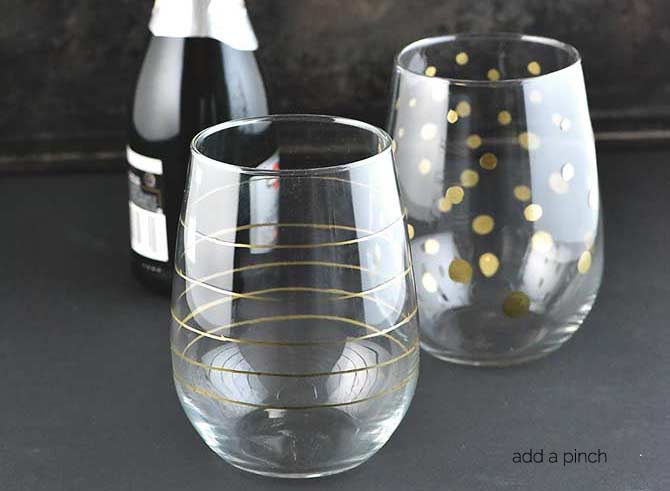 They make great gifts all year long! I hope you enjoy making them as much as I did! It fed my crafty-side just enough without being too much!
Robyn xo
Disclosure: This post contains affiliate links.