Southern Macaroni and Cheese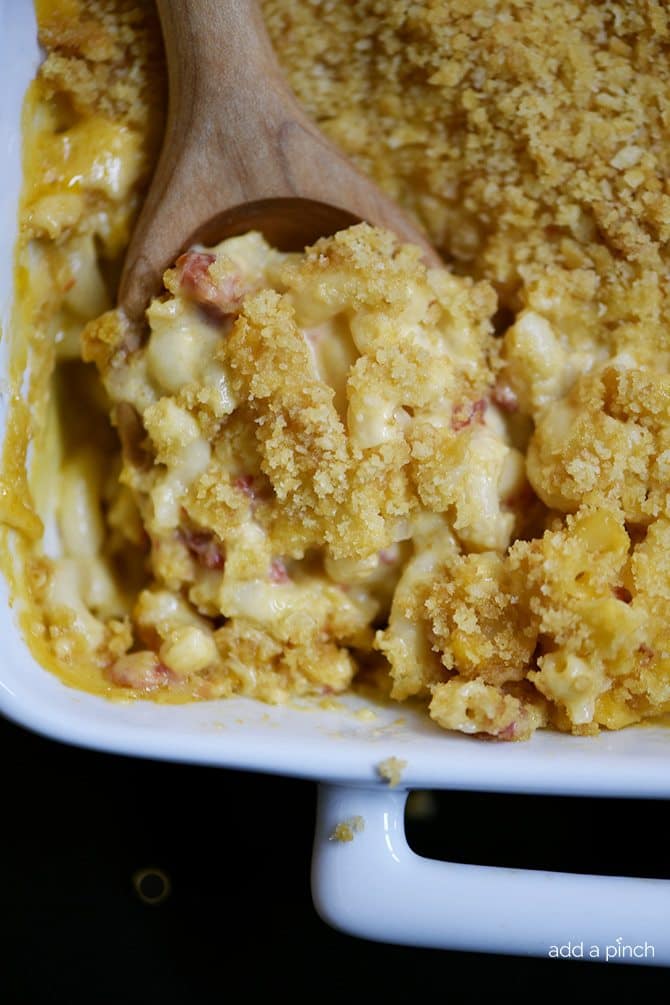 Author:
Robyn Stone | Add a Pinch
8 ounces package elbow noodles, cooked and drained
8 ounces sharp cheddar cheese, grated
2 cups homemade cream of chicken soup or (1 10¾ ounce can cream of chicken soup + 10¾ ounces of water)
¼ cup onion, chopped
3 heaping tablespoons mayonnaise
¾ cup pimento pepper, chopped (large jar)
1 sleeve Ritz Crackers, crumbled
4 tablespoons butter, melted
Preheat oven to 350º F.
Mix the cooked noodles, cheese, cream of chicken soup (and water if using store-bought), onion, mayonnaise, and pimentos together in a large bowl. Spread into a 9 x 13-inch baking dish. Set aside.
In a medium bowl, mix Ritz Crackers and melted butter until thoroughly blended. Sprinkle crackers on top of casserole.
Bake at 350º F degrees until the cheese have melted and the top is golden brown, 30 minutes.
If using homemade cream of chicken soup, do not add water. If using store-bought cream of chicken soup, do add the water.
Recipe by
Add a Pinch
at https://addapinch.com/the-best-ever-macaroni-and-cheese/