Sundried Tomato and Black Olive Pizza Recipe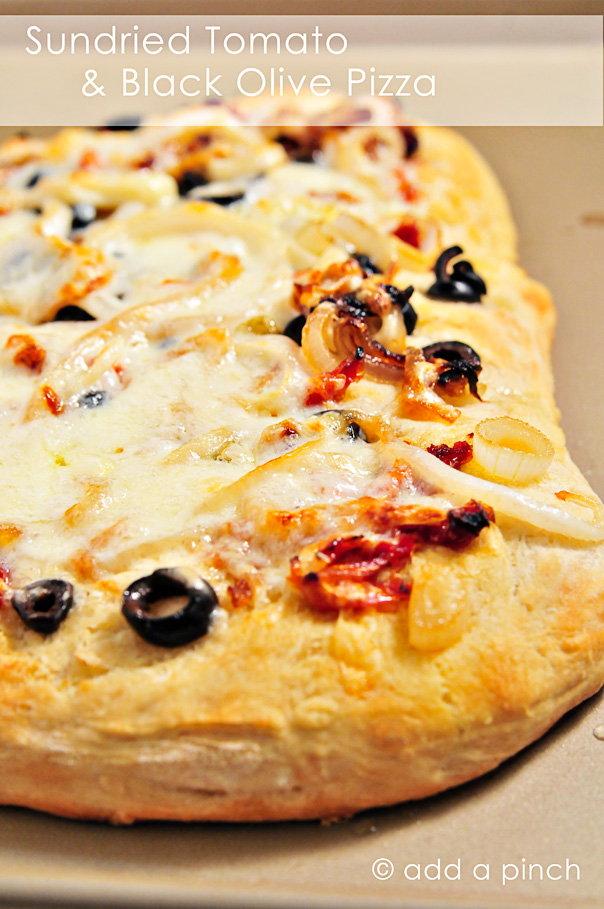 1 pizza dough
2 large yellow onions, thinly sliced
3 tablespoons olive oil
sundried tomatoes
1 (8-ounce) jar sliced black olives, drained
1 (8-ounce) package Monterey Jack cheese, grated
salt
pepper
Preheat oven to 425º F.
Prepare pizza dough according to recipe directions. Spread dough onto a baking pan lightly coated with olive oil. Make indentions into dough with finger tips and lightly drizzle crust with olive oil.
Drizzle olive oil into a large skillet over medium heat. Add onion slices and allow to cook until caramelized and tender, about 10 minutes. Watch onions closely so they do not overbrown. Arrange sundried tomatoes, black olives, and onions onto pizza dough. Top with grated cheese and bake for 15-20 minutes until golden brown.
Remove from oven and sprinkle with salt and pepper, slice, and serve warm.
To reduce time, you can prepare pizza dough and store in an airtight container in the refrigerator for a few days until ready to use. Additionally, you could use prepared pizza dough purchased at your grocery store.
Recipe by
Add a Pinch
at https://addapinch.com/sundried-tomato-and-black-olive-pizza-recipe/