No Bake Chocolate Wafer Cheesecake Recipe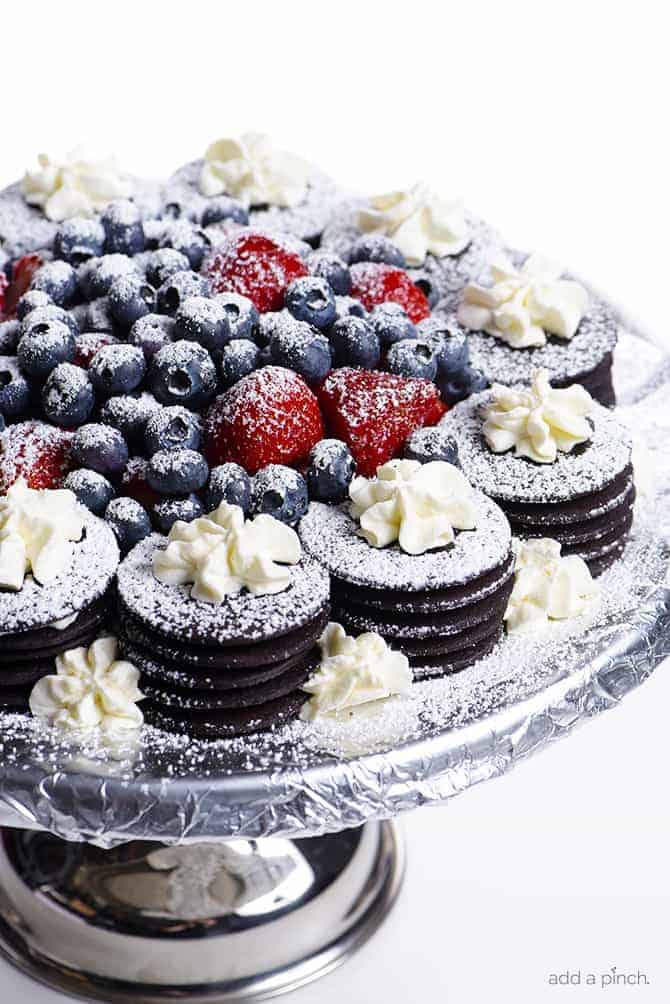 Author:
Robyn Stone | Add a Pinch
2 (8-ounce) package cream cheese, softened
6 tablespoons confectioners sugar
2 teaspoons vanilla extract
1 quart heavy whipping cream
55 chocolate wafer cookies
1 pint strawberries, hulled
1 pint blueberries
1 tablespoon confectioners sugar, for dusting
Place a 30-inch length of Heavy Duty Reynolds Wrap lengthwise on a baking sheet. Place another 30-inch length perpendicular across the first piece of foil to form a +. Mark an 8-inch circle on the top layer of foil. Set aside.
Add the cream cheese to a large cold mixing bowl and whip the cream cheese until fluffy. Add 6 tablespoons confectioners sugar and vanilla, continuing to whip until well combined. Add heavy whipping cream slowly as you continue to whip until all combined and mixture is light and fluffy and holds a firm peak.
Pipe or spread the cheesecake mixture around circle marked on foil. Place a single layer of chocolate wafers on top of cheesecake mixture. Pipe cheesecake mixture on top of each chocolate wafer and place another single layer of chocolate wafers on top. Continue layering cheesecake mixture and the chocolate wafers until you have 5 layers of chocolate wafers. Pipe cheesecake mixture on top of the final layer of chocolate wafers.
Pipe cheesecake mixture around base inside ring of wafers and outside in space between each stack of the chocolate wafers.
Bring sides of foil up over the chocolate wafers, being careful not to let the foil touch cheesecake mixture. Place in the freezer and freeze for at least 30 minutes.
When ready to serve, unfold foil. Using the long strips of foil, lift cheesecake onto a cake plate for serving.
Place strawberries and blueberries inside center of ring of the cheesecake. Dust with 1 tablespoon of confectioners sugar and serve.
Freezer Friendly!
Once the cheesecake has been placed into the freezer, it may be frozen for up to 2 months.
Recipe by
Add a Pinch
at https://addapinch.com/no-bake-chocolate-wafer-cheesecake-recipe/