Watermelon Salad with Watermelon Vinaigrette Recipe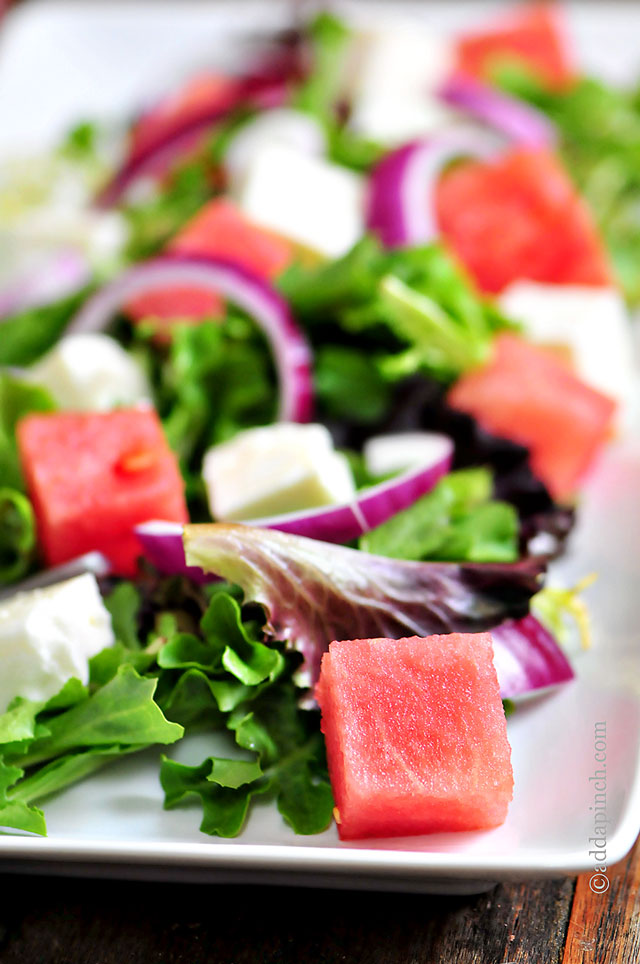 Author:
Robyn Stone | Add a Pinch
For the Watermelon Salad
2 cups watermelon, cubed
2 cups spring mix salad greens
1 (10-ounce) package Feta cheese, cubed
½ red onion, sliced
For the Watermelon Vinaigrette
½ cup watermelon
¼ cup honey
1 tablespoon apple cider vinegar
1 tablespoon Dijon mustard
½ cup extra-virgin olive oil
For the Watermelon Salad
Add watermelon, salad greens, cheese, and red onion to a large bowl and toss to combine. Alternately, layer on a large platter for serving.
Serve with Watermelon Vinaigrette or another sweet and tangy dressing.
For the Watermelon Vinaigrette
Add watermelon pieces to the container of a blender. Blend until pureed. Then, add honey, apple cider vinegar, and mustard to container. Blend on low speed until well-combined. With the lid of the blender container removed, slowly add olive oil while the blender is on low speed. Return the lid to the blender and increase the speed to medium to completely blend. Remove from blender and pour into a container for serving.
Recipe by
Add a Pinch
at https://addapinch.com/watermelon-salad-with-watermelon-vinaigrette-recipe/