Enamelware is such a well-loved classic! It has served utilitarian, everyday purposes for generations and is now decorating the homes  of many people of all ages.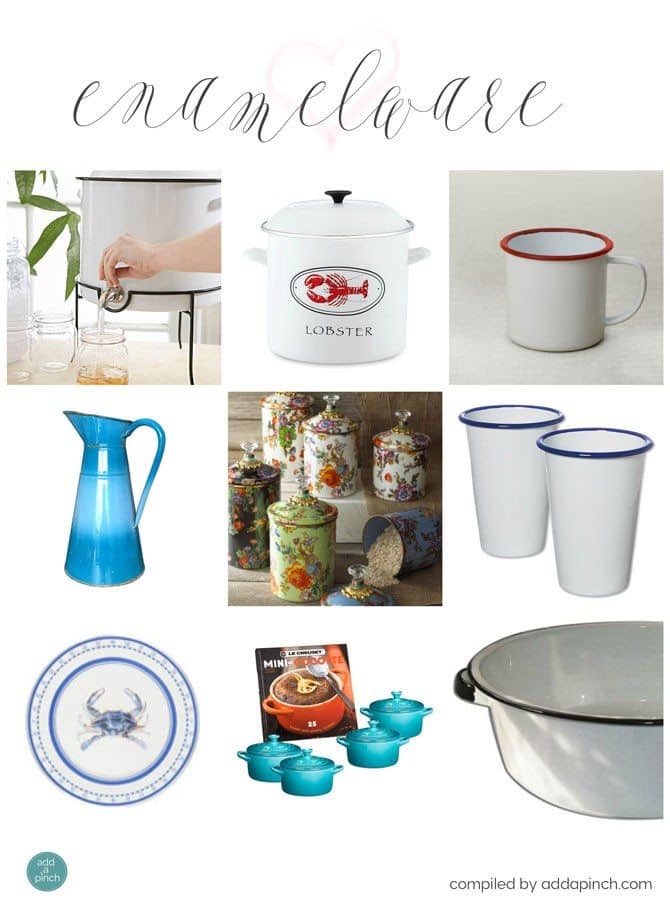 How I love enamelware! But I must confess it hasn't always been the case. I grew up associating it with chores and just kind of took those sturdy workhorse pieces for granted. Mama and my grandmothers used theirs all the time in the kitchen – especially in the summer. They were perfect for snapping beans, silking corn, and soaking cucumbers to make Grandmother Verdie's delicious sweet pickles or for cutting corn off the cob for Grandmother Earlene's amazing creamed corn. I'm getting hungry just remembering…
Goodness, I can't count how many times since I've set up my own home that I've wished I had appreciated all those common kitchen and housekeeping tools when I was a girl! Well, in all honestly, I guess I didn't really have room to haul around enamelware, wooden spoons and cast iron skillets in my college years!
Luckily for my sister and me, Mama and Grandmother saved those treasures for us and lovingly gave them to us when we got our own families. And we most certainly treasure them. 
My enamelware serves many different uses than my grandmothers' did. Grandmother Verdie would probably giggle if she saw me prepping big enamelware bowls for outdoor parties and coffee pots for flower arrangements! But these pieces work so beautifully for outdoor entertaining and I use them all the time – especially in the summertime! These nostalgic pieces are also perfect for decorating inside my home and taking camping too!
Since I'm always on the hunt for both new and vintage enamelware,  I've found several pieces I love and just have to share them with you! These are just a few of my favorite pieces I've found lately.
1. This drink dispenser is perfect for outdoor gatherings! Even comes in handy when all the family is over for a birthday or Sunday supper.
2. Nothing says low country boil like a pot with a lobster on it! LOVE!
3. You know I've got to have my coffee! These make great coffee mugs on our camping trips.
4. I'm envisioning the bright flowers I'd put in this French Florist Pitcher! Ahh – so pretty!
5. Pretty flowers adorn these canisters, which could hold baked goods or cookies at outdoor parties. They bring the spring into the kitchen too!
6. I use these tumblers for more than just beverages! So pretty lining the table holding flowers for an outdoor party.
7. Whether its chip & dip or shrimp with cocktail sauce – this blue crab set is perfect for outdoor entertaining!
8. Chocolate lava cakes and pot pies are just a couple of the many ideas I have for this set of pretty blue cocettes!
9. These pans are workhorses! I use them prepping veggies from the garden or as beverage tubs for outdoor entertaining.
Do you have any enamelware pieces – new or old? What other kitchen or household treasures do you have from the past? Share, please!
Love ya' bunches!
Robyn xo