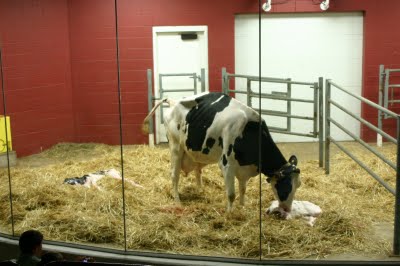 Today, we took an excursion on our RV trip to OshKosh. We visited Fair Oaks Farm in Indiana. The visit was so educational and all 15 people in our group thoroughly enjoyed the visit.
The most amazing part of the entire trip was being able to watch the birthing of twin calves. I was originally a bit apprehensive about the questions that might come from Little Buddy in observing this part of life. Then, I decided that we have animals on our farm. So, surely, we could handle questions about a cow's birth. Oddly enough, his questions were very well asked and were:
– Does it hurt the mother cow?
– When will the baby start walking?
– Since they are twins, why don't they look alike?
Simple enough to answer. Whew, that bullet was dodged. This time.