Decorating for the different seasons of the year is one thing that my Mama and mother-in-law have always done beautifully. As soon as the weather starts changing from one season to the next, you could always find hints of the upcoming season to start gracing their homes. Right before spring, bunnies start popping up on tabletops and in the garden while as we begin autumn, you'll find mums, pumpkins, gourds, and seasonal corns and wreaths.
For some reason this year, I've not pulled all of my boxes of fall decorating accessories out of storage just yet. Scarecrows and ceramic pumpkins are still boxed away in my attic space nestled beside boxes of Thanksgiving, Christmas and New Years decor. I have, however, spruced up my porches with fall plants and updated my dining table with a display of heirloom gourds in orange and jade I found at our local farmer's market.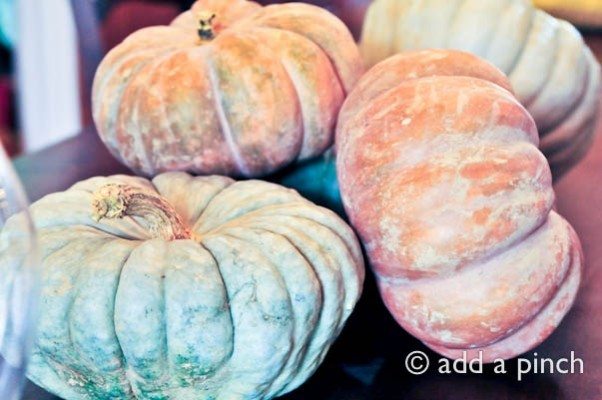 I think this year I'll be going the more natural route for our decorations and use things that transition straight through Halloween and on into the Thanksgiving season. Maybe I'm feeling overly simplistic this year, but I think going natural suits me just fine.
Here are more great ideas for natural fall decorating ideas I think you might like: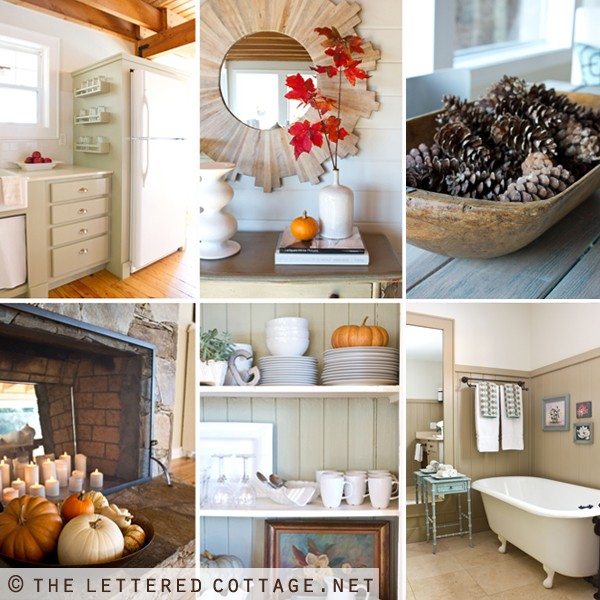 Classy and stylish touches are in every one of these photos from the photo shoot Layla shares on The Lettered Cottage. I love all of the light, natural elements included in these photos. Simply gorgeous.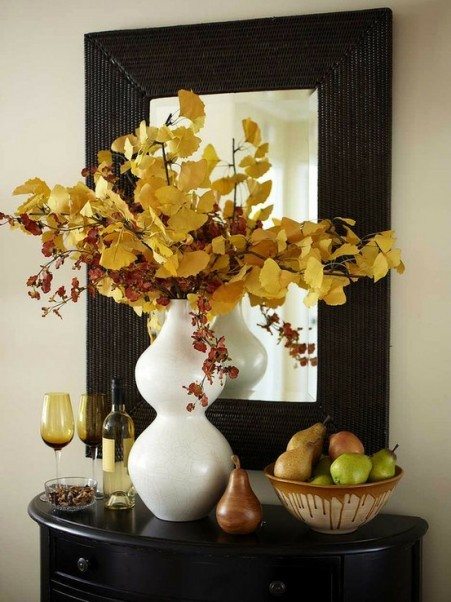 I love this photo that I found on Pinterest of a large vase filled with colorful branches coupled with the bowl of pears and another of nuts. So beautiful for an entryway.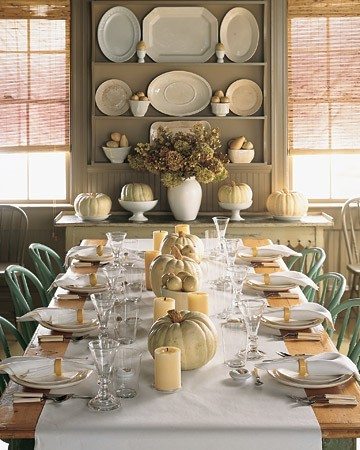 I also found this gorgeous table setting on Pinterest. Full of natural elements and a long centerpiece that allows everyone to visit with one another without having to peep around a large urn or flower arrangement (my husband's pet peeve). It looks simple and perfect.
So, how are you decorating for the season? Are you using natural elements or have favorite decor accessories that you pull out each year?