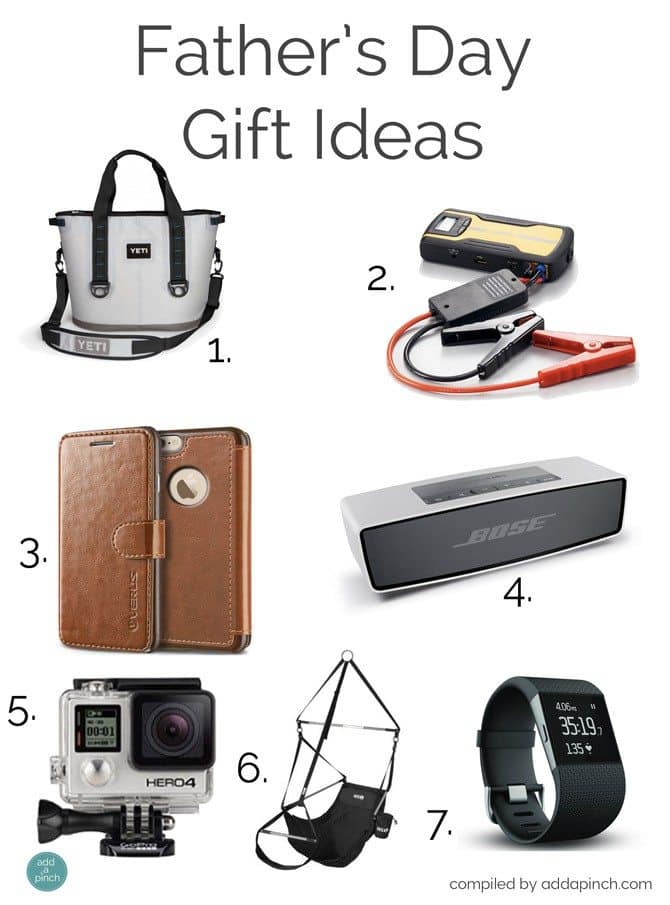 I can't believe that Father's Day is this coming weekend! It is one of my favorite holidays, especially since we get to spend the whole weekend showering my husband with love and attention. He'll be sick of all of that focus on him by Saturday at lunch – believe me!
If you are still searching for that perfect Father's Day gift idea, I have a few for you that I think any Dad would love! (P.S. I asked Bart his opinion on these items and everything on the list met his approval! Score!)
1. Yeti Hopper Cooler. We adore our Yeti coolers and these soft sided coolers are sure to be a hit, too! They are available in two sizes.
2. Anker Multifunction. We are an Anker family without a doubt – solar chargers, small lipstick cases, larger ones for laptop bags, etc. You get the picture. We must be really afraid of not have our cell phones charged at all times! But now, Anker has made these cool multifunction tools that are chargers for your electronics, will jump your car and have a flashlight! I'm thinking we need one of these babies for every vehicle we own! Wouldn't these be great to give a graduate headed off to college this fall? (Okay, I know, this is about Father's Day!) When you order the tool, you select the year, make and model of the car. Handy dandy!
3. Leather Phone Wallet. My husband absolutely loves his leather phone wallet and the other day we were talking to our twenty-something year old nephew Ben and he remarked about how much he wanted one as well. So, I think it is safe to say that this is a practical choice for the Dad in your life at any age!
4. Bose Soundlink. You can't go wrong with these little bluetooth Bose speakers. They pump out the volume, travel well, and are just amazing. Dad will love it!
5. GoPro. Not only are GoPros all the rage with teens and young adults, Dads love them, too! They are great for taking on hiking, camping, skiing, and fishing trips, but are also great for capturing those everyday moments with your family. Love them!
6. Air Chair. We have air chairs hanging on the dock at the lake and my brother-in-law remarked the other day that if he started the day in one of those, you'd find him in it at the end of the day still relaxing. In other words, if you are looking for a way to help Dad relax, this is the ticket!
7. Fitbit Surge. The latest in the Fitbit family of wearables, the Surge is great for tracking steps, distance, elevations, locations, heart rate, and helping you manage calls and texts. Definitely a great idea for anyone, but especially a Dad who loves to keep up with his fitness routine and is a gadget guy as well!
Robyn xo