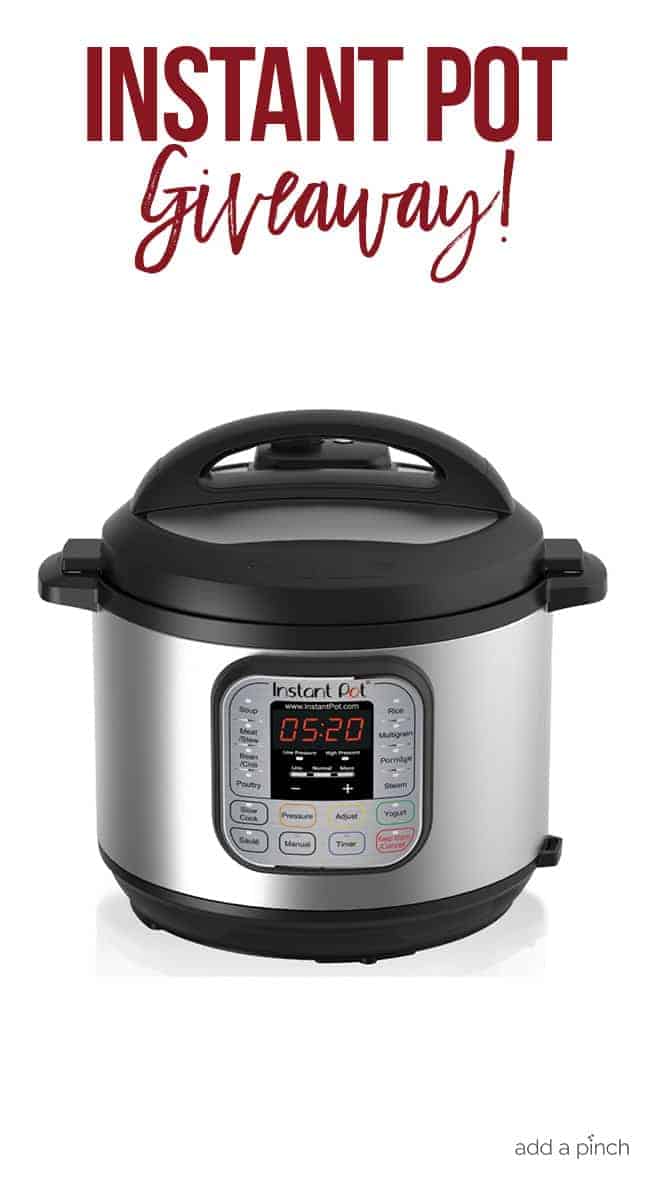 Congratulations to the winners of the Instant Pot Giveaway: Barbara, email subscriber, and Diane Begin, comment.
Happy Thursday, friends! I have a fun giveaway for you today! I have been cooking so many dishes with my Instant Pot that it has practically stayed on my kitchen counter for days at a time late! And since I am still enjoying my Instant Pot so much (you may want to check out the list of some of my favorite fall Instant Pot recipes that I shared) I knew it was absolutely the perfect time to share it as a giveaway with you, too! 🙂
I'm giving away TWO of these Instant Pot Multi-Functional Pressure Cookers! One each to two lucky members of the Add a Pinch family. One will be randomly selected from the comments left on this post and the other will be randomly selected from the list of email subscribers.
These pressure cookers are a 7-in-1 multi-functional little wizard! They are also a slow cooker (which I love!), rice cooker (ditto!), steamer (yep!), porridge maker (still need to try!), yogurt maker (hello!), they brown (perfection!) and saute (awesome!). Whew! That's a lot out of one little pot, isn't it?
So, here's the details on entering.
To Enter
Just leave a comment below telling me a recipe you'd love for me to share and you'd love to make using a pressure cooker! I'll also be selecting one winner from my email subscriber's list! If you aren't already a subscriber, you can easily sign up below.
Details
Giveaway ends Sunday, October 7 at 11:59 PM eastern. Winners will be selected randomly and announced on Monday.
Giveaway sponsored by Add a Pinch.
Love ya!
Robyn xo