It has been a little while since I shared any of my favorite things with you guys, but I think it is high time to change that. Especially since I have something that I absolutely have to tell you about.
It is this hair care product that I would want to have with me on a deserted island.
You see, my hair has always been stick straight. Even though I dreamed of having curly hair as a child, I would still wake up each morning with my stick straight hair plastered to my head in every which way imaginable. It always had a mind of it's own.
Even though it was straight, it just wasn't manageable and always seemed to have a little bit of a frizz factor going on.
Not a very pretty sight.
Then I discovered the flat iron and my life changed for the better. Within minutes each morning I could "iron" my iron and say adios to all frizzes. But, unfortunately, my hair then started looking dry and tired without that Hollywood cover girl sheen that I definitely wanted.
I mentioned it to my stylist and she disappeared for a few minutes and returned with this miracle in a blue bottle.
With just a couple of spritzes, I haven't looked back.
It's been about 10 months since that day my hair stylist handed me my little miracle friend and I have to admit to you that I now have three bottles of it on standby just in case anything were to happen and I couldn't find it any more.
When we were on a trip in Charleston recently, I saw it in the Publix store and thought I might need another bottle to go with those I already had stashed.
Do you ever do that? Find a product you love desperately and then think you need to hoard it like the men in brown trucks would never deliver it to you again?
Umm, me neither.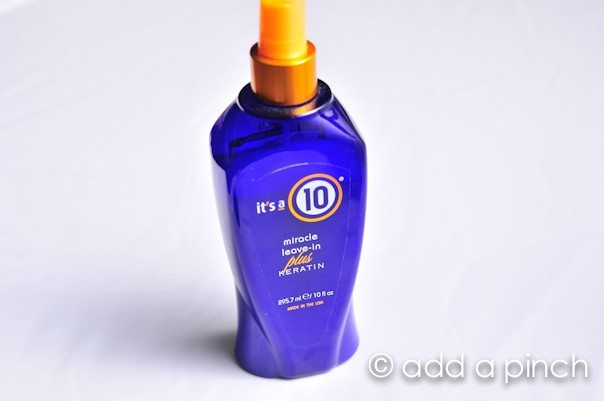 So, any who, if you have hair that is prone to breakage, tangling, split ends, frizzing, or doesn't have that sheen you want, you really may want to give this a try. Heck, if you have hair on your head, you really may want to check it out.
I sure love it.
And did you notice that it's made right here in the USA?
So, I'll just be sure to tell my husband that I'm helping the economy the next time he asks why I keep hoarding this stuff.
I'm sure that will make it all better.
Don't you?
Disclosure: The It's a 10 people have no idea who in the world I am. I just love this product and think you will, too. But hey, if you are from It's a 10, I wouldn't mind adding a case or two to my stash.