Jump to Recipe • Print Recipe
I thought it would be fun to start sharing a few of my favorite things and occasionally also have a giveaway to go along with them.
Does that sound like fun to you guys?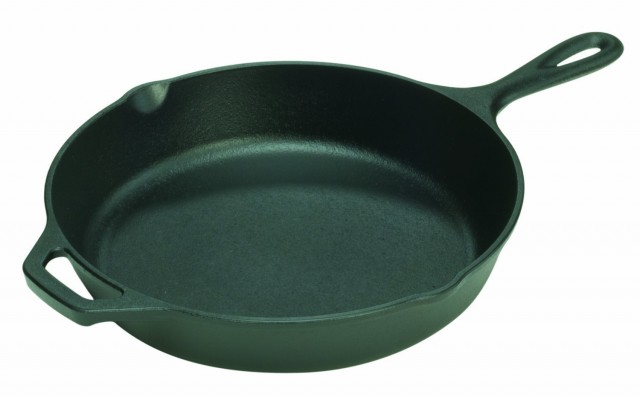 So, let's start this thing off the right way with cast iron skillets.
Cast iron skillets are heirlooms in the south and my family is no different. With pieces handed down through the generations and now to me from both sides of my family, they are pieces I just can't imagine not being a part of my kitchen. Each time I cook with them, I remember the history of my great-great grandmother making her cornbread over an open fire as much as I remember frying chicken with my grandmother as a young girl.
My 12-inch cast iron skillet gets daily use around my house and is one of my most used pieces of cookware in my kitchen. There are some days that it just stays on top of the cooktop because I know I'm just about to use it again!
My Favorite Cast Iron Skillet Cooking
Skillets are perfect to use for everything from getting a great sear on meat, such as cooking a restaurant quality steak at home, roasting a whole chicken, to baking cakes! They work perfectly on the cooktop, in the oven, on the grill, or over the open fire when camping.
My cast iron is the most versatile piece of cookware in my arsenal, for sure!
My Favorite Cast Iron Skillet Sizes
There are various sizes of skillets available, with my most used size being my 12-inch, followed closely by my 10-inch skillets. The 15-inch is also great for roasting a large chicken or for cooking for more than four people.
Cast Iron 101: How to Clean and Care for Cast Iron
So many people seem to get tripped up on how to clean and care for their cast iron that they shy away from using it. Honestly, the more you use your cast iron and clean it properly, then the easier I have found it to care for in the long run.
Cast Iron 101: How to Clean Cast Iron
Cast Iron 101: How to Season Cast Iron
Giveaway
So many times I receive emails or comments asking for information on my favorite skillets, how to season, how to clean, and where to find. I thought I'd share my love of the skillet with you. That's right, I'm giving away FIVE 12-inch Lodge Pre-Seasoned Cast Iron Skillets.
Just in time for all that holiday cooking, too!
Here's how you enter:
Leave a comment telling me you'd love to cook in your skillet!
You can also get a few extra entries with the following:
Then head back to this post and leave a comment that you did.
Giveaway ends Thursday, October 25th at 11:59 PM Eastern. The winner will be announced sometime on Friday.
Giveaway open to US residents only.
Congratulations to 211 – Leslie, 367 – Leah, 436 – Adam, 464 – Betty, and 471 – Kali. I've emailed each of you. I can't wait to hear how you love your skillets!
Disclosure: This giveaway is sponsored by Add a Pinch, because I think every kitchen needs a good skillet!