I love sharing about some of my favorite things that I love using with you guys and this a spiral cutter (some folks call them a spiralizer) is something I absolutely adore!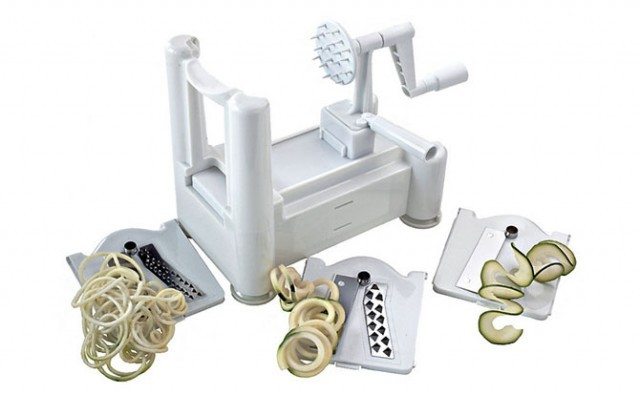 It comes with three different blades that you can use for various styles of cuts. Like the thin cut all the way to the left for pasta style cuts, a medium blade for a thicker cut that is great for curly fries, and then a large blade that is perfect for ribbon style cuts. The possibilities!
While I love them all, I definitely have been using the thin blade for making my zucchini pasta that I shared today! I now have a solution for loads of zucchini our garden produces each summer!
Until then, I'm humming the oldie but goodie, "You Spin Me Round" by Dead or Alive. Remember that one?
You spin me right round, baby
Right round like a record, baby
Right round round round
I can't use this thing without thinking of that song. Ha!
So, because I love it a ton and y'all even more, I'm giving away THREE of these babies. Here's how.
GIVEAWAY
To enter, simply leave a comment telling me about your favorite kitchen tool or gadget.
You can also get a few extra entries with the following:
Love ya.
Robyn xo
Disclosures:
Giveaway ends Wednesday, January 15th at 11:59 PM. The winners will be chosen randomly and contacted via email. Failure to respond within 48 hours will prompt for another winner to be chosen.
Giveaway sponsored by Robyn Stone | Add a Pinch.