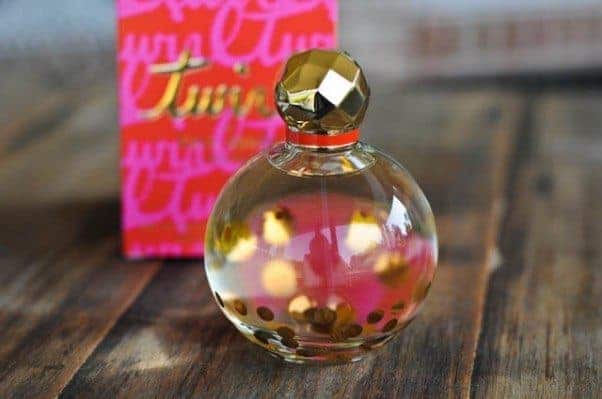 Twirl. Isn't that the most uplifting name ever for a perfume? I think so. It makes me think of skirts that flair out and my sister and I holding hands spinning in the backyard of our house growing up. My sister would laugh and say that it made her insides feel funny, which would then urge me even faster to see if I could make her dizzy or, heaven forbid, sick.
I never claimed to be a sweet sister when we were little.
I was a pain.
It's truly a wonder she even speaks to me. But luckily for me, she does.
Anyway, back to the story.
Mother's Day morning I was greeted with a smoothie while my husband and Little Buddy prepared salmon eggs benedict. As I walked into our kitchen, I was greeted with the smell of steaming spinach, salmon just ready for plating, and the familiar smell of my best friend in the morning – a cup of coffee ready to be consumed.
Sitting beside my plate at the table was a beautifully wrapped box covered in white paper and topped with a pink ribbon I could tell my husband tied himself by the signature loops his Mother taught him to make when he would help her wrap Christmas presents as a boy.
I had no clue what the package could contain. I hadn't hinted at one thing for Mother's Day this year and had already been surprised by having fencing installed for Bubba and Ranger to be able roam about more freely. Ripping right into that packaging, I quickly pulled the bottle out of the box to get a whiff of just what I would be smelling like for the next year.
Twirl by Kate Spade is what I'd call a feminine perfume with a blend of floral and fruity, but not your Grandmother's floral. It's an "updated" floral just perfect for warmer months. The bottle is especially fun with the golden cap and confetti design sprinkled in just the right spots to shimmer and shine. It's now one of my all time favorite perfumes.
But ya know something, knowing that my sweet pea of a husband and Little Buddy braved the cosmetics counter the week before Mother's Day for me is the best present yet!
What's your favorite perfume? Do you like fruity, floral, musky, or something else? I'd love to know.