It is time for my list of gift ideas for her. You'd think this would be the easiest of all gift lists, yet for some reason it seems to be the most difficult to decide just what to include.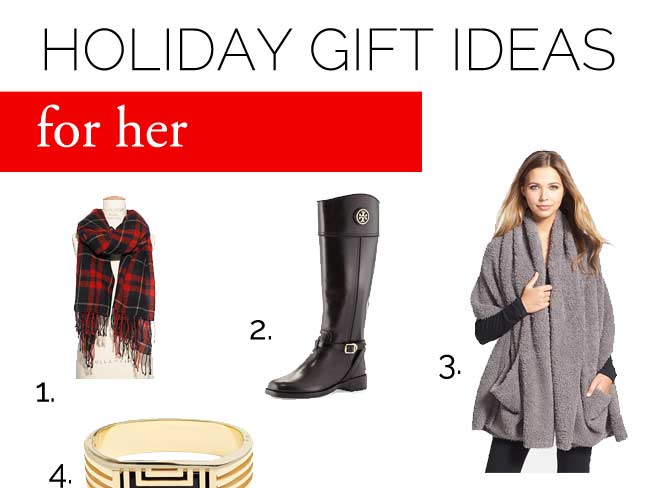 I think it is because I have a hard time narrowing down the items from a huge list of items that I would personally love to receive myself and those that make me immediately want to pick them up for my Mama, sister, and those special friends in my life. My gift guide this year includes beautiful accessories like scarves, handbags, shoes and jewelry, makeup and a few other items that will make her life more comfortable!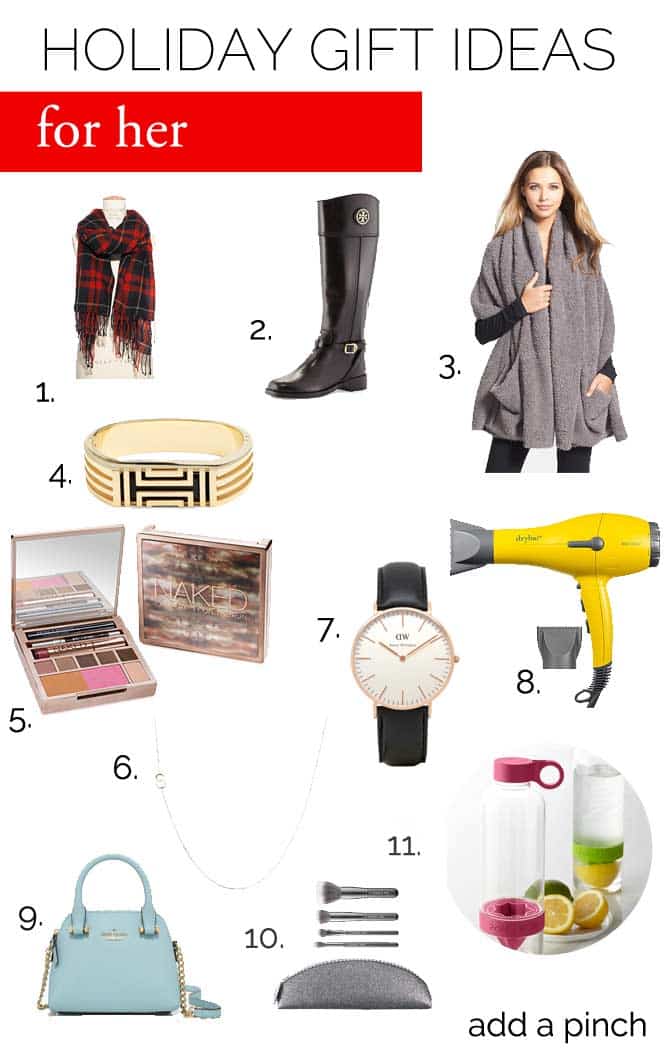 1. These blanket scarves are definitely all the rage for fall and winter. It is easy to see why!
2. An essential pair of riding boots works with jeans, dresses, or leggings throughout the season.
3. I think everyone loves having something they can cozy up with throughout the fall and winter and this wrap looks perfect!
4. Fitness trackers are definitely hot for the holidays and into the new year and these bracelets makes them look especially beautiful, too.
5. I'm in love with the new makeup set from Urban Decay!
6. In the south, we love monograms and these initial necklaces are such a beautiful update to the classic!
7. Beautiful and classicly styled, this watch has a clean look and feel.
8. A hairdryer may seem like an odd choice for a gift list, but this one has such a huge following from those who want the best for their hair!
9. I'm not sure if I love this handbag more for the style or for the color, but I can't get over how pretty it is. Perfect for the girl with everything!
10. A beautiful brush set from MAC that she'll absolutely adore.
11. I think it's easier to drink all of your water each day when you do so in with a beautiful water bottle like this one made especially for citrus.
What are some of your favorite gift ideas for her? Do tell! I know we can all benefit from each other to get just the right gift the closer we get to Christmas!
Robyn xo
(This post contains affiliate links)