Mother's Day is not far away. Here are a few very special gifts that moms of any age are sure to love!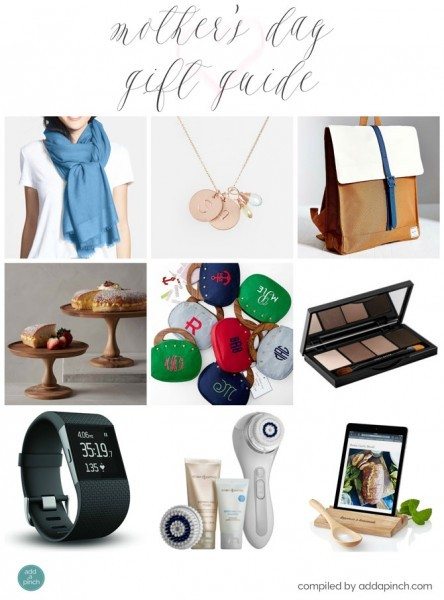 Mother's Day gifts….I always want them to be so special.
Mama… or Nana if you are talking to her grandkids…never asks for anything. But she does everything she can for us. She's happy with a card or a hug. But aren't most mothers that way? Time together is really what she wants and we always get together on Mother's Day.
But for this Mother's Day, I've made a list of several things I think most moms would like, but might not buy for themselves. You know how us Mamas are. I hope this list gives you some great gift ideas for mom – or maybe even a gift for yourself.
1. I think this classic lightweight scarf would make most moms smile! I know I'd love one!
2. How sweet is this initial necklace with a lemon quartz and chalcedony charms?! Swoon!
3. Many women I know have so much going on…and carry a lot of it with them! This classic backpack is perfect for everyday – I would love one myself!
4. Mom's favorite cake would be gorgeous on this acacia stand. So beautiful in the kitchen!
5. Oh wow, this bright and monogrammed Bermuda Bag brings back memories! So cute!
6. The classic colors in this eyeshadow palette make it a perfect practical gift she will enjoy!
7. Fitness trackers are at the top of many wish lists. I like this one because it tracks multiple types of activities, heart rate, has GPS,  and more!
8. This cleansing brush works for face, body and pedicure. It's a true luxury gift she may want but wouldn't buy for herself! Love this.
9. The foodie mom would enjoy this wooden iPad stand while she cooks her fave recipes…from Add a Pinch I hope!
What are some of your favorite Mother's Day traditions? Do you get breakfast in bed? Have a picnic? I'd love to hear!
Happy Mother's Day to all!
Robyn xo