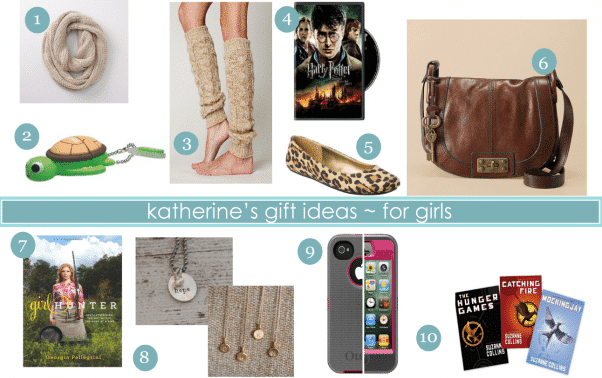 1. Infinity Scarf | 2. Turtle USB | 3. Leg Warmers | 4. Harry Potter | 5. Leopard Print Shoes
6. Cross Body Purse | 7. Girl Hunter Book | 8. Stamp Jewelry
9. Otterbox | 10. Hunger Games Trilogy
My niece Katherine visited the other weekend and I asked her what she wanted for Christmas.
Now, Katherine has always been one of the most humble individuals you will ever meet and will say, "oh, anything will be fine." It is one

of the things that I love about her, but when it comes to Christmas or her birthday, it is one of the things I always dread hearing.
This year, I asked her to help me put together a gift list to share on my blog.
I asked her to help me put together a list for teen girls of things that she or her friends would really like.
Nothing over the top expensive, but something that if someone (like a favorite aunt — hee, hee) were looking for "anything", they had a great idea of where to begin looking.
And, she compiled a wonderful list for me and for you!
So if you have a teenage or college age girl on your list this year, check out Katherine's list.
It's pretty awesome.
But hurry, we have just a few shopping days left until Christmas.
Giveaway
This Giveaway is now closed! Congratulations to Ruth D, comment #15!
###
To help you with your last minute Christmas shopping or to buy something for yourself after the holiday rush, I'm giving away one $100 gift card to Amazon to one member of the Add a Pinch community!
Here's how you enter:
Leave a comment about a favorite gift you have GIVEN. Homemade treats or crafts, scarves or blankets, I'd love to hear.
This giveaway is open through Tuesday, December 20th at 11:59 PM EST. The winner will be announced on Wednesday and has 24 hours to respond before another winner will be selected.
UPDATE: This giveaway has been extended through Wednesday, December 21st at 11:59 PM EST since I was in the process of transferring servers due to technical issues. The winner will now be announced on Thursday and have 24 hours to respond before another winner will be selected.
Disclosure: This giveaway is sponsored by me. Amazon only knows who I am because I sure do visit them a lot! Other than that, they do not know who I am! I hope this giveaway will make someone's Christmas a little brighter.