Need a quick lunch or dinner idea for kids? Get them to help you make Halloween Mummy Dogs!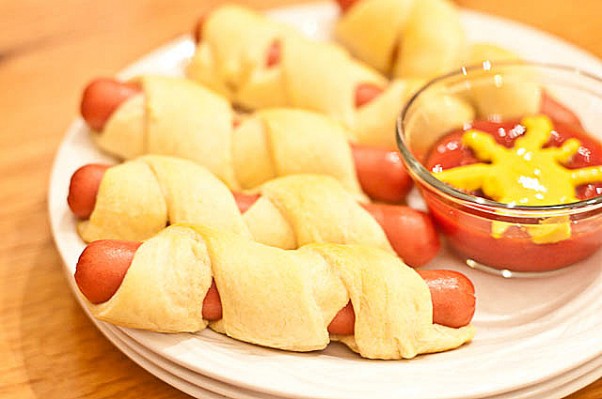 After breakfast, I asked Little Buddy what he'd like to have for lunch today. It's great to get his input from time to time. He comes up with some pretty cool stuff.
Anyway, this time, he asked if we could make Halloween Mummy Dogs. He'd seen it on a Pillsbury commercial or advertisement and just thought it would be fun to make.
He giggled the entire time we were making them. And his giggling made me giggle, too. We were just a giggling mess trying to make lunch.
Here's how we made them.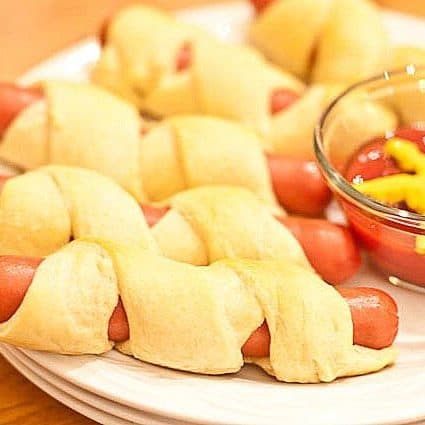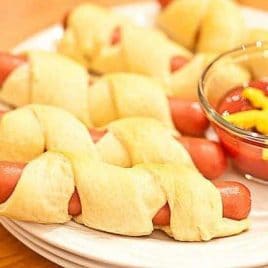 Halloween Mummy Dogs
A perfect meal for Halloween that children will adore.
Ingredients
1

package

hotdogs

1

roll

Pillsbury Crescent Rolls
Instructions
Preheat oven to 350 degrees.

Unroll package of crescent rolls on parchment paper.

At the horizontal perforation, tear the rolls apart. .

Do not tear the individual triangles apart.

Press these seems together to form a rectangle.

Cut 1/4 inch strips.

Wrap one piece around one hotdog from top to bottom, leaving about 1/4 inch of hotdog between each wrap of the crescent strip.

On a regular sized hotdog, it should wrap the hotdog 1 1/2 times.

Now, take another strip of crescent in the other direction around the hotdog, joining the end pieces together.

Bake in oven for 15 minutes or until crescent rolls are browned.

Serve with ketchup and mustard.
Happy Halloween! Remember to have some fun!
Enjoy!