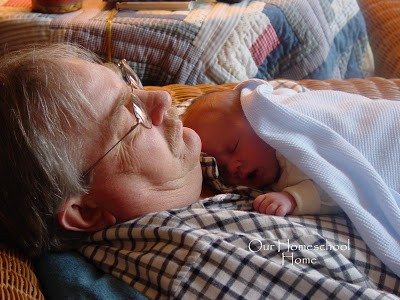 From the minute Little Buddy was born, he was his Papa's grandson. Papa was surely the proudest of grandfather's I had ever seen.
Papa would take his lunch break every day and come to our house, just to hold Little Buddy. In the afternoons, he would drop by again to hold him and give him his bottle. Each week until Little Buddy was a month old, he called and sang "Happy Birthday." Then, each month on the fifth of the month, he called and sang. Always, I'd hold the phone to Little Buddy's ear for him to hear his special song.
When Little Buddy turned one month old, Papa gave him a ride on John Deere tractor. It would be at least a year or so before Little Buddy could ride on it I thought. Nope, Papa would sit him on the tractor, hold him tightly, and ride him all around the living room on this special toy.
Little Buddy was four years old was four when Papa died. About a week later, we were blasting a little rocket off in our back yard. It was a cloudy day and the rocket just disappeared. We never saw it come back to the ground. Little Buddy just clapped his hands, had the biggest grin, and said, "Oh, I am so excited. Papa got my rocket to play with in heaven."
Papa helped to raise a great Little Buddy. One who loves him dearly.