Here Comes the Sun Summer Essentials! A collection of must-have items for protecting yourself from the summer sun!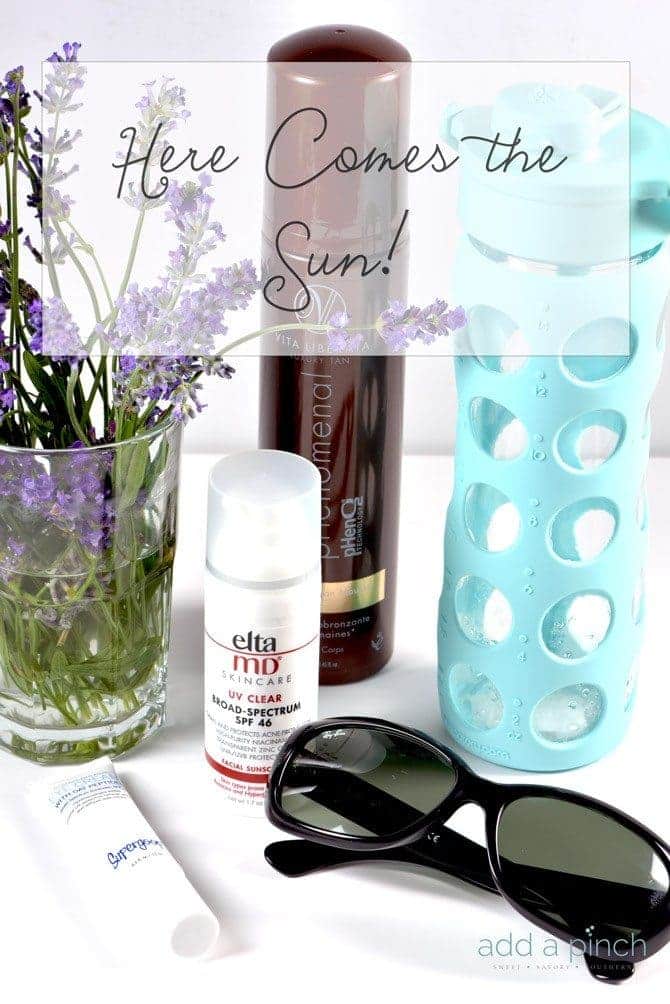 Memorial Day weekend signals the beginning of summer celebrations, trips to the beach and lake, and all sorts of activities outside. There are a few must-have items that help make the day enjoyable without regretting that time in the sun later.
Hydrate. Even though lemonade and tea are a Southern summer staple, you can't beat pure water for hydration, especially throughout the summer. I keep my colorful glass water bottle close by throughout the day making sure to refill it to keep me well hydrated. Pop in a slice of lemon or lime or another summer fruit if you need a bit of flavor.
Protect. I use sunscreen on my face, hands, and neck on a daily basis, but especially throughout the summer. For a simple facial sunscreen routine, you can easily use my DIY tinted moisturizer that is pretty much life changing! For my eyes, I love to use an eye cream that is also a sunscreen throughout the summer and you'll always find me with sunglasses to not only ward off fine lines and wrinkles from squinting, but also to protect my peepers from the rays!
Color. Okay, since neon white legs have yet to become a popular thing, I rely on sunless tanners during the summer to give me just a hint of color. You know, so I don't blind too many people with my whiter-than-a-sheet-of-paper arms and legs. This mousse lasts for about 2-3 weeks without leaving me looking like a oompa-loompa. I also love using a quick everyday spray lotion to make sure my skin stays hydrated and soft!
Happy Summer!
Robyn xo