Hot Chocolate Mugs make a great gift idea for the holidays. Perfect for teacher, coworker, friends and neighbor gifts!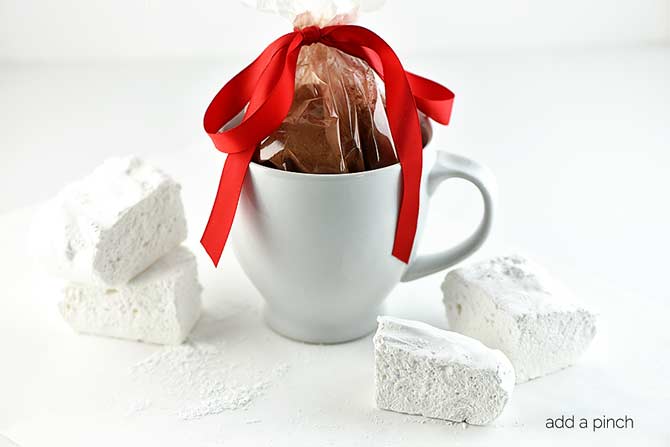 It is definitely that time of year where my family drinks more and more hot chocolate. I've shared my recipe that is perfect for making as a large batch to keep on hand throughout the winter just for that reason. But, I also want to share with you a fun gift idea!
This past weekend, we made hot chocolate mug gifts for friends and teachers. We had so much fun making them, that I thought I'd share the details with you guys for a fun, homemade and fairly inexpensive gift.
They are perfect to assemble ahead and then just including the homemade marshmallows fairly close to when you are giving them as gifts since the marshmallows will stay fresh for about three weeks in an airtight package.
One trick that I learned for keeping the bags looking nice and neat is to place the cellophane bag down into a glass. Roll the edges of the bag down over the edge of the glass so that it holds the bag upright and makes it easy to fill. Then, for filling with hot chocolate mix, place a large mouth funnel into the glass and pour in your mix. For the marshmallows, I like to use a small cut piece of parchment between each marshmallow, so I hold the edges of the parchment paper onto the sides of the marshmallow as I place it into the bag. That way, it keeps the edges of the bag clean and tidy!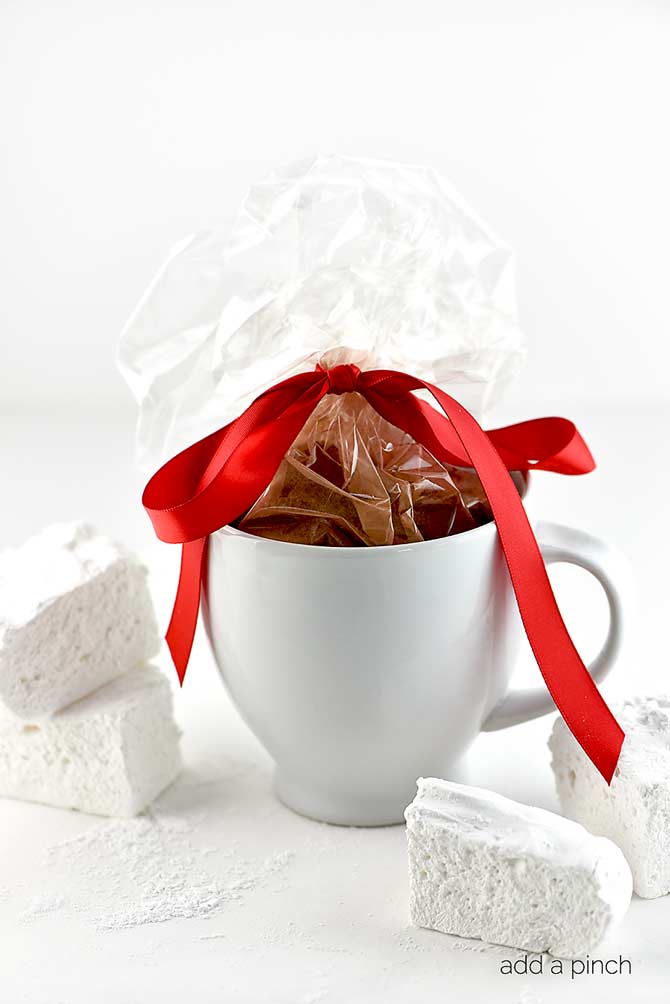 Hot Chocolate Mug Gifts Tips
For each gift, I include the following:
1 mug – I used these large white mugs that are shipped four to a box.
1/4 of my homemade hot chocolate recipe. This will provide about 24 servings of hot chocolate for the recipient.
1/4 of my homemade marshmallow recipe. Depending on the size you cut the marshmallows, this should give you between seven and eight marshmallows.
2 Cellophane gift bags – one for the homemade hot chocolate and one for the homemade marshmallows.
cut pieces of parchment paper to place between each marshmallow
ribbon for tying each of the bags closed
It is fun to make these assembly style with a couple of helpers. I generally have the hot chocolate and marshmallows made and then we turn up the Christmas music and sing along as we fill the bags and place them in the mugs. It is amazing how quickly you can have them all assembled that way.
I hope you enjoy making and giving these mugs as much as we do!
Robyn xo
Disclosure: This post contains affiliate links.