Headed on a road trip soon? Scared to death the Nintendo battery will go dead within the first fifty miles? Afraid the movies you chose to bring won't be so interesting once you hit the road? Try our solution to successfully survive a road trip.
Involve your child in the navigation! Yes, that's right. Involve your child in the navigation.
Here's what you'll need.
1. 3-ring binder (with front insert)
2. box of sheet protectors
3. paper
4. printer
5. computer with access to mapping software
6. decorations for binder
Here's how.
1.
Make it visual.
Using a mapping software, print your directions in a turn by turn format. For our trip, we used
Google Maps
. Simply click on the "camera" icon beside the first point in your directions. Then, print this page which now includes the photo of the turn.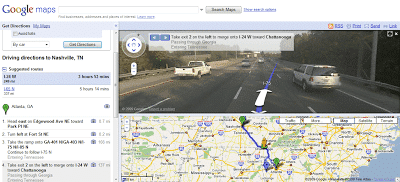 2. Let them own it. Let them help you place each of your printed pages into a individual protector sheet and label the bottom of each protector sheet with a magic marker in sequential order of the trip. For example: 1, 2, 3. Now, put all of the sheets in order in a 3-ring binder. Let them decorate a simple piece of card stock or printer paper and slip into the front of the binder cover. Now, it's their binder. All of their own.
3. Show them how. Have a quick, fun discussion on how they will follow along during the trip and tell you the turn by turn directions. Show them how they will need to turn the pages of the book and let you know the information that you determine is important for them to tell you.
4. Add some fun. Include a listing of fun games to be played in the car. For instance, we love to play "I SPY", so I include a listing of items to be found during the trip. Little Buddy uses his pencil to make a mark by each item he "spies."
5. Enjoy the ride. Now, just relax and drive. Of course, I always have a copy of the full directions on hand as well. 🙂