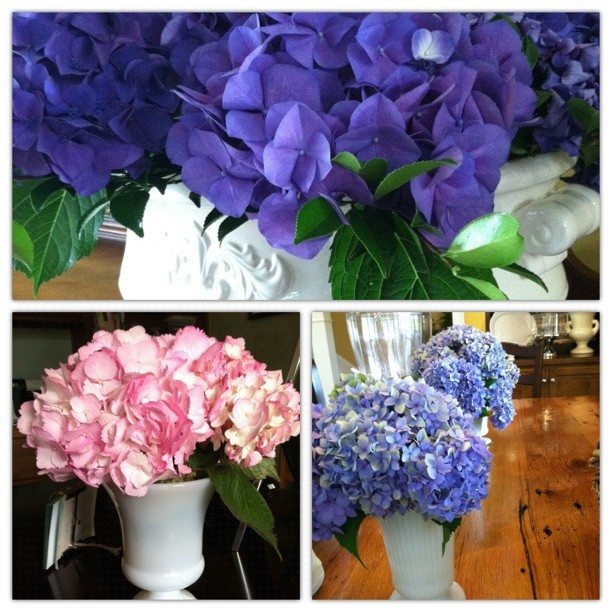 My Grandmother always had the most beautiful hydrangea bushes near her porch. As I would run past on my way to her door, blue snowflakes would seem to fall from the heavy globes forming a varying blue blanket on the ground. Her cat, Albert, peeping through from under the bush, would pounce at the petals as they flitted this way and that.
As we'd sit down for Sunday lunch, the blessing would be said around a table laden with fried chicken, biscuits, creamed corn, green beans and a white ironstone pitcher overflowing with those blue hydrangea blossoms she'd clipped before church. Fancy would not be the word I would use to describe the setting, but that mophead-filled ironstone pitcher was always oddly comforting in its spot.
This weekend, we hosted a party for my nephew and his soon to be bride. As my spring cleaning spree went into overdrive to prepare for the party, one thing I knew I would use throughout my house and porches was cut hydrangea blossoms. I just don't think there is anything as pretty as a blossom tipped stems nestled in white containers.
As I clipped and added to my favorite milk glass vases, I was again impressed at how quickly they add color and a polish to any room. They hold up so well and the blossoms last for days and days.
I'm a firm believer that you can never have too many pairs of shoes, too many bottles of perfume, or too many hydrangea bushes.
If you don't have one on your property, you may want to ask for one for your next birthday, anniversary, or other special occasion. The best time to plant them in the south is in early fall. I prefer to buy a type of hydrangea that is a shrub instead of those that you would get from a florist. However, the ones you receive from a florist can usually be planted as a shrub, they just may not bloom as regularly as those varieties you'll find that are more adapted for outdoors.
My favorite hydrangeas include:
Oakleaf Hydrangeas (Georgia native) – produces white panicle blooms throughout summer. Does not require pruning.
Smooth Hydrangea (Georgia native) – produces white blooms throughout summer. Prune in early fall.
Annabelle – mophead blooms (globe)
Hills of Snow – lacecap blooms (flat)
French Hydrangea – produces pink or blue blooms based on pH level of soil where planted. Prune depending on variety.
Endless Summer – mophead blooms (globe), repeating bloomer
For more information on hydrangeas in your area, consult with your local extension service or through the American Hydrangea Society.