I am so excited to begin a series I'm calling In the Kitchen with…! I hope that it introduces you in an informative, but fun and personal way to some of my favorite people. I just know you will find these special folks as awesomely talented as I do!


I'm kicking of this series with my friend, Lori Lange – maybe better known to the masses as RecipeGirl.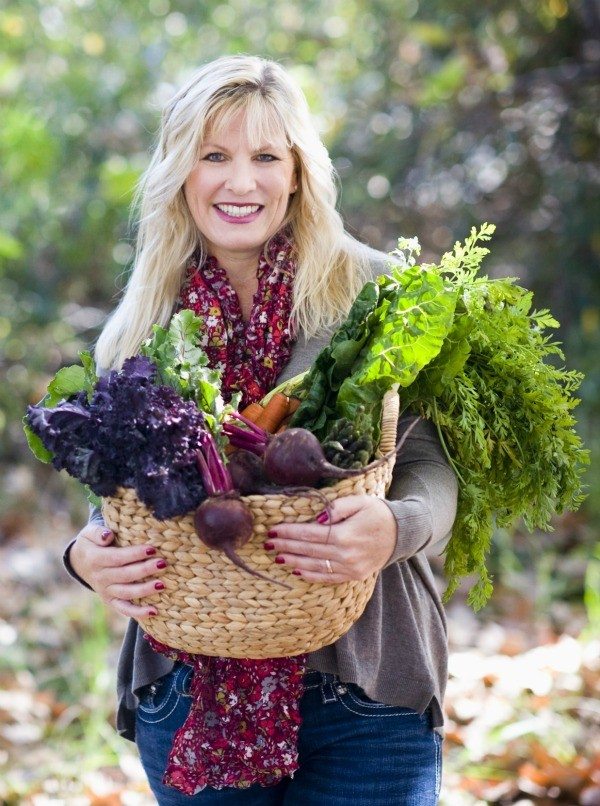 We could not visit with Lori at a more appropriate time either!
Lori just released her first cookbook – The Recipe Girl Cookbook this past week! Her cookbook is literally overflowing with family-friend, delicious recipes. Lori has you covered with recipes your family is sure to love, including great variations for vegetarian, gluten-free, and dairy-free meals.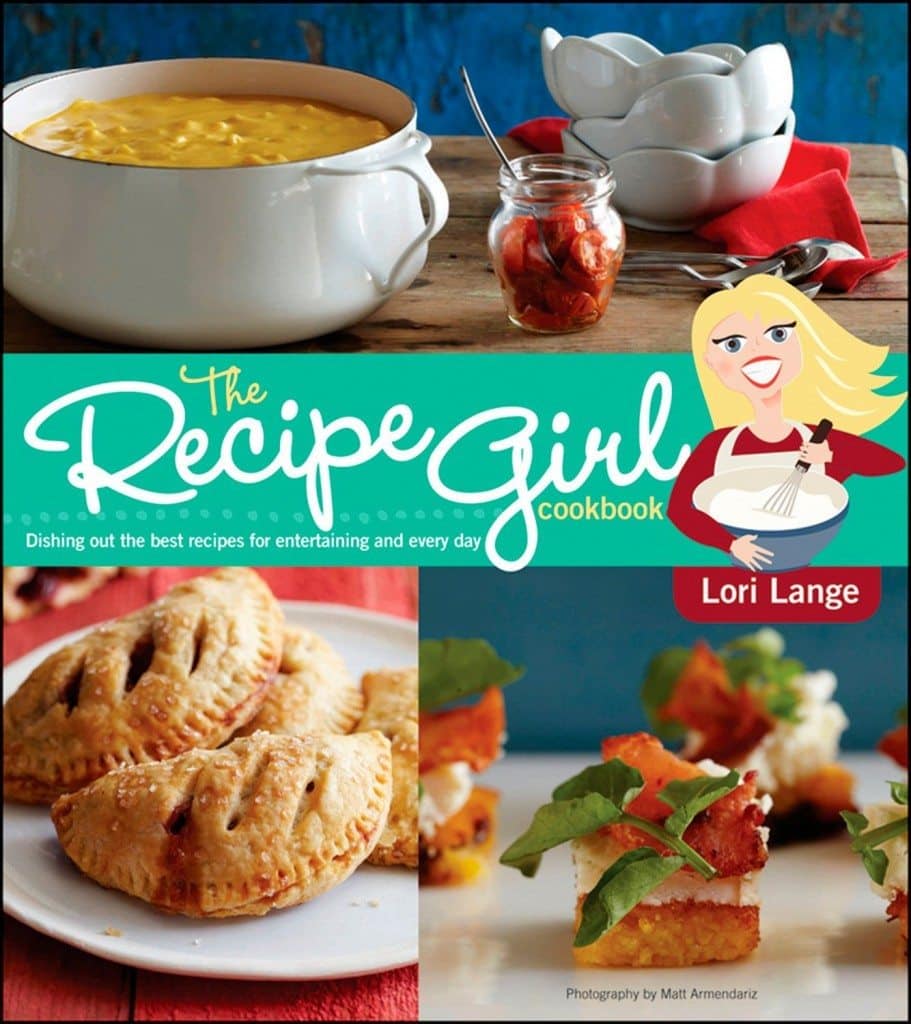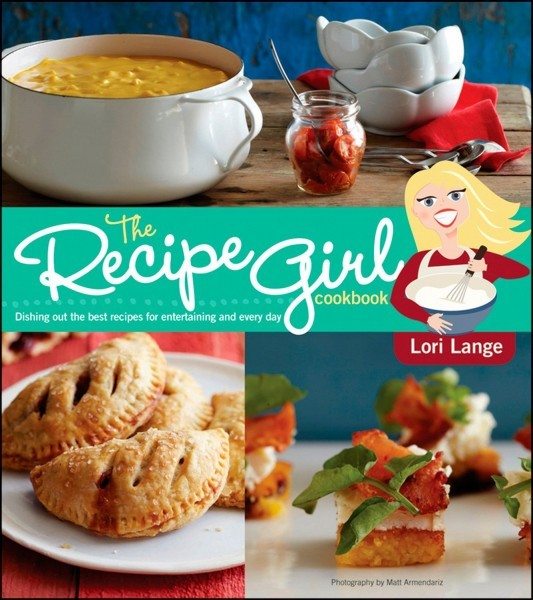 Lori shares how she started as a food blogger in a sec, but I want to tell you a little about how she spends her time now. As the founder of the wildly popular food blog, RecipeGirl.com, which houses over 2600 original and adapted recipes, Lori is busy developing recipes, photographing food, and writing for companies, websites and publications – as well as creating original recipes and menus for her site.
She has contributed to many cookbooks (in addition to writing her own!) and has been featured online in a multitude of impressive places – such as being part of Saveur's Best of the Web!
Lori enjoys creating recipes and presenting dishes on her blog and the places she contributes, such as her weekly recipes for Parade Magazine's Food Blog,
that inspire cooks of all levels. She  in her kitchen in Southern California, where she lives with her husband and son who has his own food blog, RecipeBoy.
So now, go grab a cup of coffee and join me as learn more about Lori as she graciously shares about her kitchen and her love of cooking!
Add a Pinch: What inspired you to begin your blog?
RecipeGirl: I was an elementary teacher for 12 years… a very hard-working teacher. So when I stopped teaching to take care of my son, I found that I
needed something else to do to channel my creativity. A friend suggested I start a website. I love food and entertaining, so I started creating RecipeGirl in 2005, it went live in 2006 as a recipe database, and the blog portion of it began in 2008 with this post.
Add a Pinch: What type of cook do you consider yourself?
RecipeGirl: Average to better than average. I'm sure my friends would probably say that I was an excellent cook, but I guess we're our own worst critic, right?! Recipes on my site are for the home cook who may also like to entertain. I like to show people that entertaining isn't as difficult as you may think it is and that you don't have to do a bunch of fancy things when you have people over.
Add a Pinch: Have you always enjoyed cooking?
RecipeGirl: Yes! As a kid I was always peeking over my Mom's shoulder while she cooked and baked. She let me make dinners when I was a teenager. I tested out recipes on college boyfriends, and I worked catering gigs while I was getting my teaching credential. Nowadays I love to cook for my own family and host parties with friends.
Add a Pinch: Tell us three of your favorite recipes from your blog.
RecipeGirl:
Cinnamon Roll Pancakes
Mom's Tacos
Twix Cheesecake Pie
Add a Pinch: Can you tell us a little bit about your kitchen?
RecipeGirl: It's actually a pretty nice, newer, traditional, L-shaped kitchen. There are stainless steel appliances and granite countertops.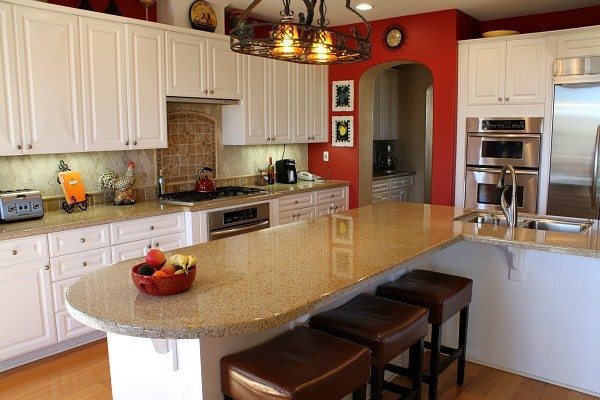 The red walls add a fun pop of color to complement the Spanish tile.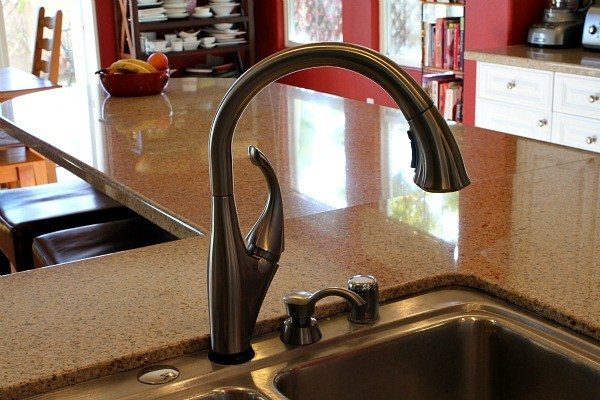 I love my hands-free touch on/off faucet (except when I'm in other people's kitchens, I find myself touching their faucets to turn them on and nothing happens!)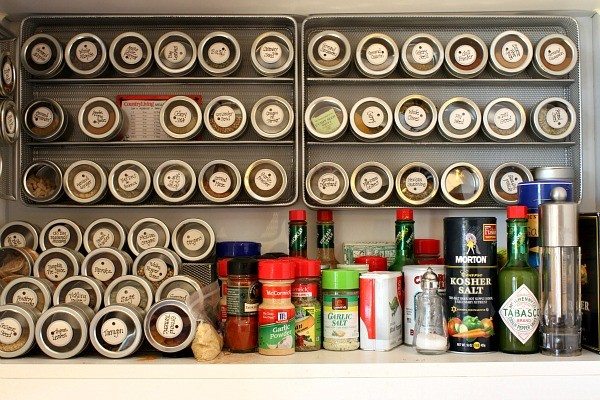 I also really love my spice cabinet- spices mounted on the back of the cupboard and organized alphabetically. I did a little tutorial on how to do that on TidyMom's site.
Add a Pinch: If you could, how would you remodel your kitchen?
RecipeGirl: Although my kitchen is nice, I'd change everything about it if I were to design it myself! High-end commercial-grade appliances would be number one on the list. I'd definitely put in two Bosch dishwashers (a must for an entertaining freak). I'd upgrade the granite to something more appealing, and the white cabinets are really tough to keep clean when you're in the kitchen as much as I am. A couple of added fun-things would be a vegetable sink and a spigot for hot water above the stovetop.
Add a Pinch: Do you have a separate pantry?
RecipeGirl: Yes – a big walk-in pantry. Thank God.
Add a Pinch: How have you personalized your kitchen for your cooking style?
RecipeGirl: I use wrought iron cookbook racks- love them style-wise and they are useful when cooking too! Organization is key for me- I have a drawer solely for measuring cups and spoons. I separate my plastic tubs and lids so they are organized and easy to locate. And I have a cupboard devoted to baking supplies
like cupcake papers, flavorings and colorings and sprinkles.
Add a Pinch: What are you must-have tools in the kitchen?
RecipeGirl: Rubber spatulas.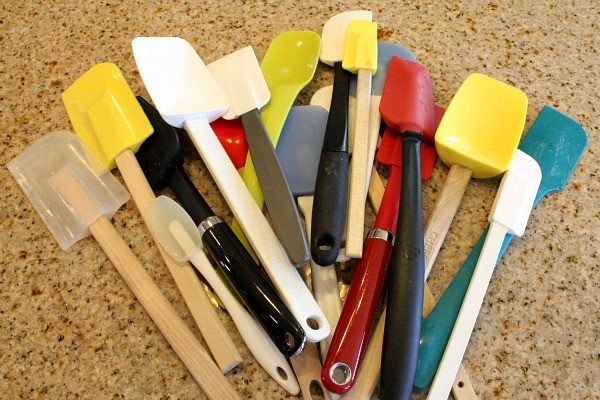 I'm pretty sure I buy a new rubber spatula every time I visit a cooking store. You can use them for just about everything when you're
cooking and baking!
I hope you've enjoyed our new In the Kitchen with series and learning a bit more about my friend, Lori. Be sure to visit her blog! You can also find her on Twitter, Facebook, and Pinterest. And of course, be sure to check out her new cookbook. It is sure to become a favorite!