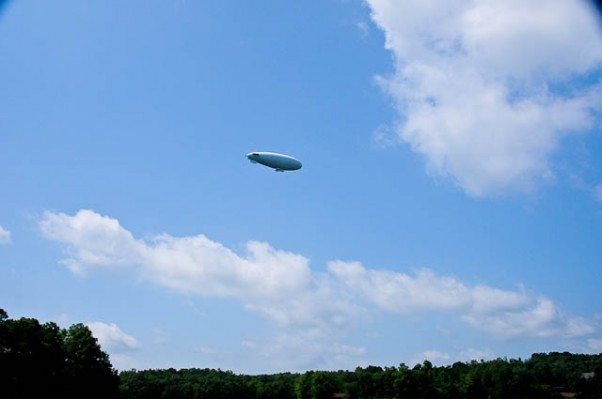 This weekend as we were floating along on the lake, I noticed something strange over the trees.
I told Little Buddy, "Hey, look at that hot air balloon!"
He replied, "Why in the world would a hot air balloon be out here?"
And then we both just stuttered.
It wasn't a hot air balloon, that would have been kind of low key in comparison.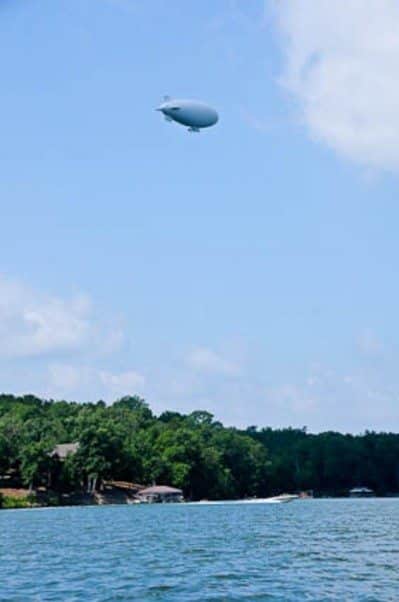 I couldn't get to my camera right that second since I was the one driving the boat, pulling my husband while he skied.
I didn't think he'd take too kindly to me throwing the boat into neutral as I pulled my camera out of my camera bag and got the shot.
So I decided to make a quick turn instead.
I'm just kidding!
It was a fairly slow turn.
I didn't fling him around or anything.
After I made sure he was safely in the boat, I dove for my camera and started snapping.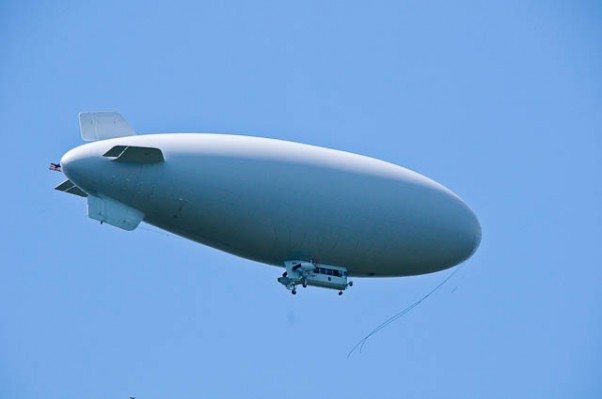 It was an unmarked blimp!
What in the world?
The Braves weren't playing any where around us and the races weren't even close.
The closest thing to us would have to be our favorite gas station that is also a restaurant and the Dollar General.
Not really blimp material, if you know what I mean.
Or it could have been in the vicinity because of hearing about folks trying to parasail on the lake the night before.
Now that did draw quiet the crowd.
Their efforts were thwarted when dark clouds gathered overhead and the rumblings of a storm were in earshot.
But other than that, we couldn't fathom why a blimp would be flying around over the lake.
Other than to be the talk of the town for the next 50 years.
So, we sat there in the boat watching it fly past.
You could hear the low hum of the engines as it made it's way over us.
And then, Little Buddy noticed the American Flag proudly waving on the back of it.
Waving wildly to the pilots, we hoped they'd give us a signal that they saw us.
You know, like honk the horn or hang out the side and wave back since they didn't have wings they could rock our way.
As they flew on down the lake, out of our sight, Little Buddy said, "that was the coolest thing ever."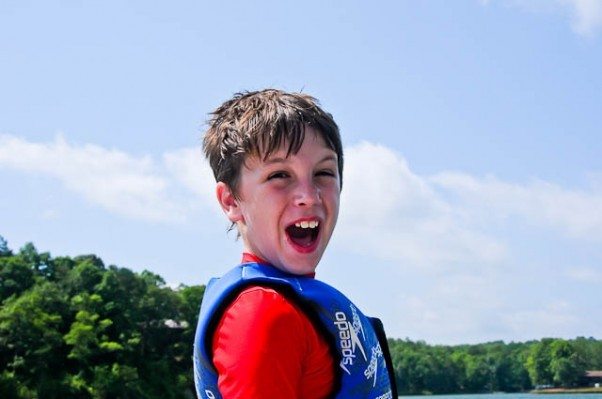 This may be a normal sighting in your neck of the woods, but in ours…it's a sight we'll not soon forget.
Have you had any strange sightings in your area lately?