January: Eye Care Month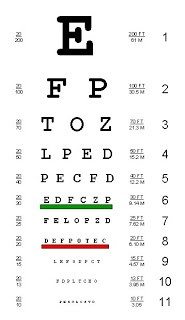 January has quiet a few important things associated with it – New Year's resolutions begin, my birthday, Martin Luther King, Jr's birthday, my sister-in-law's birthday, my nephew's birthday, and my birthday. (Oh, did I mention my birthday?) While these are certainly important, another important part of January is it's designation as Eye Care Month.
Proper eye care is especially near and dear to my heart because of Little Buddy's vision disorder. I've written about it previously and you are most welcome to read about it
here
. I whole heartedly recommend you schedule an eye care appointment for your children as soon as possible. I also recommend when you select your child's eye care professional, first research to determine if he or she has any experience working with pediatric eye disorders. Had our eye care team not had this training, Little Buddy's ability to read and therefore his life would be dramatically different.
As for incorporating Eye Care Month into our homeschool learning. We most certainly are doing that as well. We are paying a visit to our special eye care team and taking them cookies, we are studying the parts of the eye, we are discussing how Little Buddy's eyes work a bit differently than mine, and we are learning how to properly care for our eyes. We are also using parts of the National Eye Institutes lesson plan for 4th through 8th graders. I am also using parts from Teachervision's lesson plans and printables.
Oh, and did I mention that my birthday is in January?