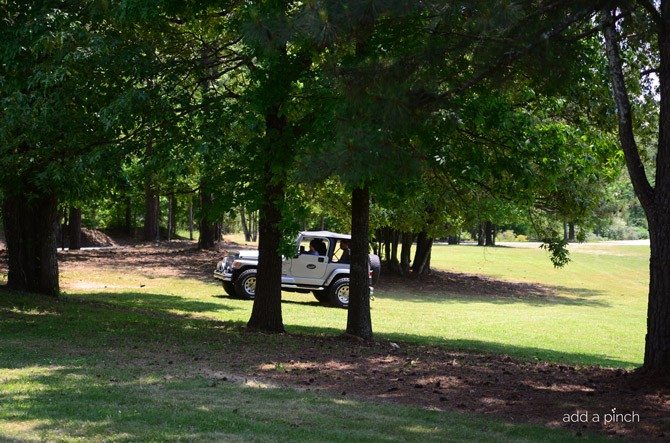 This past weekend, Bart and I hosted a BBQ party for one of our good friend's daughter who is soon to be married. While we were setting up tables, arranging speakers for music, and handling all those day-of-a-party activities, Sam and his friend Ethan were busily playing on the farm.
Ethan and Sam have been the best of buddies for years. They met in Scouts and make a great team – where Sam is impulsive, has an infectious laugh that you can hear a mile away, and is always into something, Ethan is the calmer of the two. He's always quieter with the sweetest smile and more cautious and careful. Let's just say that one is usually the yin to the other's yang.
As Bart and I were working away in the party barn getting ready, Sam and Ethan rode scooters, the golf cart and other equipment around and about on the farm. They'd zip past on the runway, then on the driveway, and next thing I knew, Sam was right behind me blowing the horn on his bike and laughing as hard as he could.
Did I mention that he can be a stinker?
Anyway, after a little while, Sam came up to Bart and said, "Hey Daddy, sometime do you think you could teach Ethan and me how to drive the Jeep?"
Immediately my heart skidded to a stop and as I was trying to catch my breath to scream, "NO WAY! You are both babies and have no business learning how to drive for a million years," I heard Bart calmly reply, "Sure, let's go."
They took turns learning about that old stick shift and as I finished setting the last of the tables, I could hear Sam laughing louder than ever.
And there I stood laughing, smiling, and crying all at the same time. I can be such a freak.
Thank the Lord we have a few more years before he's on the road! Not a million, but a few at least. Maybe by then I'll have a bit more composure about such things.